Evbooth hosted its first edition of North East Sustainability Leadership Award on the 8th of September 2022 to celebrate their achievement as they have reached an significant milestone in their journey, thus deploying 100 electric vehicle (EV) chargers in Guwahati.
To celebrate Guwahati's status as the first city in the North East region to become EV-ready, EVBOOTH hosted the first edition of the North East Sustainability Leadership Awards on the 8th of September, 2022. The Award honours and celebrates leaders from across industries who champion sustainability.
Evbooth reaches new milestone; deploys 100 EV chargers in Guwahati
As per the company "During the last few months of operations in the region, we are extremely proud of all our partners who helped us achieve this major milestone of installing 100 plus electric vehicle charging stations in Guwahati. To expand our presence in the region we plan to install 2500 charging stations by end of the financial year and 500 of those are planned for Guwahati, we aspire to negate the range anxiety of current and future EV DRIVERS."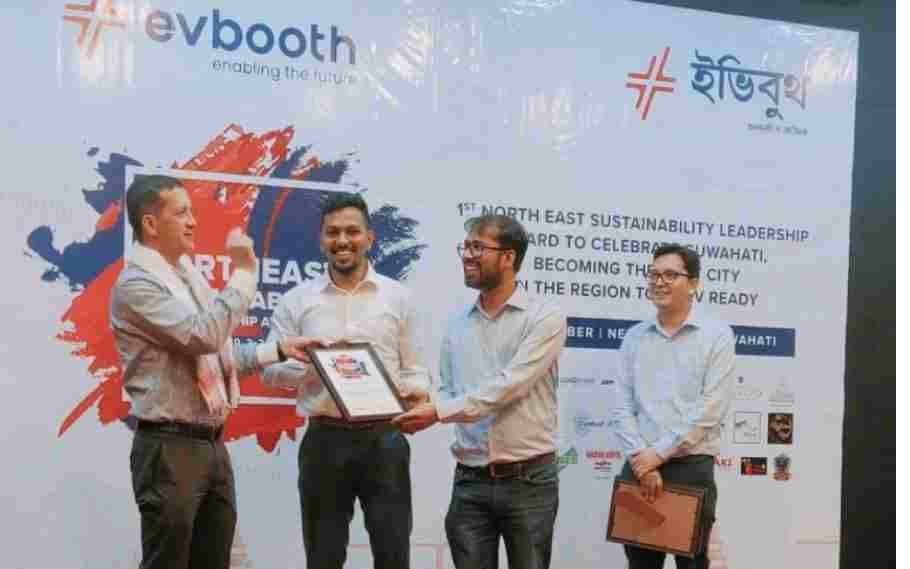 The first edition of the Northeast Sustainability Leadership awards has
been hosted to acknowledge those individuals and organisations who
work tirelessly to make a sustainable impact, through their constant
efforts.
One of the aims of the event was to create awareness among citizens and businesses about the benefits of electric vehicles (EVs) and how Guwahati is at the forefront of EV adoption in Northeast India. The rally will encourage people to shift from fossil fuels toward a cleaner form of transportation.
The event provided citizens with knowledge about EVs and EV charging infrastructure that can help promote faster adoption of vehicles in the state and the region. And how Evbooth is working to help its partners
achieve their sustainability goals.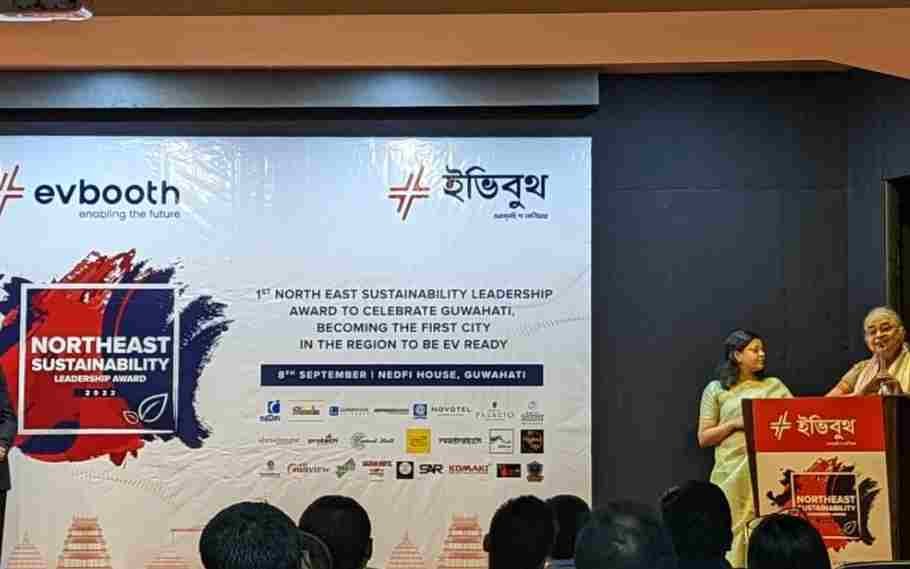 "A sustainable business is one where profitability, concern for the environment, and social commitment are in harmony." Sustainability has never been more important for businesses to embrace. And when you consider the huge benefits of reducing the carbon footprint of companies, it's clearer to see that there's a flourishing future ahead for brands that stick to new Eco-friendly practices. For example, today when we order a product from an online store, these deliveries leave a huge carbon footprint. We need to remember every km your parcel travels, it leaves a massive carbon footprint on our environment. I am grateful that our policymakers today are looking for sustainable business practices.
And many businesses today are working hard, innovating new technologies and ideas to reduce their carbon footprint. Our collaboration with companies like Loadshare Network is one such small step towards making a better tomorrow. We hope to do more collaboration with other logistic companies operating in the Northeast to achieve their sustainability goals. At Evbooth, we are looking for many more opportunities to promote faster adoption of electric vehicles in the region. "

"I know the journey we have taken as founders, is tough and lonely but today by hosting this event we wanted to celebrate the coming together of all our partners and organisations and individuals who have been working tirelessly in creating sustainable businesses. I would like to take this opportunity to thank and honour our peers and partners." Founder
Evbooth.

We would like to thank all the winners and our dignitaries, especially our Chief Guest CEO GMDA, Mr. Kausar Hilaly Sir, Chairman & Managing Director of NEDFi, Shri PVSLN Murty Sir, Shri Pranjal Konwar(CEO Assam start-up), SHRI Prasanta Kumar Talukdar Sir(NEDFI) and Pranta Pratim Sinha (NRL)for attending the event and encouraging the winners on their achievements.
Also Read: Evbooth, Loadshare Networks and Bikozee; to boost EV logistics in Assam