Tilinga Mandir or Bell temple is situated in the small town of Bordubi of Tinsukia district in Assam. The temple worships the deity of Lord Shiva. Mystically and spiritually the Bell Temple is stronger than other temples. One will get to see hundreds and thousands of bells of all sizes hung here. The bells are made up of different metals such as bronze, brass, aluminium, and copper and are tied to a huge Peepal tree.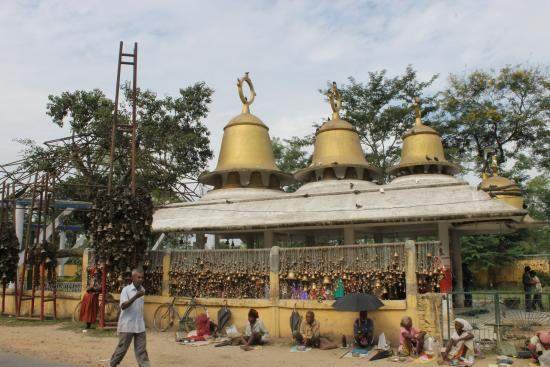 Tilinga Mandir of Tinsukia
Hundred Shiva tridents are speared here and there in the sand carelessly. The temple is highly revered in the place because people here believe that the wishes come true if one prays to Lord Shiva but after that, one has to donate a bell to the temple. The culture of presenting a pigeon, a Trishul or a bell is very significantly believed when one's wishes are fulfilled. The temple is almost half a century old and it was said that the Shiva Linga emerged from the ground near a banyan tree which is there in the temple. People came to visit the place after that and prayed to the Lord.
This temple, Tilinga Mandir is of high religious importance and has visitors from all over the country. But there are many other things which one can see and do in and around the temple such as have a look across the tea garden and visit the local shops to buy lovely bells of all sizes. Some worth visiting places nearby are Rukmini Island, Om House Boat, Dehing Patkai Wildlife Sanctuary, Lakhipathar, Aiy Than, Namrup Namghar temple, Nepali Durga Mandir and Sri Sarvajanika Hanuman Mandir.
The temple is situated in the small town of Bordubi which is well connected to the nearest railway station Tinsukia.
The Tilinga Mandir is said to be half a century old. In 1965 the tea garden workers saw a shiv-linga emerging from the ground and the administrators decided to build a temple over there.
When people came to know about the temple, visitors kept coming and their wishes were granted and they kept tying bells of different sizes and types on the big banyan tree.

Due to the large number of bells, the tree started dying and the management decided to build iron bars to tie bells.
Tilinga Mandir is surrounded by beautiful forests and tea gardens.
According to Hindu mythology, Monday is considered "Lord Shiva's" day and on this day huge numbers of people visit this temple.
Also Read : Man and Animal Conflict in Deepor Beel