Introducing the AI-Generated Images of Game of Thrones

An AI-generated image of Daenerys Targaryen from Game of Thrones in an Indian sari has taken the art world by storm. The image was created using a neural network and generated by the artist Anish Kapoor, who is known for his work with light and color. In a stunning display of artistry and technology, an artist has created AI-generated images of Game of Thrones characters in Indian ethnic wear. The fusion of Indian culture with the iconic characters of the popular TV series has taken the art world on the internet by storm. The breathtaking artwork, shared on Instagram, showcases Arya Stark, Daenerys Targaryen, Jon Snow, Tyrion Lannister, and Cersei Lannister, all adorned in vibrant and intricate Indian ethnic wear.
The artist developed the images by blending the ethnic ensembles with the characters' features using AI tools. The results were nothing short of spectacular, with the AI perfectly capturing the essence of both cultures to create a unique and captivating visual experience. "If George R. R. Martin has hired an Indian costume designer for Game of Thrones. Midjourney AI assisted with photoshop," read the caption accompanying the artwork.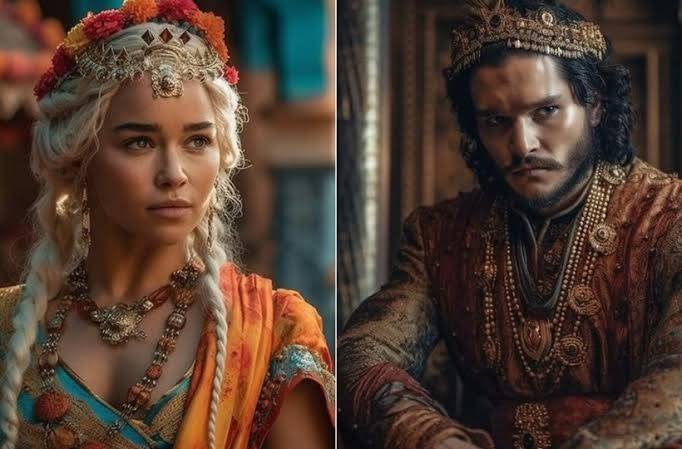 Social Media Response: Admiration for the Fusion of Indian and Western Cultures on Game of Thrones characters
Social media users were quick to express their admiration for the stunning artwork. One user commented, "Somehow Indian attire gives grandness to Game of Thrones characters," while another asked, "Brother can we expect the characters of House of the Dragon also?" The fusion of Indian and Western cultures in the Game of Thrones characters has struck a chord with art enthusiasts and Game of Thrones fans alike.
AI in Visual Storytelling: Enhancing Artistic Craft with Technology
However, this is not the first time AI tools have been used to generate images of various scenarios. In another project, the same artist used AI to create pictures depicting the potential devastation of an atomic bomb explosion. The images, which show a massive crater at the explosion site, are a distressing reminder of the destruction caused by the atomic bombs dropped on Hiroshima and Nagasaki in 1945.
While no country has dared to launch such an attack since then, the AI-generated images serve as a powerful reminder of the devastating consequences of nuclear warfare. The technology used to create the images is a testament to the potential of AI to generate powerful visualizations of past events and potential future scenarios.
The use of AI in art and visual storytelling is a growing trend, with artists and creators exploring new ways to use technology to enhance their craft. From generating images of fictional characters in ethnic wear to visualizing the aftermath of an atomic bomb explosion, AI is proving to be a powerful tool in the hands of talented artists and creators.
As AI technology continues to evolve and improve, we can expect to see even more stunning examples of AI-generated art and visual storytelling in the future. The fusion of technology and art has opened up new possibilities for artists and creators, and the results are nothing short of breathtaking.
AI-generated pictures have been trending in recent times due to their stunning visual quality and unique blend of creativity and technology. With advancements in AI technology, artists and creators are using AI tools to generate images that were previously impossible or time-consuming to create manually.
One popular application of AI-generated images is in the realm of character design. By using AI to generate characters, artists can save time and effort while still producing visually striking and realistic designs. These characters can be used in video games, movies, animations, and other forms of media. Additionally, AI-generated images can be used to create realistic landscapes, buildings, and other objects that enhance visual storytelling.
ASSAM: NINE-MONTHS PREGNANT WOMAN TAKES ON APSC EXAM A DAY BEFORE DELIVERY DATE, INSPIRES THOUSANDS