Many brands faces backlash over controversies. A latest of them is confectionary giant 'Cadbury Boycott' which is currently in trend on social media from October 30.
In addition to the 'fake claims' social media users have now targetted the recent Diwali Advertisement of the brand. VHP Leader Sadhvi Patel on her Twitter handle shares the advertisement and objected the use of Damodar as the name of a poor lamp seller, and claims the advertisement has been done to show "someone with PM Modi's father's name in poor light."
Sharing the post on social media, she writes, "Have you carefully observed Cadbury's advertisement on TV channels? The shopless poor lamp seller is Damodar. This is done to show someone with PM Narendra Modi's father's name in poor light. Chaiwale ke baap diyewala. Shame on Cadbury Company."
Cadbury Boycott trends on Twitter for its 'fake claims' of beef in their products
The calls for boycott started after a screenshot of a webpage, reportedly from cadbury was widely shared on social media. The brand mentions the usage of gelatine in their products and claimed it to be halal certified and derived from 'beef'. The brand came under the radar as Twitterati claims the brand uses gelatine which is derived from 'beef'. The alleged claims further states, the usage of gelatine derived from 'beef' in their products have hurt religious sentiments.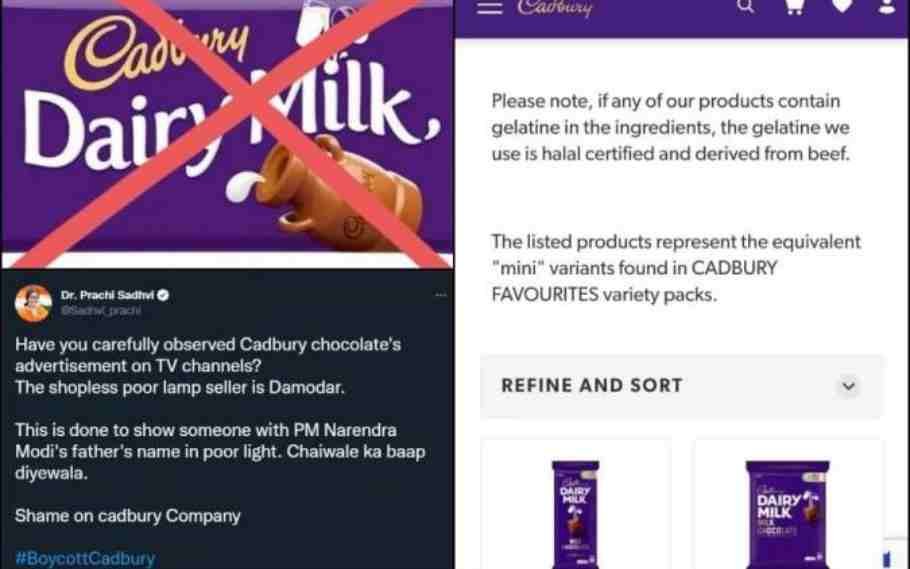 However, it was later revealed, the screenshot was from an older version of the brand's Australian website. On a similar event, last year a same claim was made following which the website was updated to reflect that it is from its Australian Branch.
Later the brand clarified, al their products are 100% vegetarian and the 'green dot' on the wrapper certifies the same.
Also Read: Rajkumar Rao And Shraddha Kapoor To Reunite For Stree 2