Guwahati Foodie, the largest dedicated food-related community in the region gave away the prizes of its Ethnic Food Photography Contest on December 25. Tapanjyoti Bora, Sikha Tamuly and Rajashri Gogoi were awarded in the event held on the premises of the Heritage Khorika restaurant in Guwahati.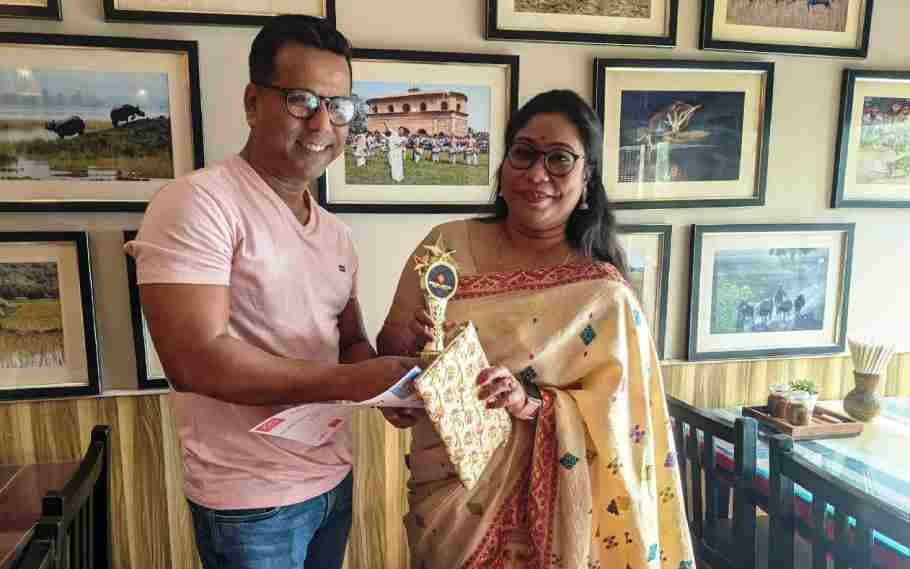 Guwahati Foodie Presents Awards
Expert of Assamese cuisine, Chef Atul Lahkar and eminent personality from the FM industry, Shubhankar Baruah handed over the awards to the three winners of the contest. Each of the winners received a trophy, a certificate, a gift and food vouchers as their awards.
Guwahati Foodie organised this competition to highlight the rich heritage of ethnic cuisines from the state and the entire Northeast region. More than 500 entries came from across the country for this contest, out of which three were selected as winners. The winners were decided by a panel consisting of eminent persons from both the world of food, as well as the world of photography.
Speaking about the contest, Sisir Kumar, the owner of Guwahati Foodie said, "This contest is our humble attempt to preserve as well as promote the rich palette of Assam and the entire Northeast. We organise this contest annually to encourage more and more people to try out as well as to showcase the ethnic cuisines on social media. And this spreads awareness as well as inquisitiveness about the food of the region."
This annual contest of Guwahati Foodie aims to commemorate World Tourism Day and World Food Day every year. While the contest opens for entries on September 27, it ends on October 14. This edition of the contest was supported by Barbecue Nation, Fat Belly, Momo Ghar, Oriental Bistro, Purabi Dairy, Sterling Reserve Packaged Drinking Water, Discover East and Life's Purple.
Chef Atul Lahkar mentioned, "I want to congratulate all the participants of the competition and not just the winner. It is very heartening to see so many young people having knowledge of about ethnic cuisines of the region and its presentation."
Shubhankar Baruah said, "Ingredients and recipes are an integral part of the culture of any community or the region, and Guwahati Foodie and its 130000 plus members are doing excellent work towards sustaining that side of our rich heritage."
Also Read:7 AFFORDABLE RESTAURANTS TO HAVE LUNCH IN GUWAHATI