Easy Jalebi Recipe: With the onset of the festivals in India, people love to make have to Jalebis and Mithai.
Now, with the easy recipe, you can make jalebis at home by following the simple steps. Just in mind a few things and you are good to go!
Easy Jalebi Recipe; Ingredient
3 cup all purpose flour
2 cup hung curd
1/2 cup ghee
3 cup sugar
5 strand saffron
1/2 teaspoon powdered green cardamom
1/2 cup corn flour
1 1/2 pinch baking soda
2 cup sunflower oil
3 cup water
4 drops rose essence
1/2 teaspoon edible food color
Easy Jalebi Recipe; Directions
Step 1 Prepare the Jalebi batter and let it ferment overnight
To make this easy Jalebi recipe, all you got to do is mix together all-purpose flour, cornflour and baking soda in a bowl. Now, add ghee and food colour to the mixture and give it a mix. To make the batter thick add hung curd and water. Mix well until it is thick but has a slightly flowing consistency. Keep it aside for 8-10 hours to ferment.
Fermentation of the batter is important to give that unique "khatta" taste to Jalebi.
Directions to make Sugar Syrup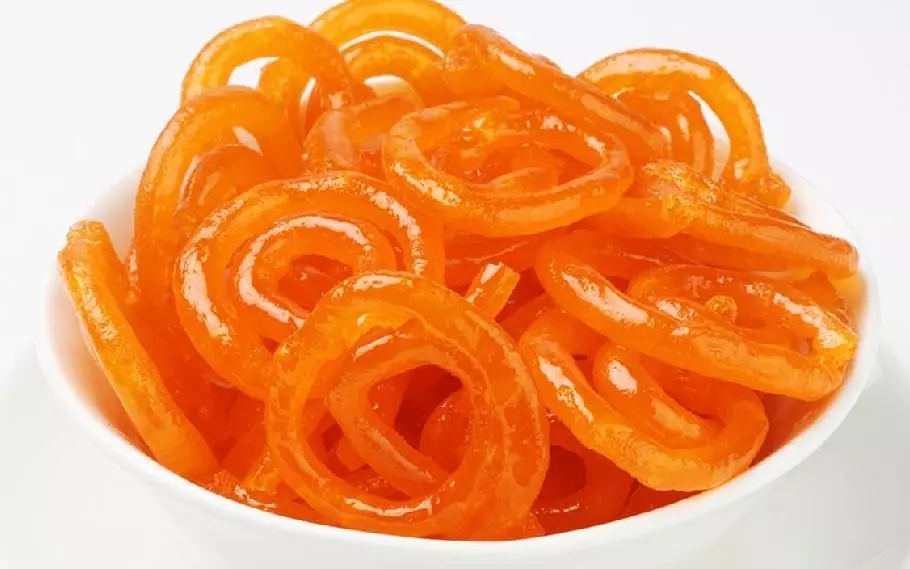 To make the sugar syrup, heat water in a pan over medium flame. Now add sugar and mix until it is fully dissolved. Simmer the syrup until it attains one string consistency. Now add saffron, cardamom powder and rose essence. Stir well to prepare the final sugar syrup. This will be used to soak the jalebis and give them their signature sweetness.
Step 2 Deep fry the Jalebis
Now, take the fermented batter and heat oil in a pan over medium flame for deep frying. Fill the jalebi batter in a muslin cloth and pierce a small hole in the cloth. You can even use a squeezy bottle (ketchup bottles with a small nozzle on top) to make jalebis.
Now just squeeze the muslin cloth to make concentric circles. Move from inside to outside to make perfect circles. Fry till jalebis from both the sides until they are crispy in texture and golden in colour.
Now for the last step, soak the jalebis in the sugar syrup for at least 2 to 3 minutes. And make sure the syrup is warm enough.