Smart India Hackathon is a nationwide initiative by AICTE to provide students with a platform to solve some of the pressing problems we face in our daily lives, and thus inculcate a culture of product innovation and a mindset of problem-solving.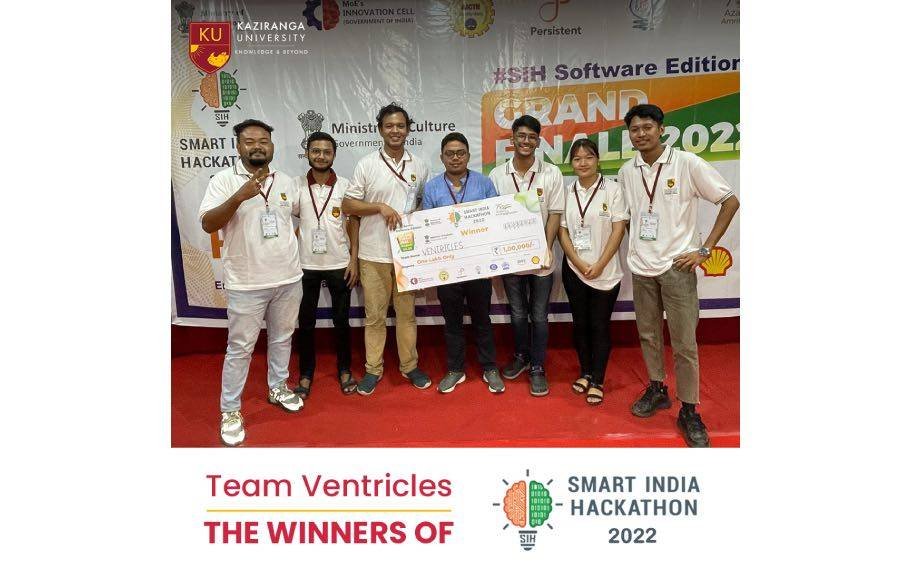 Kaziranga University receives Smart India Hackathon 2022 cash reward
For the problem statement defined by the Ministry of Culture as "Indoor navigation for a museum", a total of 48 teams have submitted the solution proposal and only 5 teams were shortlisted, including the team Ventricles, under the mentorship of Dr. Utpal Barman and leadership of Angshuman Barpujari, and the team members Anish Modi, Malayraj Baruah, Saikat Kamal Halder, Tesenlo Magh, Bendangmongla Aier from The Assam Kaziranga University.
On 25-26 August the Smart India Hackathon 2022 grand finale was held at Nagpur. For the team Ventricles, the allotted nodal centre was Shri Ramdeobaba College of Engineering and Management. The hackathon was 36 hours of non-stop coding. After 3 rounds of evaluation, the concerned authority declared the team Ventricles as the winner and received a hefty prize of Rs. 1, 00,000.