The Maadhyam Media Fest, organized and hosted by Parul University in Vadodara in Gujarat, witnessed a convergence of renowned news reporters and anchors who left an indelible mark on the field of mass communication and journalism.
Parul University Brings Prominent Journalists To One Stage
The fest, one of the largest of its kind in Gujarat, served as a unique platform for aspiring mass media and journalism students to gain invaluable insights from the luminaries of the journalism world.
Distinguished personalities such as Sweta Singh from Aaj Tak, Devendra Bhatnagar, Gujarat State Editor at Divya Bhaskar, Neeru Zinzuwadi, anchor at TV9 Gujarati, Dixit Soni of Zee 24, and Siddharth Dholakia, senior anchor at News 18 Gujarati, came together on one stage to share their expertise, experiences, and wisdom with the eager and enthusiastic audience.
The event offered a significant opportunity for students pursuing careers in mass communication and journalism to directly engage with and learn from some of the finest professionals in the field. These journalists, with their rich and diverse backgrounds, provided a real-world perspective on the challenges and nuances of journalism.
The Maadhyam Media Fest is a testament to Parul University's commitment to fostering educational and networking opportunities for its students. By organizing such an event, the university extends its support to the next generation of communicators, enabling them to acquire the knowledge and skills needed for a successful career in journalism.
This initiative has established itself as a much-awaited annual event for journalism enthusiasts, offering a unique blend of learning, networking, and inspiration. It creates an environment where students can interact with professionals, ask questions, and gain insights into the evolving landscape of journalism, which is essential in a rapidly changing media industry.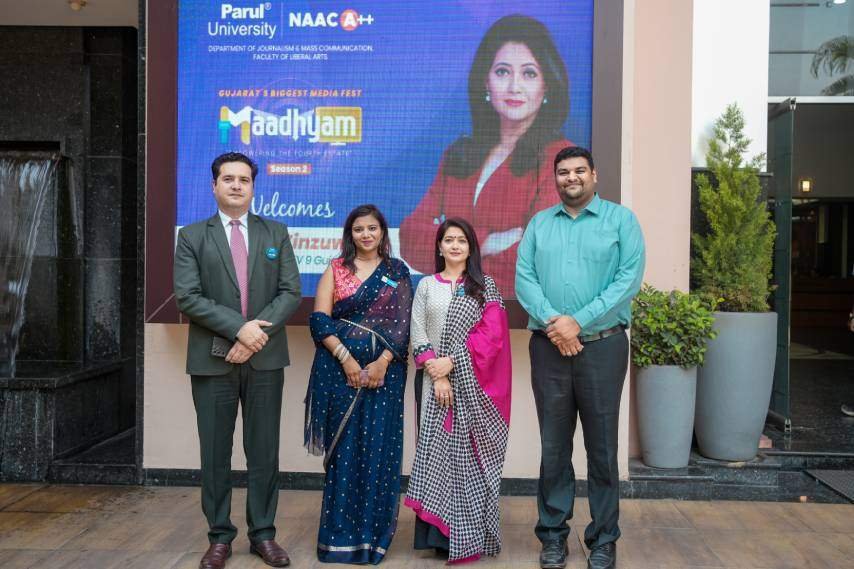 The fest not only serves as a platform for knowledge transfer but also ignites the passion and curiosity of aspiring journalists. It instills in them the belief that journalism is not just a profession but a powerful medium for change, accountability, and public awareness.
In addition to the presence of celebrated journalists, Maadhyam Media Fest also featured workshops, panel discussions, and interactive sessions that covered various aspects of journalism, media ethics, storytelling, and the digital age's challenges and opportunities.
The students who participated in this event left with a deeper understanding of the industry, fresh perspectives, and a heightened sense of motivation to pursue their dreams in the world of mass communication and journalism. Maadhyam continues to shine as a beacon of inspiration and knowledge, guiding the next generation of communicators towards a brighter future.
As the media landscape continues to evolve, initiatives like Maadhyam Media Fest play a pivotal role in bridging the gap between experienced professionals and the new wave of communicators, ensuring that the field of journalism remains vibrant, relevant, and dedicated to the highest standards of reporting and storytelling.
ALSO READ: INAUGURATION OF PH.D. CELL MARKS A MILESTONE FOR ROYAL GLOBAL UNIVERSITY