Tanjib Sarma: A Musical Prodigy and Academic Topper

In the realm of exceptional talent and unwavering determination, one name shines bright: Tanjib Sarma who choses Parul University. This young prodigy from Assam has captivated the world with his extraordinary abilities, showcasing his mastery of over 17 musical instruments. Not only is Tanjib a musical genius, but he has also achieved the title of Assam topper, scoring an impressive 93% in his academic pursuits.
Tanjib's remarkable journey is an inspiration to all, as he sets an exemplary example of following one's passion and pursuing dreams. With his exceptional talent and academic achievements, Tanjib has decided to take a bold step towards his passion for drama by securing admission at Parul University in Gujarat.
Parul University: A Multidisciplinary Destination of Learning and Innovation
Parul University stands tall as a multidisciplinary destination of learning and innovation, propelling quality in higher education. It has the distinction of being India's youngest private university to receive NAAC A++ accreditation in the first cycle. Situated in Vadodara, Gujarat, Parul University embraces the nation's rich cultural heritage while incorporating modern innovations and academic practices to enrich student experiences and foster national and global development.
The university encompasses a diverse range of faculties and institutes, offering an extensive array of diploma, undergraduate, postgraduate, and doctoral programs across numerous disciplines. Parul University's uniquely structured programs, industry links, and field-aligned curriculum have been instrumental in fulfilling the dreams of countless students, launching them onto lucrative career trajectories through start-up incubation and impeccable placement records.
With its sprawling 125-acre eco-friendly campus, Parul University proudly accommodates over 43,000 students from every state in India, alongside more than 2,500 international students from 68 countries. This cultural melting pot makes Parul University a truly global educational destination. Beyond its NAAC A++ accreditation, the university has also garnered global memberships in prestigious bodies such as the Association of Commonwealth Universities, further solidifying its commitment to excellence.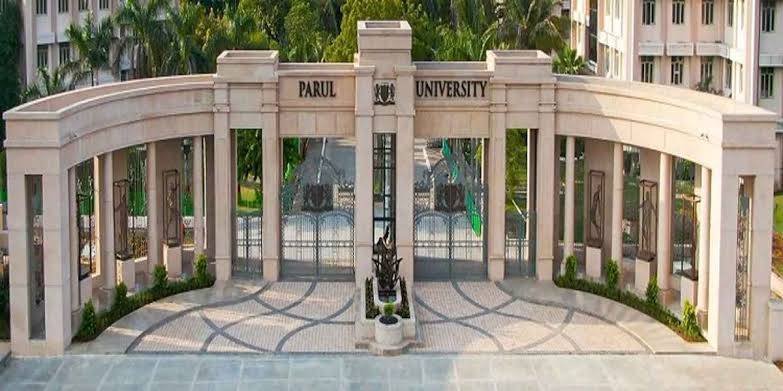 Parul University's commitment to quality extends beyond its educational offerings. The university has received recognition for its quality research with the DISR accreditation, NABL accreditation for clinical medical research, NABH accreditation for healthcare, and ARIIA Top 50 ranking for innovation achievements nationwide. Notably, the university has been honored as the Best Private University in Western India by Praxis Media and the Best University in Placements by ASSOCHAM. It has also earned the distinction of being the Most Outstanding University in the West Zone for having the highest nationalities in campus at the World Education Summit Awards.
Bollywood Superstars Ranveer Singh and Alia Bhatt's Vibrant Interaction at Parul University
Recently, Parul University had the privilege of hosting two Bollywood superstars, Ranveer Singh and Alia Bhatt, who visited the campus for an engaging interaction with approximately 10,000 enthusiastic students. The vibrant atmosphere was heightened by the creation of a human chain of colorful umbrellas forming the initials "RRKPK," representing their upcoming film, 'Rocky aur Rani ki Prem Kahani.'
Ranveer Singh, renowned for his infectious energy, shared entertaining anecdotes with the captivated audience, leaving an indelible mark. Alia Bhatt expressed heartfelt gratitude for the overwhelming support shown by the students towards their film. This interaction was a momentous occasion, fostering a unique connection between the stars and their fans while building excitement for the release of 'Rocky aur Rani ki Prem Kahani,' a much-anticipated film directed by the esteemed Karan Johar.
As Tanjib Sarma embarks on his journey at Parul University, the institution's commitment to excellence in various fields, including academics, sports, and the arts, provides a solid foundation for his pursuit of drama. Parul University's multidisciplinary approach and its embodiment of cultural heritage blended with modern innovations ensure that Tanjib and countless other students have the opportunity to nurture their talents, fulfill their aspirations, and contribute to national and global development.
The accomplishments of Tanjib Sarma serve as a testament to the power of passion, dedication, and relentless pursuit of one's dreams. His remarkable talents and achievements have not only made his hometown of Assam proud but have also inspired aspiring talents worldwide. Tanjib's decision to pursue his passion for drama at Parul University is a significant step towards realizing his artistic potential. As he embraces this new chapter in his life, we eagerly await the extraordinary performances and contributions that Tanjib Sarma will undoubtedly bring to the world of drama.
PARUL UNIVERSITY INVITES STUDENTS FROM THE NORTH EAST WITH FREE AIRFARE TO UNLOCK ENDLESS ACADEMIC OPPORTUNITIES