Scholarships for Academic Excellence and Empowerment for North East students at Parul University

Parul University is opening its doors to students from the North East region of India, offering them an incredible opportunity to pursue their academic dreams. In a groundbreaking initiative, Parul University is providing eligible students with a FREE one-way airplane ticket to the university, enabling them to embark on a transformative journey towards a brighter future.
With its state-of-the-art facilities and a wide range of opportunities, Parul University ensures that students have access to a top-notch education and an enriching learning environment. The university offers several scholarships to support students in their educational pursuits. These scholarships include special grants for meritorious students and those from reserved categories, as well as additional scholarships specifically designed to empower female students. Furthermore, students scoring more than 90% in their 12th grade or bachelor's program can avail a 50% scholarship when enrolling in specific programs at the university.
One of the standout features of this initiative is the provision of a one-way flight ticket to eligible students from the 7 states of the North East region. This gesture aims to remove barriers and ensure that students can easily access the university campus. Eligibility for these scholarships and flight tickets is subject to the terms and conditions set by Parul University.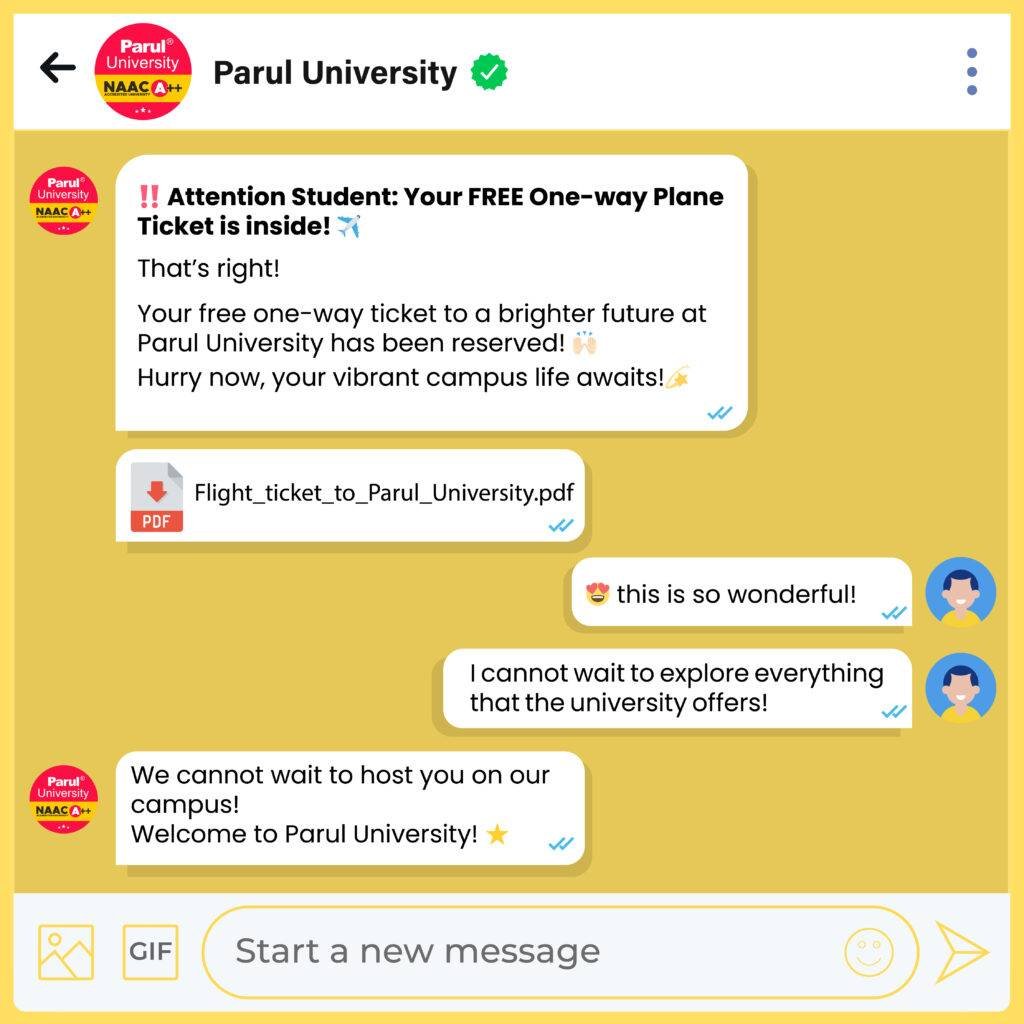 Leader in Innovation: Parul University secures a place among the Top Universities
Parul University has been consistently recognized for its commitment to innovation and academic excellence. In the National Institutional Ranking Framework (NIRF) rankings, the university has secured a prestigious position among the Top 50 Universities in Innovation in the country. This achievement is a testament to the university's dedication to fostering a culture of creativity, entrepreneurship, and out-of-the-box thinking among its students. The university's emphasis on innovation equips students with the necessary skills to thrive in a rapidly evolving world.
Moreover, Parul University has also earned a place among the Top 200 Universities All India, further solidifying its reputation as a premier institution of higher education. This recognition acknowledges the university's comprehensive approach to education, research, and the holistic development of its students.
In the field of Pharmacy, Parul University has achieved a remarkable All India Rank of 53. This accomplishment reflects the university's commitment to providing exceptional education and training in pharmaceutical sciences. Through cutting-edge curriculum and practical experiences, Parul University equips pharmacy students with the knowledge and skills needed to excel in their careers.

Parul University's dedication to maintaining high academic standards has been recognized with its NAAC A++ accreditation. The university has achieved this distinction in the first cycle, making it one of the youngest private universities in India to receive such an accolade. This accreditation underscores the institution's commitment to providing a quality education and creating an environment conducive to holistic development.
With its impressive rankings, scholarships, and commitment to innovation, Parul University stands as a beacon of opportunity for students from the North East. By offering a seamless transition to higher education, the university empowers students to unlock their potential, pursue their passions, and build a brighter future.
Parul University stands as an exceptional institution that not only offers a transformative educational experience but also prioritizes the holistic development and empowerment of its students. With its array of scholarships, including special provisions for meritorious students, reserved categories, and female students, Parul University strives to ensure that students from diverse backgrounds have equal access to quality education. The university's impressive rankings and recognitions, such as being among the Top 50 Universities in Innovation and Top 200 Universities All India, underscore its commitment to academic excellence and research.
PARUL UNIVERSITY EXCELS: RANKS AMONG TOP 50 UNIVERSITIES IN INNOVATION, TOP 200 UNIVERSITIES ALL INDIA, AND ACHIEVES 53RD RANK IN PHARMACY