Legendary singer Lata Mangeshkar funeral will be performed in Mumbai's Shivaji park.
India today lost one of the greatest Indian playback singers famously known as Didi. She died at the age of 92 years.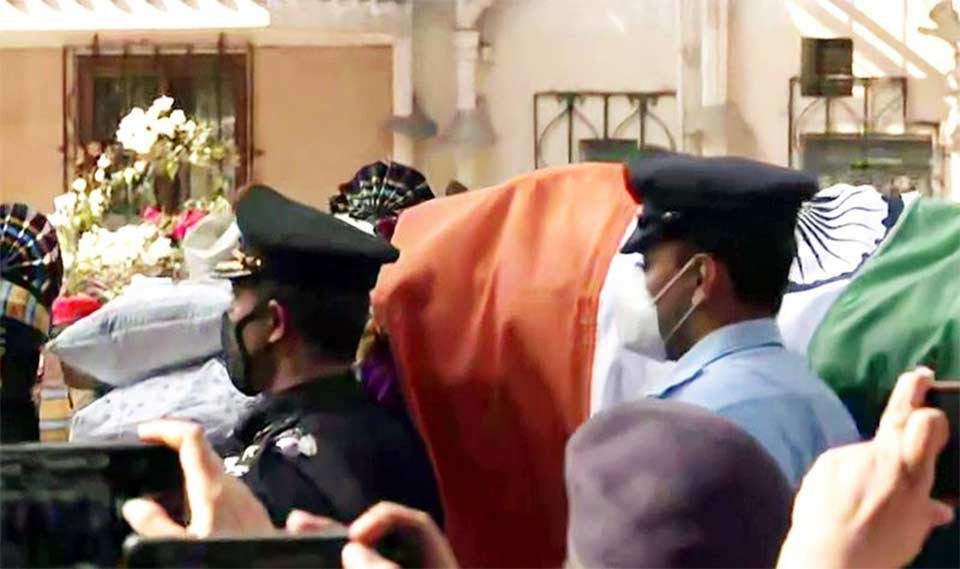 Lata Mangeshkar funeral at Shivaji
Reportedly, the singer will be cremated with full state honours in Mumbai's Shivaji park.
Prime Minister Narendra Modi attended the funeral at Mumbai's Shivaji Park and paid his tributes. Also, several other high-profile personalities attended the music legend's funeral and paid their tributes.
Among them were CM Uddhav Thackeray, Shah Rukh Khan, Shraddha Kapoor, Asha Bhosle, Sachin Tendulkar, Devendra Fadnavis.
She was admitted after testing Covid-19 positive
Reportedly, Lata Mangeshkar was admitted in Mumbai's Breach Candy hospital on 8th January after she was diagnosed with Covid-19 and pneumonia.
Even Though, she started showing improvement until last week but her health deteriorated and she was put back on ventilator support.
However, Lata Mangeshkar died at the age of 92 due to a multi-organ failure.
Also, actor Ranbir Kapoor, Aamir Khan and his daughter were also seen during her funeral.
ALSO READ: QUEEN ELIZABETH II MARKS PLATINUM JUBILEE WITH 'QUEEN CAMILLA' ANNOUNCEMENT AFTER SERVING 7 DECADES