Ziro Festival of Arunachal Pradesh; Nestled in the Northeastern part of India, Arunachal Pradesh is a state known for its unique tradition and distinct culture. The plenty of tribes that reside in the region forms the bouquet of diverse colourful festivals.
Ziro Festival; an event to rejoice music
Arunachal Pradesh is best when visited during festivals as at these times one gets to witness the whole state with its lively vibe. Best of all can be said to be the Ziro festival which is basically an event related to music.
About Ziro Festival:
Ziro Festival of Music is an outdoor music festival held in the Ziro valley of Arunachal Pradesh. The festival represents the independent music scenario in India.
Bobby Hano and Menwhopause guitarist Anup Kutty are the founders of the festival and it was founded in 2012. The festival is observed every year for 4 days during the months of September to October and is hosted by members of the Apatani people in Ziro.
Till date, the event has featured artists like Lee Ranaldo, Steve Shelley, Damo Suzuki, Shye Ben Tzur, MONO, Divine, Louw Majaw, Shaa'ir n Func, Indus Creed, Peter Cat Recording Co, Menwhopause, Guru Rewben Mashangva, and Barmer Boys among others.
It is to be noted that the Ziro festival is considered to be one of the most eco-friendly festivals in India employing locally sourced material for the infrastructure. The festival has two stages, Donyi(Sun) and Polo(Moon), which are constructed by local artisans and are almost completely made of bamboo. This theme of the sage is highly inspired by the animist Donyi Polo faith prevalent in the tribes of Arunachal Pradesh. The festival has a zero plastic policy and encourages attendees to be responsible for leaving behind no waste.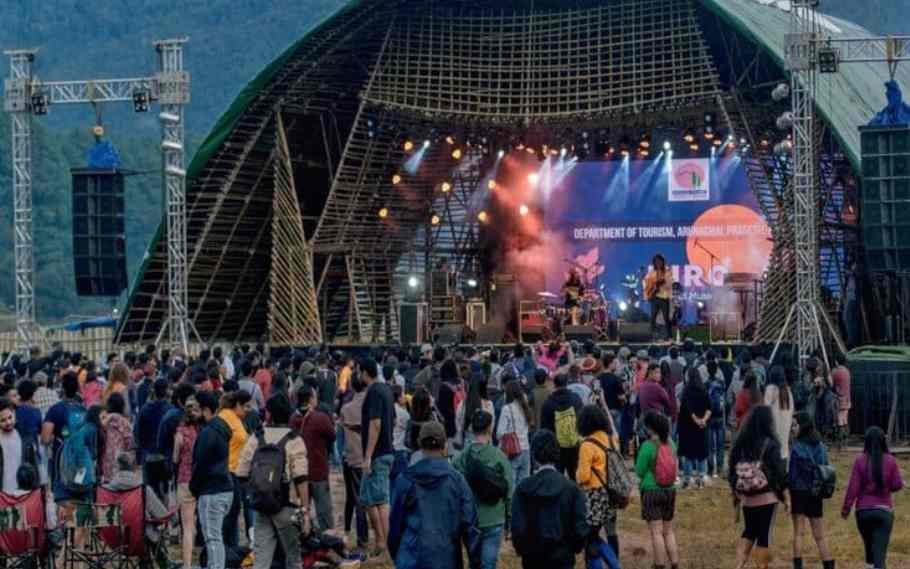 About the Music:
A wide variety of genres of music are showcased in the festival. From Indie folk brought by the local North East Region of India to the foreign tunes from the international panels of the festival, the festival is a complete treat to visit. Ziro Festival of music can be categorised as a contemporary Musical festival with a large involvement of international guests, bands, artists and performers. However, it can be noted that ZFM includes a broad division of Indian Classical Music that represents the cultures and traditions of the Apatani Tribe. (Gupta).
Tickets and permission
Tickets to enter the festival can be downloaded from the official festival website. The non-Arunachali Indians need an Inner Line Permit and foreigners need a Protected Area Permit to enter Arunachal Pradesh which are available at state tourist offices in all major Indian cities. Besides, there are government entry permits required to visit Ziro Valley.
Places to stay:
Ziro Music Festival camping is the most prominent among music lovers. There are camps which are set near the venue so that music lovers are never too far from their favorite artists and sessions. One can also book a hotel or a homestay near Ziro Festival as per your needs and budget. Besides, accommodations, hotels, camps, and homestays are easily available in Ziro. Remember to book them in advance.
In case any of you have a will to perform in the festival, they are free to send their profiles to the managers of the event.
It is known by all that the Apatani tribe, which is one of the most friendly and hospitable people who, essentially, are agrarian, have a complete love affair with music.
Since the initial days the festival has managed to draw crowds from across the nation and abroad to listen to talented artists and enjoy their performances.
With various tribes and their customs and traditions, their festivals will surely be a unique experience for every traveller travelling to this state.
Also Read : Lokpriya Gopinath Bordoloi; Assam's 1st Chief Minister