Groundbreaking Initiatives Unveiled: Empowering Farmers through PMFBY

New Delhi, July 21, 2023: In a landmark event today, the Union Ministry of Agriculture and Farmers Welfare unveiled three transformative initiatives – YESTEC (Technology Based Yield Estimation System), WINDS (Weather Information Data Information System), and AIDE (App for Intermediary Enrollment) – as part of the esteemed Pradhan Mantri Fasal Bima Yojana (PMFBY). The initiatives aim to revolutionize the process of accurate yield estimation and registration for farmers across the nation. Union Agriculture and Farmers Welfare Minister Shri Narendra Singh Tomar and Union Earth Sciences Minister Shri Kiren Rijiju were specially present to grace the occasion.
Relief to Farmers: Rs. 258 Crore Disbursed to 5.60 Lakh Beneficiaries across 8 States
During this momentous event, the Central Government made an important policy decision to provide much-needed relief to farmers facing challenges in claiming insurance dues due to pending state shares. Approximately 5.60 lakh beneficiary farmers hailing from 8 states, including Gujarat, Maharashtra, Madhya Pradesh, Rajasthan, Chhattisgarh, Assam, Odisha, and Andhra Pradesh, received a total of Rs. 258 crore in compensation, marking a significant step towards empowering and supporting the agricultural community.
In his address, Union Agriculture Minister Shri Tomar emphasized the indispensable role of agriculture in India's economy and the need for insurance as a safeguard against natural calamities. Under the visionary leadership of Prime Minister Shri Narendra Modi, the Pradhan Mantri Fasal Bima Yojana has been tailored to be more farmer-friendly, ensuring that farmers receive timely compensation without budgetary constraints. The government's unwavering commitment to the development of agriculture is evident in the proactive approach to compensate farmers, irrespective of the state governments' premium deposits.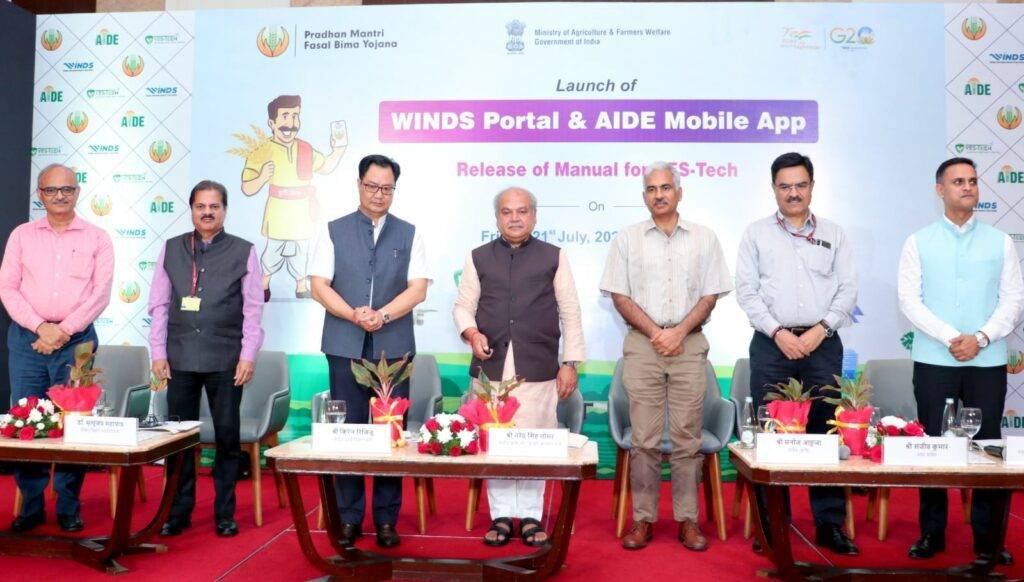 Furthermore, the program witnessed the launch of an innovative insurance module, along with a manual, portal, and app, designed to enhance the effectiveness of the crop insurance scheme. Emphasizing the importance of technology, Shri Tomar revealed plans to establish rain watch towers and weather stations at the block and gram panchayat levels, enabling farmers to access crucial weather information easily. This strategic approach aims to bridge the gap in weather data availability, empowering farmers to make informed decisions and mitigate risks, especially in the face of climate change.
Union Earth Sciences Minister Shri Rijiju commended the remarkable progress achieved in agriculture under the leadership of Prime Minister Shri Modi, solidifying India's position as a leading nation. Recognizing the pivotal role of science and technology in agriculture, especially amidst climate challenges, Shri Rijiju emphasized the necessity of a robust scientific mechanism. He expressed hope that the collaboration between the Ministries of Agriculture and Earth Sciences would effectively address future challenges arising from climate change.
Technology-Driven Solutions: YESTEC, WINDS, and AIDE to Revolutionize Agriculture Sector
The three groundbreaking initiatives under PMFBY hold the potential to revolutionize the lives of farmers, securing their livelihoods and ensuring financial inclusion in the agriculture sector. The YESTEC system promises accurate yield calculation, resolving crop yield disputes, and facilitating prompt claim settlements. On the other hand, WINDS establishes a wide network of weather stations, delivering timely and accurate weather data to farmers for better planning and decision-making. The AIDE app simplifies enrollment procedures, eliminating paperwork and queues, and ensures comprehensive coverage for farmers, aligning with the government's commitment to support and empower the agricultural community.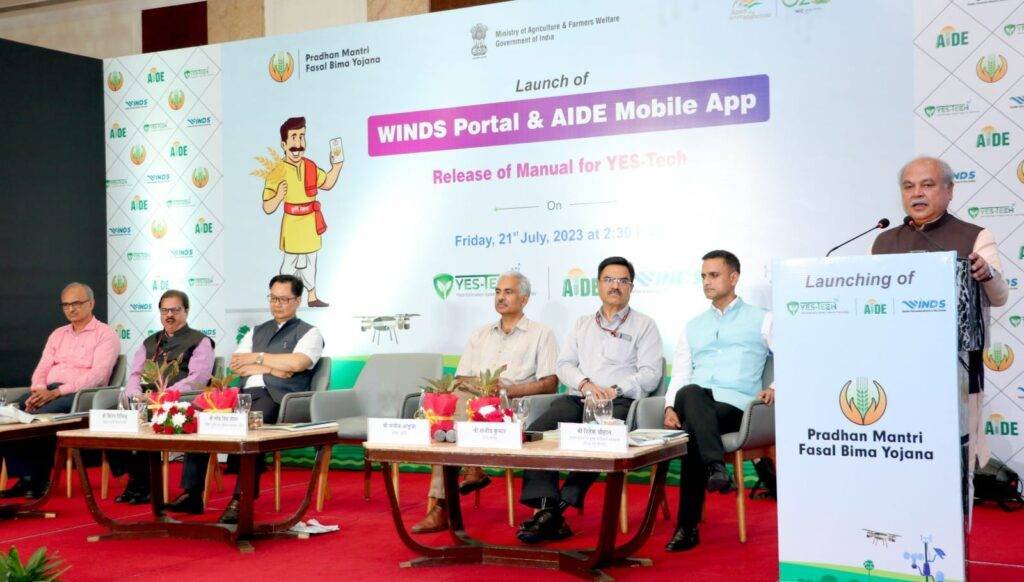 The event witnessed the presence of esteemed dignitaries, including Union Agriculture Secretary Mr. Manoj Ahuja, Director General of Meteorological Department Dr. Mrityunjay Mohapatra, and PMFBY CEO and Joint Secretary of Agriculture Ministry Mr. Ritesh Chauhan. The implementation of these transformative initiatives marks a turning point in Indian agriculture, ensuring farmers receive the benefits of advanced technology, streamlined processes, and timely support, ultimately propelling the nation towards agricultural prosperity.
ASSAM AGRICULTURE MINISTER URGES STRENGTHENING OF AGRICULTURE SECTOR FOR PM-KISAN SCHEME IMPLEMENTATION