Bizarre moment where woman seeks help from random to choose partner captured everyone's attention
A shocking confession by a woman on Twitter has taken the internet by storm, leaving many netizens in disbelief. In a now-viral tweet, a young woman candidly reveals her current predicament of being in communication with a staggering 14 men through a matrimony site. The tweet reads, "29 Female, B.com, not working as of now. I am speaking to 14 guys through matrimony and confused which one should I choose." Eager for advice, she turned to the online community, sparking a flurry of hilarious responses.
Delving deeper into the tweet, the woman proceeds to list the profiles of all 14 prospective suitors, sharing their ages, current employment details, residing cities, and annual salaries. The salaries range from 14 lakhs to a whopping 45 lakhs per annum. Additionally, she provides specific traits about some individuals, including one gentleman's baldness and another's height.
The tweet has sparked a flurry of reactions, with one Twitter user expressing their disdain for the arranged marriage process and its potential for humiliation, irrespective of gender. Another commenter highlighted about the woman the apparent abundance of options despite the woman allegedly being past her prime years, suggesting a skewed marriage market favoring women. However, skepticism also arose, with several questioning the authenticity of the circulating screenshot.
One said, "I feel bad for the guy at BCG. He's probably going to end up being picked in this weird Swayamvar. And will have to spend his life with her." Another said, "Are you people expecting to find true love in arranged marriage or what arrange marriage system is like a market place where men are valued on the basis of their income & women on the basis of their looks. It's brutal & nothing like vivah movie. So kindly adjust to reality."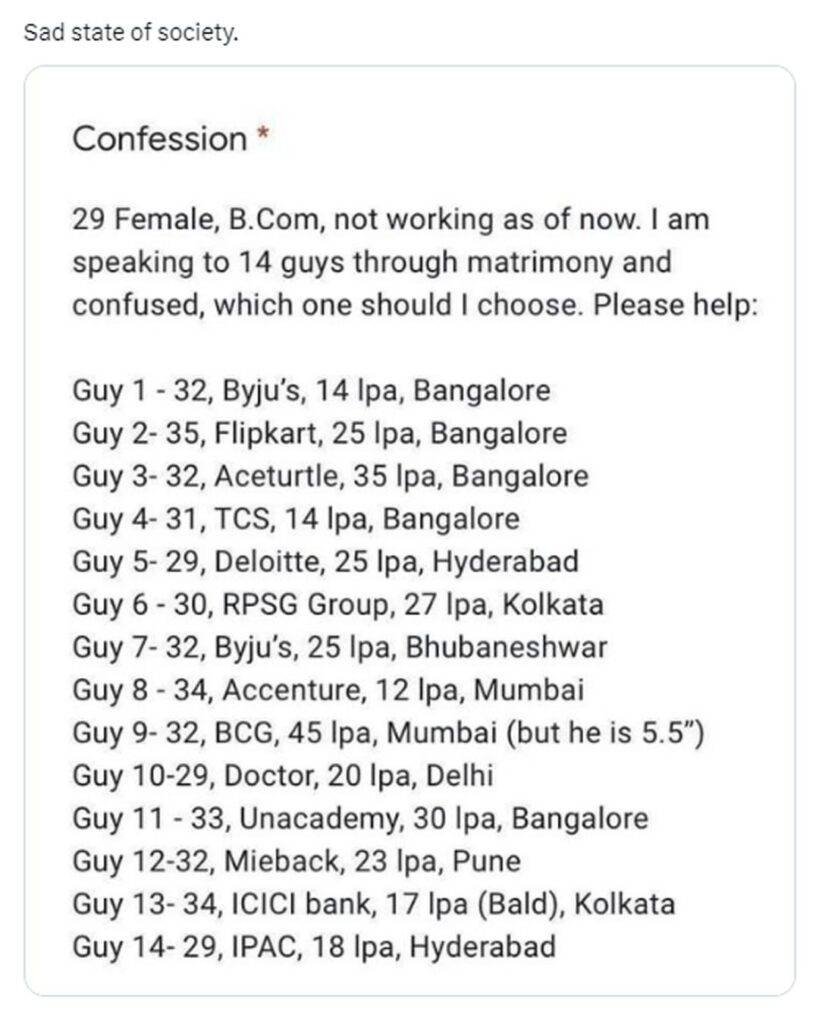 Another bizarre Twitter share
Artificial Intelligence (AI) has undoubtedly transformed various aspects of our lives, including writing assistance, but a recent incident highlights its potential pitfalls. A cover letter generated entirely by AI and forwarded without any review has sparked a viral sensation on the internet, prompting a flurry of responses from netizens.
The cover letter belonged to an IIT graduate named Akhil, who unintentionally left behind traces of the AI-generated code, "[companyName, fallback=]." The Twitter user Leo shared a screenshot of the cover letter on July 13, and it quickly gained immense popularity, accumulating over 8.4 lakh likes and counting. The reactions from people varied, with some finding humor in the situation, while others empathized with the graduate's predicament.
While many appreciated the use of automation in the hiring process, some raised concerns about relying solely on AI-generated content without thorough human review. "Well if recruiters use this type of automation so can the candidates. I see nothing wrong with this except the fact that the code didn't work," posted a Twitter user.
Another added, "He didn't fail. You reverted him and that's what he wanted. Few understand." "This is what happens when you spend 4 years on LeetCode only thinking that the college tag will do the job for you," commented a third. A fourth shared, "Don't think it's his code. Could be an app that is doing it for him." "O god…this has always been my nightmare!" wrote a fifth.
As AI continues to play an increasingly significant role in various domains, including job applications, incidents like these underscore the importance of striking a balance between utilizing technology for efficiency and ensuring human oversight to avoid potential mishaps.
FLOOD VISIT GONE WRONG: "WHY DID YOU COME NOW?" ASKS WOMAN WHILE SLAPPING JJP MLA WHO WENT TO INSPECT FLOOD-HIT VILLAGE IN KAITHAL; VIDEO GOES VIRAL