The Department of Sociology at Royal Global University orchestrated a Special Talk on 'Understanding Indian Knowledge System: Literary Criticism in Hindi and other Indian Languages'. The session was graced by Prof. (Retd.) Jagdishwar Prasad Chaturvedi from the Department of Hindi, University of Calcutta, and Prof. Dr. Pradip Jyoti Mahanta, Dean i/c Royal School of Communications and Media and Professor, Department of English, Royal School of Languages.
Prof. Chaturvedi delved into the significance of vernacular languages and advocated for the establishment of departments dedicated to these languages in universities. He stressed the prominence of non-material knowledge and its superiority over conventional measures like grades and institutional reputation. Furthermore, he shed light on the role of the Bhakti Movement and the academic relevance of scriptures such as Ramayana, Mahabharata, and Abhignyana Shakuntalam. Prof. Chaturvedi underscored the urgency to bring about greater parity within the academic society of the country.
On a parallel note, Prof. Mahanta elucidated the origins of literary criticism, spotlighting the contributions of philosophers Plato and Aristotle to the field. He also discussed the evolution of 'imitation' in human life and traced the growth of literary criticism, particularly in the context of poetry.
Meanwhile, the Royal School of Communications and Media hosted an insightful workshop titled 'Exploring the Changing Landscape of Media Convergence: TV, Radio and Internet'. Renowned Media Professional, Mr. Narendra Tripathi, spearheaded the initial leg of this workshop.
Mr. Tripathi provided valuable insights into the evolution of both traditional and new media and their profound impact on the market. He delved into the art of storytelling through media, engaging the audience in an interactive session where he fielded their questions and offered glimpses into his experiences gleaned from working with prominent media houses like NDTV, Times Group, and Dainik Jagaran.
Noteworthy dignitaries like Dr. A.K. Pansari, Honorable Chancellor of Royal Global University, and Prof. (Dr.) S.P. Singh, Vice Chancellor, along with Deans of various schools, senior faculty members, and other senior officers of the university, graced both events with their presence.
This dual event not only enriched the academic landscape but also facilitated a deeper understanding of critical subjects in today's dynamic world. It underscored Royal Global University's commitment to holistic education, blending traditional learning with practical exposure and expert insights.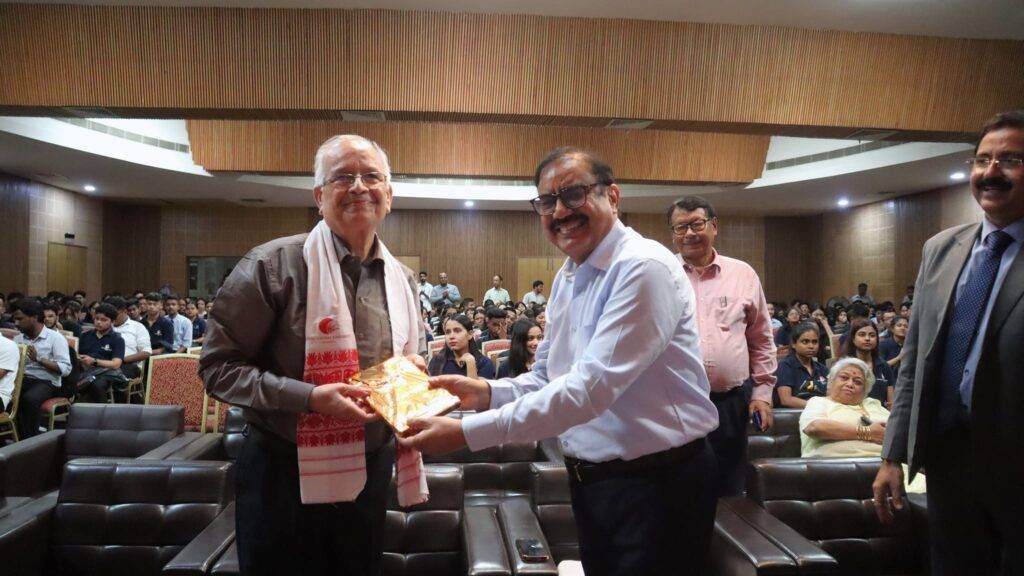 About Royal Global University
Royal Global University (RGU), officially established as The Assam Royal Global University, stands as the fifth private university of Assam and has earned its place as the number one private university in the state. Under the umbrella of the Royal Group of Institutions, it was established in 2009, offering a diverse array of courses ranging from Engineering and Management to Architecture and Commerce.
RGU boasts an impressive roster of 13 institutions, each contributing significantly to the academic landscape. These schools cover a wide spectrum of disciplines, from Applied and Pure Sciences, Architecture, and Design, to Behavioral and Allied Sciences, Engineering and Technology, Business, Commerce, Communication and Media, Fashion Designing & Technology, Fine Arts, Information Technology, Language, Law and Administration, Performing Arts, and Pharmacy.
The university's commitment to providing quality education is reflected in its state-of-the-art facilities, which encompass well-equipped laboratories, computing centers, and performing arts studios across all academic disciplines. With a faculty drawn from the best universities and institutions, both nationally and internationally, RGU offers a unique blend of expertise and experience.
The university also places a strong emphasis on industry connections, offering students access to projects and placements that enhance their employability upon graduation. This holistic approach, supplemented by co-curricular activities, cultural events, sports, and yoga, ensures that students receive a comprehensive education that prepares them for success in both academia and the corporate world.
GOVERNMENT WARNS OF HIGH SECURITY RISK FOR ANDROID USERS IN INDIA; URGES IMMEDIATE UPDATES