Enlightening Discourse on Ocular Health: Dr. Vivek Suryakant Paulbuddhe Addresses RGU's Optometry Department

September 26, 2023, dawned as a day of transformation and enlightenment at Assam Royal Global University (RGU), where the spirit of empowerment and the quest for knowledge were palpable. Royalites, the university's proud students, seized this day as an opportunity for personal growth and development, ushering in a new chapter of progress and learning.
The day's journey commenced with a significant event orchestrated by the Department of Optometry, in collaboration with ASG Eye Hospital, Guwahati. The stage was set for the day's proceedings with an enlightening Guest Lecture by none other than the esteemed Dr. Vivek Suryakant Paulbuddhe. Dr. Paulbuddhe's discourse delved into the intricate subject of 'History taking and clinical investigation of the anterior segment of the eye.' His insights and expertise provided invaluable knowledge to the eager audience, serving as a testament to RGU's commitment to academic excellence.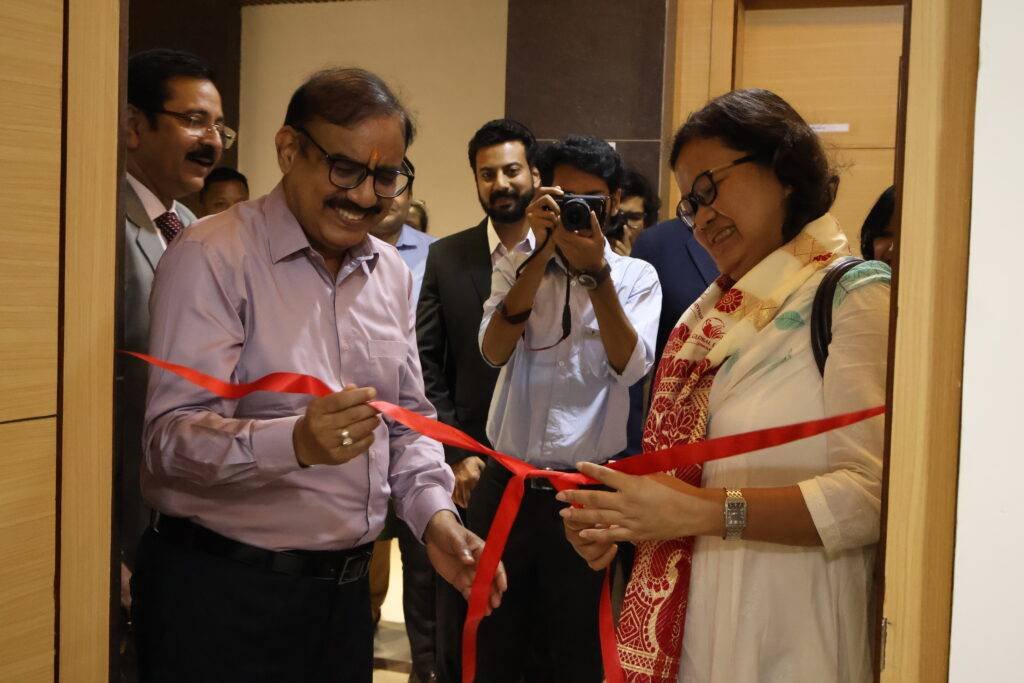 Following this enlightening session, RGU opened its doors to host a Free Eye Camp at the Optometry Laboratory, extending its care and concern to faculty, staff, and students. This initiative, organized in collaboration with ASG Eye Hospital, underscored the university's dedication to holistic well-being. It wasn't just about academics; it was about ensuring the health and welfare of its community members, demonstrating that RGU's commitment transcends the confines of the classroom.
The heartbeat of RGU quickened as the sun reached its zenith, heralding the inauguration of a cutting-edge gymnasium within Heyansh's House, the newly constructed in-campus boys' hostel. This state-of-the-art facility was meticulously designed to foster physical fitness and well-being among the students. The vibrant atmosphere was further enriched by the unveiling of a brand new Badminton Court within the same hostel premises.

These additions epitomized RGU's dedication to providing students with a holistic education that encompasses physical fitness and mental agility. Prof. (Dr.) S.P. Singh, the honorable Vice Chancellor of Royal Global University, had the honor of inaugurating the gymnasium, while Shri. Kuladhar Saikia, Former DGP of Assam, graced the occasion by opening the in-house badminton court. It was a day that celebrated not only intellectual growth but also physical vitality and sportsmanship.
Expanding Horizons: Royal Centre for Corporate Relations Unveils New Office Space, Nurturing Career Opportunities for RGU Students
In the latter half of this eventful day, the spotlight shifted to the Royal Centre for Corporate Relations, an indispensable arm of RGU responsible for placements and nurturing corporate relationships. This wing of the university marked its own expansion with the inauguration of a new office space, indicative of its growth and prominence.
The opening ceremony was graced by the presence of Ms. Cristia Tapse M. Sangma, a Senior Human Resources Business Partner at Star Cement Ltd., Guwahati, who assumed the role of Chief Guest for the event. Dr. A.K. Pansari, the honorable Chancellor of Royal Global University, joined her in this significant milestone. Ms. Sangma engaged in an insightful interaction with the final year MBA and B.Tech. students, emphasizing the profound importance of placements, internships, and career development in the lives of young adults. Her presence and guidance were a testament to RGU's commitment to providing practical skills and essential connections to its students for their future careers.
The expansion of this vital department symbolized RGU's unwavering dedication to preparing its students not only academically but also practically for the challenges and opportunities that lie ahead.

This holistic approach to education, encompassing physical health, academic excellence, and career readiness, solidified RGU's position as a dynamic institution that truly invests in the growth and development of its students. On September 26, 2023, RGU demonstrated that its commitment to empowerment and expansion goes far beyond mere words—it is a living reality, embodied in the experiences and opportunities it provides to its Royalites.
G20 2023: WORLD LEADERS UNVEIL 'INDIA-MIDDLE EAST EUROPE' PORT AND RAILWAY CORRIDOR; PROMISES 40% TRADE