While engaging India under Prime Minister Narendra Modi, PM Shehbaz Sharif has taken a different course than his two predecessors, Imran Niazi and his elder brother Nawaz Sharif.
PM Shehbaz Sharif sought serious interaction with India
Meanwhile, PM Shehbaz Sharif has sought serious interaction with India and is devoted to regional peace and security, rather than using the crude language of Imran Niazi against PM Modi.
PM Shehbaz Sharif, on the other hand, appears to have taken a lesson from his elder brother Nawaz's failure by stressing the so-called fundamental issue of Kashmir while simultaneously talking about combating terrorism.
Moreover, PM Shehbaz Sharif talked about the never-implemented 1948 UNSC resolution on Jammu and Kashmir after being sworn in as Prime Minister and mentioned the topic of Kashmir in his letter to Prime Minister Modi.
However, his arrogant predecessor, Niazi, was likewise preoccupied with Kashmir, and in despair, decided to invoke PM Modi's name because the latter did not engage the former swing bowler during his entire reign.
Meanwhile, according to sources, Niazi, a die-hard opportunist, switched tactics near the conclusion of his truncated tenure and utilised India to criticise the Pakistan Army by calling the Indian Army honest and praising India's foreign policy over Ukraine in order to smear the Biden administration.
Unfortunately, Niazi failed in both Afghanistan and India without the assistance of his Rawalpindi GHQ masters, and he created a new foe in the US by cosying up to Russian President Vladimir Putin on the day he invaded Ukraine.
Pakistan analysts believe PM Shehbaz Sharif highlighted the Kashmir issue openly for local audiences since Nawaz's political woes began after the so-called keyword was deleted from July 10, 2015, Ufa summit statement between India and Pakistan PMs.
The statement read by the then foreign secretaries of India and Pakistan: "They (the two PMs) agreed that India and Pakistan have a collective responsibility to ensure peace and promote development. To do so, they are prepared to discuss all outstanding issues."
Further, because the term Kashmir was absent from the readout, which has been used by Pakistan to instigate masses against India for the previous 75 years, PM Nawaz Sharif was chastised by the local audience, who were suffering from withdrawal symptoms from the Jammu and Kashmir drug.
Moreover, S Jaishankar, who was then India's foreign secretary, is now the country's external affairs minister, with National Security Advisor Ajit Doval still keeping an eye on Islamabad.
PM Modi chose to land in Pakistan on December 25, 2015, to attend a family wedding of then-Pakistani Prime Minister Nawaz Sharif due to their mutual confidence.
However, the friendship between the two PMs was short-lived, as Pakistan's Jaish-e-Mohammed (JeM) chose to attack the Pathankot airbase, as evidenced by a note found in the attackers' van.
Despite India's warnings that a terror assault was imminent, the Pakistani National Security Agency (NSA) was unable to prevent it, and the Pathankot airbase was attacked in the early hours of January 2, 2016.
The entire operation was coordinated by Masood Azhar, a globally classified jihadi from Bahawalpur in Punjab, and his family terror enterprise.
Following then, bilateral ties deteriorated significantly, with Prime Minister Nawaz Sharif losing power in 2018 to Imran Niazi, a Pak Army protégé.
The Pakistan Army, led by General Qamar Jawed Bajwa, is a pragmatic army that understands that the Jammu and Kashmir conflict has no payoff, and that involvement in Afghanistan will turn Pakistan into an Emirate.
While India's reciprocal steps toward normalising bilateral ties with Pakistan are dependent on PM Shehbaz Sharif's actions, the situation has become even more convoluted with Islamabad being reduced to a tributary state to Beijing's middle kingdom.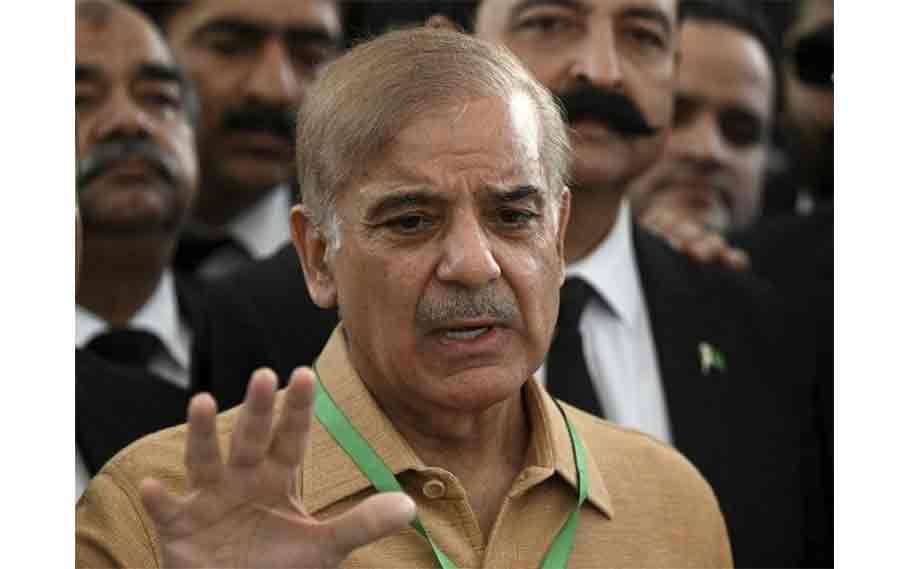 The economic crisis in Pakistan, with very high external debt, double-digit inflation, and a very weak Pakistani currency, further limits PM Shehbaz Sharif's manoeuvrability. Shehbaz Sharif would not be able to stop the rot in Pakistan by simply addressing Kashmir in the United Nations.
Also Read: MASSIVE PROTEST IN PAKISTAN AFTER IMRAN KHAN'S REMOVAL AS PM, 2022