Parul University celebrates successful Placement Day

Parul University, one of the leading private universities in Gujarat, India, recently celebrated its Placement Day, where 2,100 final-year students were congratulated for securing job offers from reputed companies even before their graduation. The university, which is accredited with the highest grade of NAAC A++, has a strong commitment to providing its students with the most remunerative career opportunities, and its Training and Placement Cell works tirelessly towards bridging the academia-industry gap by creating a channel of engagement between the students and the leading companies.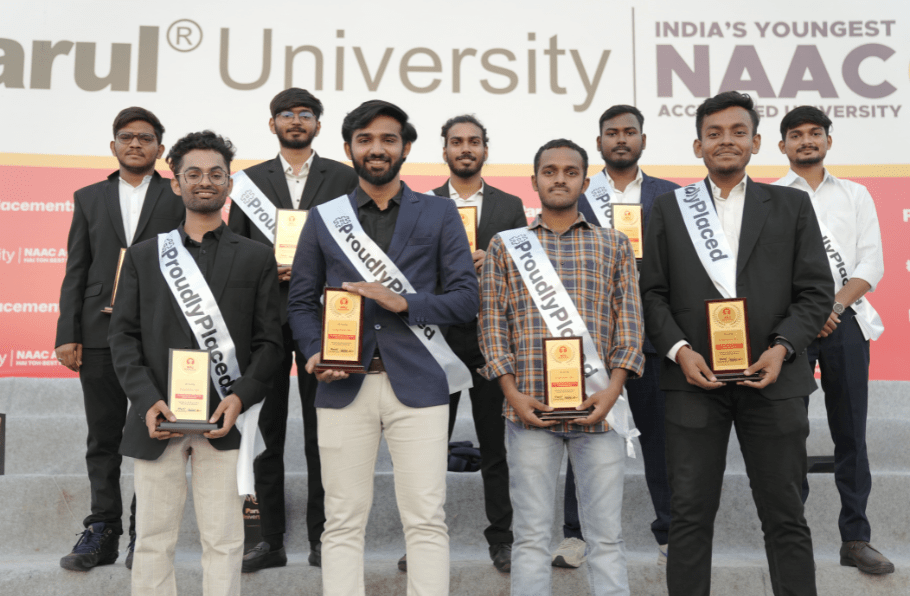 Renowned companies offer lucrative packages to Parul University students
The Placement Day event was held at the university's campus in Vadodara, and it was a momentous occasion for the students and the faculty members. The event was graced by the presence of the university's Vice-Chancellor, Dr. Devanshu Patel, who congratulated the students and appreciated the efforts of the Training and Placement Cell for their hard work and dedication towards the students' career growth. The Vice-Chancellor also mentioned that the university has a 100% placement record for its students, which is a testament to the quality of education and the practical exposure that the students receive at Parul University.
The Placement Day saw a multitude of companies participating, ranging from major recruiters like PhonePe, Sun Pharma, Reliance, Deloitte, Capgemini, Ultra Tech Cement, and TCS, among others. The companies offered packages ranging from 10+ LPA to 20 LPA, and several students were fortunate enough to secure their dream jobs with these reputed organizations.
Parul University's Training and Placement Cell has been instrumental in facilitating the placement process and ensuring that the students are well-prepared for their job interviews. The Career Development Cell works towards developing and nurturing the professional skills of the students, and they create endless platforms of career opportunities for the students.
Parul University's strong industrial ties with leading companies
Parul University's placement success can be attributed to its strong industrial ties with companies such as L&T, Tata, Sandvik, John Deere, Reliance, Amazon, Mahindra, HDFC bank, and Alembic pharmaceuticals, among others. These companies have been offering and recruiting the university's students with milestone package offers of up to 18 lacs. The university's commitment to providing its students with practical exposure and hands-on experience is reflected in the various undergraduate, postgraduate, and doctoral degree programs it offers in fields such as arts, management, engineering, law, computer applications, medicine, architecture, and social work.
Apart from its focus on academic excellence and industry-oriented education, Parul University also emphasizes cultural exchange and promotes diversity through its various initiatives. Recently, the university's Faculty of Performing Arts organized a culturally rich evening in association with the Indian Council for Cultural Relations (ICCR) to showcase the essence of Balinese Ramayana. The event was well-received by the students and faculty members, and it highlighted the university's commitment towards promoting cultural exchange and celebrating diversity.
Moreover, this year, Parul University had an impressive performance in the GATE 2023 examination, with 45 students qualifying. One student achieved an All India Rank (AIR) 17, while four students made it to the top 100 ranks, 14 students to the top 500, and 20 to the top 1000 ranks.
In conclusion, Parul University's recent Placement Day event was a celebration of the students' hard work and dedication towards securing their dream jobs. The university's commitment towards providing its students with practical exposure and industry-oriented education has paid off, as evidenced by its impressive placement record. With its strong industrial ties and focus on career development, Parul University is poised to continue its journey towards helping its students achieve their career aspirations and realize their potential.
PARUL UNIVERSITY MAKES HISTORY WITH RECORD-BREAKING 45 GATE 2023 QUALIFIERS, INCLUDING TOP 20 RANK HOLDER