North-East Startup NagaEd Shines at National Investor Meet
NagaEd, a pioneering digital education company from Nagaland, proudly represents the potential of North-East startups at a prestigious National Investor Meet hosted by IIM Lucknow Enterprise Incubation Centre (IIMLEIC). The event, held at IIM Lucknow's Noida campus, provided a platform for startup founders, investors, and corporate partners to connect, collaborate, and explore investment opportunities to bolster the startup ecosystem in the country.
National Investor Meet: Fostering Collaboration and Investment Opportunities
The startup was among the privileged 30 startups invited to pitch their innovative ideas and growth plans at the event, a recognition of the company's potential and underscoring the contribution North-East startups make at national-level conversations and initiatives.
Speaking about the importance of North-East startups participating in national-level events, Kevisato Sanyu, Founder of NagaEd, said, "We are honoured by the invitation from IIM Lucknow Enterprise Incubation Centre for NagaEd to take part in this National Investor Meet. We believe that North-East startups have immense potential to make a significant impact on a broader scale. By participating in events like these, we not only showcase our innovations but also represent our communities, highlighting the talent and entrepreneurship that thrives with tribal and indigenous peoples."
The event witnessed the enthusiastic participation of more than 40 venture capital firms, angel networks, and strategic partners from leading public sector undertakings (PSUs) like ONGC, GAIL, Oil India, and HPCL. The presence of prominent investors and industry experts provided startups with invaluable opportunities for networking, mentorship, and potential funding.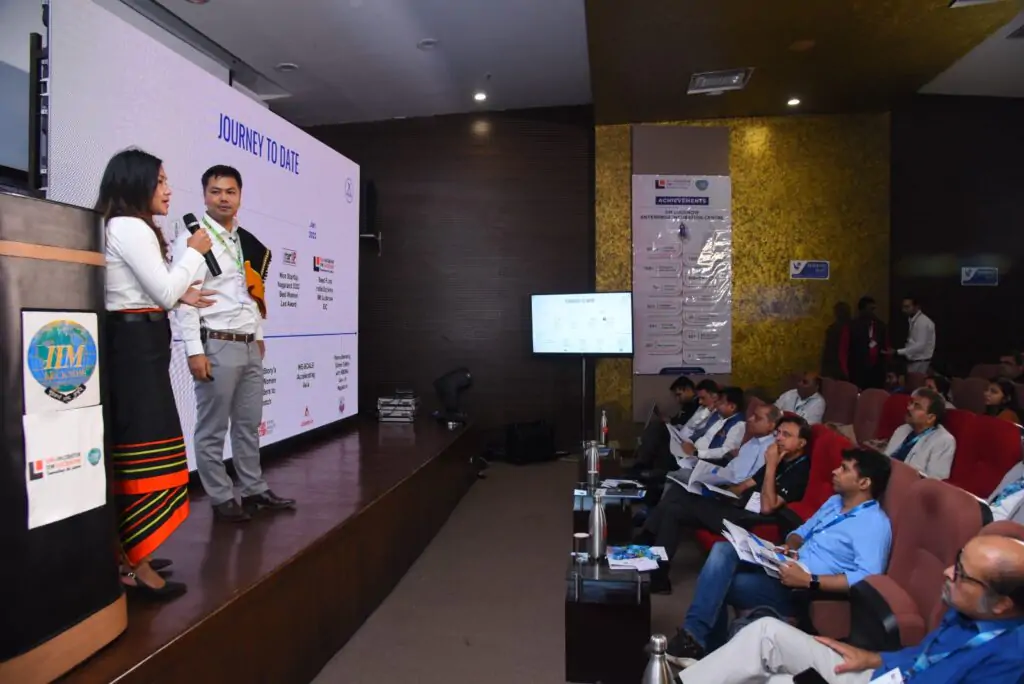 As reported in the Times of India, the startup was one of the prominent startups to catch the attention of investors at the event. The participation of NagaEd in the Investor Meet serves to highlight the contributions of North-East startups beyond regional boundaries. It reinforces the belief that tribal and indigenous communities have the power to create transformative solutions that address national and global challenges.
NagaEd's Innovative Solutions: Transforming Education Through Technology
NagaEd is a leading digital education company committed to transforming education through technology. The company specializes in creating interactive and engaging educational content, providing professional development for teachers, and supporting schools in their digital transformation journey. NagaEd's flagship product is a digital learning management system tailored to meet the educational patterns of each individual school as well as the capacity of individual students.
The NagaEd platform offers various features such as teacher training and development, customizable accounts, IT support services, quality assurance, and over 12,000 learning videos. It serves as an open and reliable web-based software that allows institutions to manage digital education, enables educators to create courses and assess student progress, and provides students with interactive learning experiences and constructive feedback.
The recognition of NagaEd's participation in the National Investor Meet highlights the company's dedication to revolutionizing education and its potential for growth and expansion. The event not only provided NagaEd with exposure to prominent investors but also showcased the talent and innovation of North-East startups on a national stage.
Yamini Bhushan Pandey, Managing Director of IIM Lucknow Enterprise Incubation Centre (IIMLEIC), expressed pride in NagaEd's initiative and acknowledged the company's significant contribution in the North-East region by making quality education accessible for all. IIMLEIC remains committed to providing comprehensive support to startups across the country and aims to provide NagaEd with access to prominent stakeholders within the startup ecosystem to further enhance its growth.
NagaEd's participation in the National Investor Meet serves as an inspiration for other North-East startups and reinforces the belief that the region is a hub of talent and innovation. With its dedication to transforming education and leveraging technology, NagaEd is poised to make a lasting impact nationally.

IMD PREDICTS 'HEAVY TO VERY HEAVY' RAINFALL IN 8 STATES INCLUDING ASSAM AND MEGHALAYA TILL JUNE 30