Man buys hir dream bike with only coins

In a heartwarming tale of perseverance and dedication, a man named Md Saidul Hoque who is a resident of the Sipajhar area in Assam's Darrang district, fulfilled his dream of buying a two-wheeler by paying for it with a sack full of coins he had been saving for six years.
Hoque, who runs a small shop in Guwahati, had been saving Re 1, Rs 2, Rs 5, and Rs 10 denomination coins in his piggy banks since 2017. His hard work and patience finally paid off when he accumulated enough money to purchase his dream two-wheeler.
"I had a dream of buying a two-wheeler, so I started saving the coins in 2017. I counted them today and found that I had saved the required amount to buy a two-wheeler, so I came to buy it. I am feeling very happy that finally, my dream of buying a two-wheeler has come true," said Hoque.
Hoque's dedication and perseverance caught the attention of many, including the owner of a nearby two-wheeler showroom, Manish Poddar. Hoque went to Poddar's showroom and offered to pay the entire amount of Rs 90,000 in coins.
The showroom owner's humble reaction
Poddar was surprised but pleased to see the customer's determination and patience. Four staff members at the showroom took around two hours to count the coins. "The customer came to our showroom with coins of Re one, Rs two, Rs five and Rs 10 denominations to buy a two-wheeler. I felt very good that he patiently waited for almost six years and saved the coins and bought the two-wheeler. He said that he had a dream of buying a two-wheeler one day so he worked hard and saved the amount. He brought an amount of Rs 90,000 to buy the two-wheeler," said the owner of the two-wheeler showroom Manish Poddar.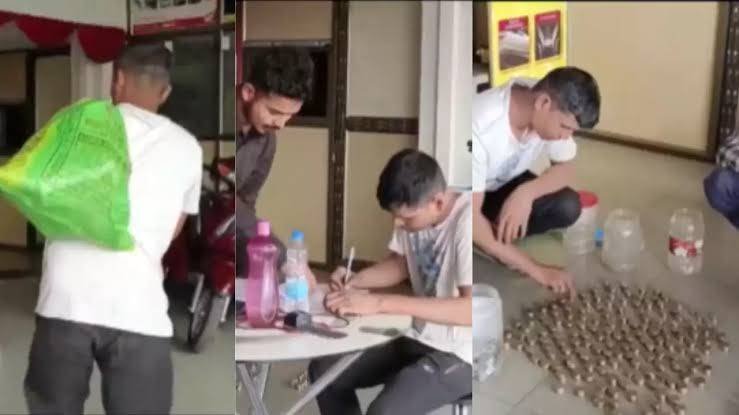 Similar incidents
In a similar incident, a man from Tamil Nadu paid a whopping Rs 2.6 lakh in Rs 1 coins for a Bajaj Dominar 400 motorbike. The incident happened in March 2022, but it came to light recently after a video of the transaction went viral on social media.
According to reports, the man, identified as V Boopathi from Erode district in Tamil Nadu, had saved the money for years to buy his dream motorbike. However, instead of paying through a bank transfer or a cheque, he decided to pay the entire amount in coins.
The incident took place at a Bajaj dealership in Tamil Nadu, where Boopathi arrived with bags full of coins. The dealership staff was initially taken aback by the sight of the coins, but they agreed to accept the payment after verifying the coins' authenticity.
The dealership staff then spent almost 10 hours counting the coins, with the help of a machine, to ensure that the payment was accurate. The entire process was captured on video, which later went viral on social media.
The incident has sparked a debate on social media, with many people questioning the man's decision to pay in coins. Some people have also raised concerns about the logistical challenges of counting such a large number of coins.
This is not the first incident of its kind. In 2021, a man from Uttarakhand's Rudrapur had paid Rs 50,000 in coins to buy a TVS Jupiter scooty from a local TVS dealer.
Despite the challenges, paying in coins is not illegal in India. According to the Reserve Bank of India's guidelines, coins are a legal tender for any amount up to Rs 1,000. However, businesses are not obligated to accept more than 10 coins of any denomination in a single transaction.
The incident has also highlighted the need for digital payments and the government's push towards a cashless economy. With the rise of digital payment platforms and the increasing adoption of mobile banking, many people are now opting for cashless transactions, which are more secure and convenient.
2023 WOMEN'S WORLD BOXING CHAMPIONSHIP: INDIAN BOXER LOVLINA BORGOHAIN WINS 5-0 IN OPENING BOUT