In a bid to preserve the sanctity of the revered Kedarnath Temple, authorities have taken a strict measure to ban devotees from taking photographs and shooting videos on its sacred premises. This decision comes in the wake of a recent incident where a video of a woman blogger proposing to her boyfriend in front of the temple went viral, raising concerns about maintaining the temple's spiritual ambiance.
The Shri Badrinath-Kedarnath Temple Committee has taken proactive steps to enforce this ban, strategically placing boards throughout the temple area with clear instructions. The boards sternly warn visitors, "Do not enter the temple premises with mobile phones; any kind of photography and videography is strictly prohibited inside the temple and you are under the surveillance of CCTV cameras." Furthermore, the temple committee has also urged people to dress modestly and refrain from setting up tents or camps in the temple precincts.
The directive, conveyed in both Hindi and English, emphasizes that any violation of these rules will result in legal action being taken against the offenders. Ajendra Ajay, the president of the Shri Badrinath-Kedarnath Temple Committee, underlined the significance of respecting the temple's sacred beliefs and traditions. He pointed out that religious spaces deserve reverence and should be treated with utmost respect by devotees.
While no complaints have been received from Badrinath Dham so far, the Temple Committee plans to extend these measures there as well, aiming to safeguard the spiritual sanctity of this important pilgrimage site. As the news of this ban spreads, devotees and visitors are expected to comply with these regulations, upholding the age-old customs that have been cherished by pilgrims for generations.
Viral Proposal Video in Kedarnath Temple Sparks Online Debate Over Modern Expressions of Love and Traditional Values
A video capturing a woman's heartfelt proposal to her boyfriend in front of the sacred Kedarnath Temple has taken the internet by storm, igniting a lively discussion on social media. The viral video, shared on Twitter, shows the couple dressed in complementary yellow traditional attire, creating a picturesque moment. In the footage, the woman gracefully kneels down on one knee and pops the question to her boyfriend, eliciting a range of reactions from netizens.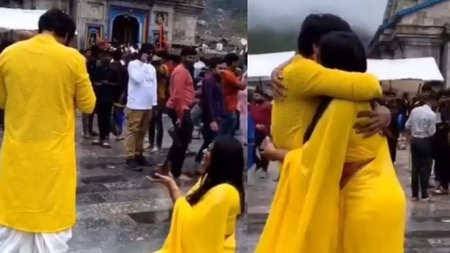 The proposal video in Kedarnath quickly became a trending topic, drawing both praise and criticism from Twitter users. Opinions were sharply divided, with some individuals embracing the modern expression of love and others expressing concern over the use of a religious site for personal displays.
Those in favor of the proposal saw it as a heartwarming moment that exemplifies the changing dynamics of relationships and the breaking of traditional gender norms. They applauded the woman's boldness and hailed the act as a step towards gender equality, as it challenges the conventional notion that only men should propose. Supporters of the proposal believe that love should be celebrated in all its forms, and expressing affection publicly is a personal choice that should be respected.
However, a significant portion of the online community expressed their disapproval, arguing that religious sites, such as the Kedarnath Temple, should be treated with utmost reverence and respect. They felt that using such sacred places for personal displays of affection or celebration might be disrespectful and inappropriate. For these individuals, traditional values and customs hold great significance, and they believe that certain places should be reserved for solemnity and devotion, rather than personal romantic gestures.
The debate surrounding the proposal video in Kedarnath temple essentially reflects a broader clash between contemporary expressions of love and the preservation of traditional values. As society evolves, notions of romance and relationships are undergoing significant transformations. In the past, public displays of affection might have been considered taboo, but in the age of social media and changing cultural norms, such expressions have become more commonplace.
The rise of social media has played a significant role in amplifying such instances, making them more visible and accessible to a global audience. As a result, what might have once been a private moment now becomes a subject of public scrutiny and debate.
Instances like this proposal video in Kedarnath highlight the need for a nuanced and balanced approach to embracing change while respecting tradition. While modern expressions of love should be acknowledged and celebrated, it is equally essential to preserve the sanctity and sacredness of religious sites and spaces.
The rise of social media has played a significant role in amplifying such instances, making them more visible and accessible to a global audience. As a result, what might have once been a private moment now becomes a subject of public scrutiny and debate.
Ultimately, the significance and meaning of love and proposals may differ from person to person and culture to culture. Each individual's expression of affection is deeply personal, influenced by their beliefs, values, and experiences. As society continues to evolve, it is crucial to engage in respectful conversations and find common ground that bridges the gap between modernity and tradition.
In conclusion, the viral proposal video in front of the Kedarnath Temple has sparked an online debate on social media, shedding light on the complexities of embracing modern expressions of love while respecting traditional values. The polarized responses reflect the changing landscape of relationships and the challenges of striking a balance between evolving cultural norms and preserving sacred spaces. As the world progresses, open and respectful dialogue can foster understanding and acceptance of diverse perspectives on love, relationships, and public displays of affection.
HORROR IN JODHPUR: 17-YEAR-OLD DALIT GIRL GANG-RAPED BY 3 COLLEGE STUDENTS IN FRONT OF BOYFRIEND; ACCUSED HELD