Cracking the Record: Naveen's nuts Feat
Nuts Breaking record: The realm of record-breaking feats never ceases to amaze, and Guinness World Records continues to dazzle the world with jaw-dropping achievements that defy expectations. Their recent spotlight falls on an Indian man who has cracked his way into the history books by accomplishing a remarkable and somewhat unconventional feat. Naveen Kumar, a 27-year-old martial artist hailing from India, has set a new world record by breaking the highest number of walnuts with his head in the span of just one minute. The astounding record-breaking moment, captured on video, showcases his lightning-fast headbutts that led him to pulverize an incredible total of 273 walnuts, averaging an astonishing 4.5 walnuts cracked per second.
Naveen's awe-inspiring accomplishment surpasses the previous record held by Muhammad Rashi, who managed to break 254 walnuts within the same one-minute timeframe. This isn't just a chance occurrence; it's the culmination of a competition that has spanned several years between Naveen and Muhammad. The tale of this rivalry can be traced back to 2014 when Muhammad set the benchmark by cracking 150 walnuts. This feat was then replicated in 2016 with an impressive tally of 181.
Naveen Kumar's journey into the world of record-breaking took its first step in 2017 under the guidance of Prabhakar Reddy, a distinguished martial artist with his own record-breaking accolades. With Prabhakar's mentorship, Naveen managed to shatter Muhammad's then-standing record by successfully cracking 217 walnuts. The rivalry between the two intensified in 2018, setting the stage for a head-to-head showdown in Italy. At the age of 22, Naveen faced off against the 36-year-old Muhammad on the set of "La Notte dei Record." In this contest, Muhammad emerged victorious by cracking 254 walnuts, while Naveen broke an impressive 239.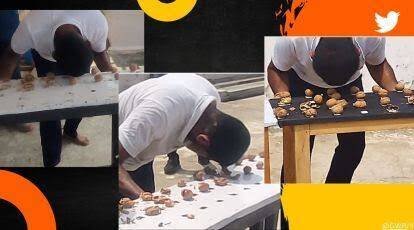 Naveen's journey took an unexpected turn, marked by a five-year hiatus that culminated in a triumphant return to the record-breaking arena. His dedication and unrelenting spirit enabled him to reclaim his title as the world's preeminent walnut cracker. Naveen's words encapsulate his unwavering determination, as he shared, "In order to prove my talent, I broke the record again."
Behind Naveen's extraordinary achievement lies the guidance of Prabhakar Reddy, who has meticulously trained him to follow in his own record-breaking footsteps. With Naveen now at the peak of his athletic prowess, the future seems ripe with potential for him to secure even more of Muhammad's records.
The resonance of Naveen's accomplishment reverberated across digital platforms, with Guinness World Records sharing a captivating video on their Twitter handle. The video's caption proudly proclaimed, "New record: The most walnuts cracked with the head in one minute – 273 achieved by Naveen Kumar S." This impressive visual display garnered over 1 million views and sparked a flurry of reactions in the comments section. As one user humorously quipped, "This is nuts," the sentiment echoes the collective awe and amusement that such remarkable feats never fail to elicit.
Guinness World Records, the definitive authority on all things extraordinary, continues to astonish the world with its showcase of incredible human achievements. From daring stunts to astounding displays of skill, the records highlighted on their platform serve as a testament to the boundless potential of human endeavor. Naveen Kumar's walnut-cracking feat is yet another shining example of how individuals from around the globe can push the limits of what's possible, leaving an indelible mark on the pages of history.
As the journey of breaking records continues, Guinness World Records stands as a beacon of inspiration for those who dare to dream big and aim high.
FOR THE FIRST TIME, HIMALAYAN VULTURE IN ASSAM; BOMBAY NATURAL HISTORY SOCIETY CELEBRATES CAPTIVE BREEDING VULTURE