Infrastructure Failures: Broken Roads, Open Pits, and Flyover Mishaps

Guwahati city, known for its vibrant culture and scenic landscapes, has recently been plagued by a series of mishaps that have left its residents questioning the accountability of those responsible for the city's infrastructure. Broken roads, open pits, flyover accidents, and water pipeline bursts have become all too common, raising concerns about the safety and well-being of the people.
Water Pipeline Bursts: A Recurring Problem in Guwahati
In yet another unfortunate incident, a water pipeline burst occurred in the Noonmati area of Guwahati. The incident took place in Sector 2 during the afternoon hours, causing a temporary disruption in water supply to the affected area. Although the water gush from this burst was not as severe as in previous incidents, it highlights the recurring problem faced by the city. Just a month ago, a newly installed water pipeline of the Guwahati Jal Board burst near Commerce College Link Road on Rajgarh Road, resulting in extensive damage to properties worth lakhs of rupees.
Another mishaps involved a Gammon JICA water supply mainline pipe burst in the Kharguli area, which caused significant damage to at least 40 houses, affected around 600 people, injured 30 individuals, and tragically claimed the life of one person. The Housing & Urban Affairs and Irrigation minister of Assam, Ashok Singhal, visited the site but found no workers present, raising questions about the responsiveness of the authorities.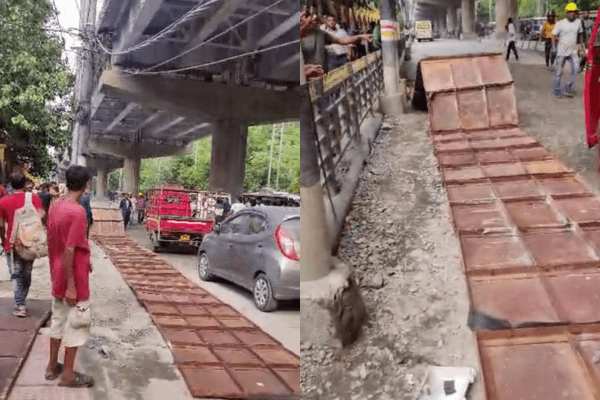 Adding to the city's mishaps, a section of the Maligaon bridge in Guwahati collapsed, posing a serious threat to motorists passing beneath it. Two individuals sustained injuries in the incident, with one of them in critical condition. Disturbingly, a video surfaced recently, capturing sparks from welding activities falling onto passing vehicles, raising concerns about the lack of proper safety protocols in place during construction work.
With each incident of water pipeline bursts and infrastructure mishaps, the pressing question arises: Who should be held accountable for these safety lapses? The residents of Guwahati rightfully demand answers and expect responsible parties to take swift action to address these issues before more lives are put at risk. It is crucial for the authorities to step forward, conduct thorough inspections of existing infrastructure, and implement effective measures to ensure the safety and well-being of the city and its people.
Proper maintenance and regular inspections of water pipelines should be carried out to prevent future bursts. The Guwahati Jal Board, responsible for the city's water supply, must prioritize the safety of its infrastructure and take immediate action to rectify any vulnerabilities. Similarly, the construction companies involved in flyover projects and other infrastructure development should adhere to stringent safety regulations and protocols to avoid accidents that can have dire consequences.
In addition to holding the responsible parties accountable, it is essential for the government and local authorities to allocate adequate resources and funding for infrastructure development and maintenance. Guwahati, as a rapidly growing city, needs robust and reliable infrastructure to support its expanding population and economic activities. Neglecting these crucial aspects not only jeopardizes the safety of the residents but also hampers the city's progress and potential.
The recent spate of mishaps in Guwahati serves as a wake-up call for the authorities and responsible parties to prioritize safety and take swift action. The residents of Guwahati deserve a city that is safe, well-maintained, and free from the constant threat of infrastructure failures. It is imperative for the concerned authorities to work together, conduct thorough investigations into the causes of these mishaps, and implement necessary reforms to prevent such incidents in the future. Only then can Guwahati regain the trust of its residents and ensure a brighter and safer future for all.
TITANIC VISIT GOES WRONG: TOURIST SUBMERSIBLE GOES MISSING IN ATLANTIC OCEAN DURING TOUR TO 'TITANIC WRECK'; SEARCH UNDERWAY