Fashion Hacks that you must try: We all know how important it is to put our best foot forward. Just looking good goes a long way towards boosting our social and professional success, and clothes have a big role to play in that. Shopping wisely and buying clothes that won't go out of style is definitely step one towards looking great on a budget, but how can we extend the useful life of our clothing?
Here are 10 Fashion Hacks that will become your favourite:

From quick fashion fixes to stain-removal and weird hacks you've probably never thought of, here are the following hacks :
Nothing feels worse than wearing a nice clean shirt and getting white deodorant stain lines all over it. This happens to most people daily and I've generally tried using some tissues or a wet towel, but it usually just leaves huge wet spots all over the fabric—that might even be worse than the skid marks! So to save you from this disaster I have a wonderful solution: A sponge! A dry sponge eliminates even the peskiest deodorant stains like magic. This will also work magically if someone hugs you and gets deodorant stains on the upper arms or shoulders of your jacket.
I bet like me you would also love to get your shoes polished whenever they looked a little dull, but I never have the time and always end up walking around with sad-looking leather. It might sound crazy, but the inner lining of a banana skin can polish up your shoes if you are in a rush. Another best fashion hacks is to Rub the peel all over the leather on the outside of your shoes (just as if you were using shoe polish). Once you have wiped the banana peel over the whole of both shoes, buff them up with a soft cloth. Voila—banana polished shoes. This hack also helps you recycle, reduce and reuse)
Another easy fashion hacks I know ironing is a real hassle and very time-consuming. If, like me, you too hate ironing, here's the perfect solution for you, use a hair straightener to get out mini-wrinkles. If you have some wrinkles on the front of your shirt or your collar, a hair straightener is a life saver and takes less than a minute. This is especially helpful while travelling.
Have you been forgetting to hit the gym? Eating extra cookies? And now your feet are just a little too wide for your favourite pair of shoes? We have all been there–no judgment! I have a suggestion for you as it is the best fashion hacks to follow. Fill 2 Ziploc bags with water, seal them tight, put them in your shoes and place them in the freezer. The water will freeze overnight and expand your shoes without damage. The freezer also helps zap away smelly shoes too.
There's poop on the sweater. No, not bird poop, fabric poop. Do you know when you have worn a sweater or pair of pants so many times that it begins to shed into these little balls of thready pills? I call those clothing poops, and they look nasty when you don't take care of them. All you have to do is shave your clothes—yup, SHAVE! Take your razor and run it lightly along the fabric, this will shave off any top fabric poops. Use tape to take care of any leftovers.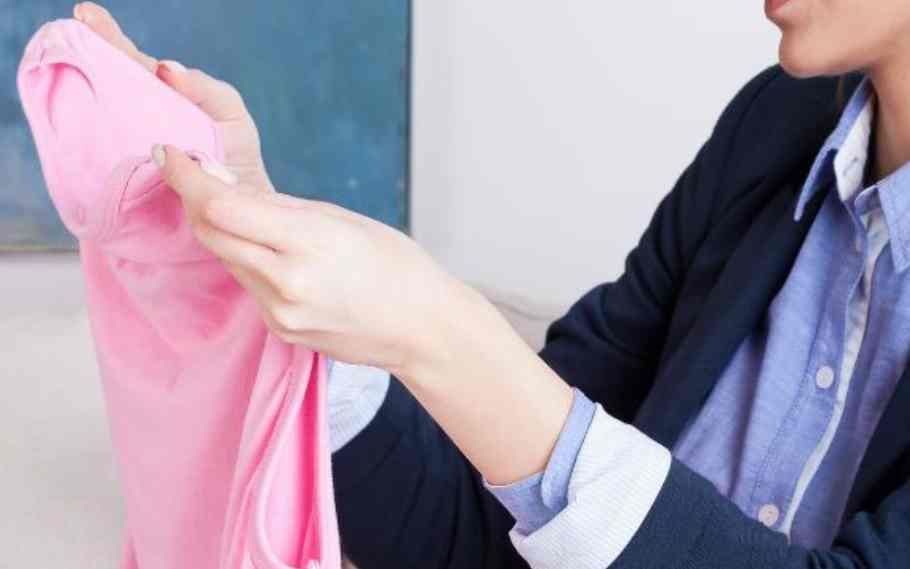 Do you have make-up stains all over your clothes?
No need to worry, just grab the shaving foam and say bye-bye to all the stain marks. Even though washing it again after using the foam will give a better result and the dress is again brand new.
Losing your hoodie string is really a mess. But we have a simple solution for that, next time you have a Mazaa just keep the straw with yourself, it will help you to find your hoodie string.
Jeans shopping is the most time-consuming, soul-destroying experience ever. Especially when there's no dressing room around. Don't worry we have the perfect hack, so instead of trying jeans on to see if the waistline will fit around your neck. If it does, chances are they'll fit your waist.
The dreaded sweat ring. You know what I'm talking about? That nasty yellowish, brownish ring around the pits of your white shirts? Please don't wear a shirt with those stains! However, you don't have to throw it away either. Instead, before you wash it, spritz a little lemon juice on the area to break down the stain. Then wash it with bleach and air dry in the sun. The sun is a natural bleacher and can help your shirt smell fresh too.
Moleskin is the anti-blister. Have shoes that drive you crazy? Don't hop around on one foot at your next networking event or bleed through your socks. You can get moleskin at any drugstore to protect ankles and even tame a wild underwire that snapped loose from your favorite bra. I always have a patch in my toiletry kit.
Also Read: 5 perfumes below Rs 1000; Read to know more