The Plight of a Farmer from Barshi Village who sold onion for Rs2 profit

Rajendra Tukaram Chavan, a farmer from Barshi Village in Solapur, Maharashtra, recently sold his onion crop of 512 kg at the Solapur Mandi for a meagre profit of Rs 2. The trader purchased the onions from Chavan at Rs 1 per kg after considering it a low-grade crop. After the deductions for carriage, weighing, and wages, Chavan was left with a net profit of Rs 2.49.
The receipt, dated February 17, 2023, shows that Chavan sold his onions to a trader named Surya Trading at Rs 1 per kg. After the deductions of Rs 15 for carriage charges and Rs 24 for weighing, among other charges, Chavan was left with only Rs 2.49. The cheque issued to him was for Rs 2.
Outrage and Calls for Action on Twitter
Pictures of the receipt and cheque were shared on Twitter by Ravindra Kumar Adi, who expressed his sympathy for Chavan. The tweet has since gone viral, drawing attention to the plight of farmers who struggle to earn a living due to low prices and high costs.
Chavan, who had travelled almost 17 km to sell his crop, onion in the market, claimed that the produce was of good quality. However, the trader disagreed, calling it a low-grade crop.
The incident highlights the challenges faced by farmers in India, particularly in the current economic climate. The country has seen a rise in the prices of essential commodities, including onions, due to factors such as supply chain disruptions, hoarding, and inflation. However, these higher prices do not always translate into better profits for farmers, who often face high input costs and low prices for their crops.
In response to the incident, Twitter users expressed their outrage and called for action to be taken to support farmers. Many called for more transparency in the agricultural supply chain and fair prices for farmers' produce. Some users also shared information on initiatives that aim to support farmers, such as direct marketing and community-supported agriculture.
Government Response and Initiatives for Farmers
The government has also been under pressure to take action to support farmers, who have been protesting for over a year against new farm laws that they say will hurt their incomes and leave them vulnerable to exploitation by big corporations. The laws, which were passed in September 2020, aim to liberalize the agricultural sector by allowing farmers to sell their produce to anyone they choose, including private companies. However, farmers fear that this will lead to the dismantling of the existing system of government-regulated markets, which they say provides them with a safety net.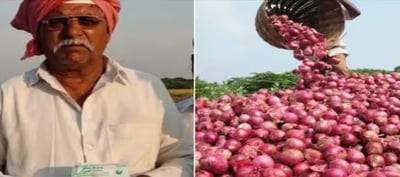 The incident also underscores the need for better market access and infrastructure for farmers, who often struggle to transport and sell their produce due to lack of storage and transportation facilities. The government has initiated several schemes and programs to address these issues, such as the Pradhan Mantri Fasal Bima Yojana and the e-NAM (National Agricultural Market) portal, which aim to provide farmers with better crop insurance and market access, respectively.
However, more needs to be done to address the structural challenges faced by farmers, such as land fragmentation, low productivity, and inadequate credit and insurance facilities. These challenges require long-term solutions that address the root causes of farmer distress and support sustainable and equitable agriculture.
In conclusion, the incident involving Rajendra Tukaram Chavan highlights the challenges faced by farmers in India by his tragedy while selling onion and the urgent need for action to support them. While the incident has drawn attention to the plight of farmers, more needs to be done to address the structural issues that underlie their distress. The government, civil society, and private sector all have a role to play in supporting sustainable and equitable agriculture in India.
GOODBYE 5-DAY WORKWEEK? WORLD'S LARGEST FOUR-DAY TRIAL REVEALS GAME-CHANGING RESULTS