A 21-year old boy, named Chengize Hassan, a traditional artist, completes doodle artwork showcasing the glorifying tradition and culture of Assam. As mentioned to the North-Eastern Chronicle, the planning and creation procedure began in July.
While speaking in this context, he said: "We want to put the entire things in the doodle itself so that people gets to know more about our culture through art which will express it in an artistic way."
Chengize Hassan to represent his State through his artwork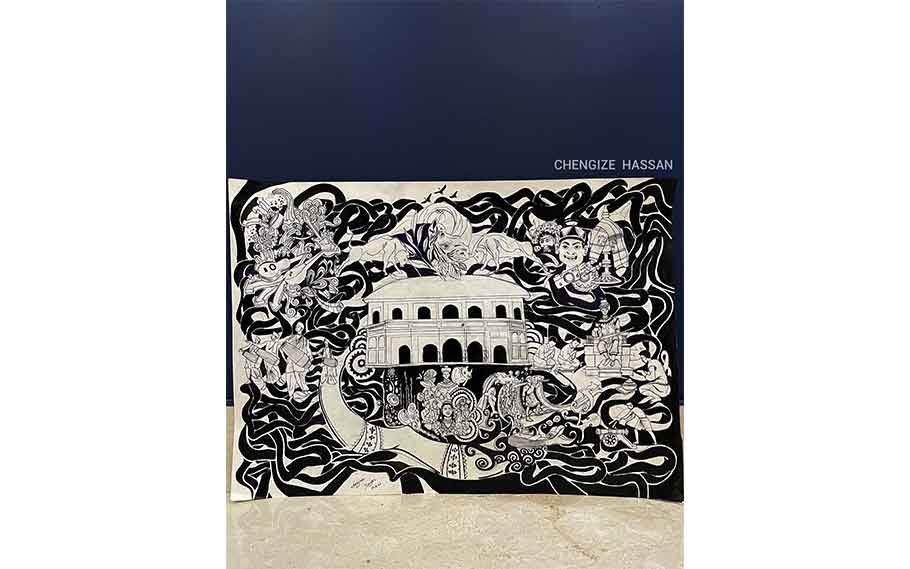 Speaking of his plans. He had said that initially, he would be covering up the main historical monuments of Assam such as 'Rang ghar', 'Shiva dol' and 'Kareng ghar' along with their history.
"Our main motive is to make people know about our own tradition through art," he says.
This is a very contemporary form of artwork that will showcase the significance of the State.
What do his works reflect?
His works are basically multidisciplinary artworks, which reflect the general Art, Craft, and Culture of Assam commencing with tribal, folk elements and the subcultures from the base of Assamese culture.
"Here we portrayed some of the important aspects of Assam in a detailed and elegant manner. We're looking forward to working on more artworks to exhibit them in effort to play our small part in representing our Assamese culture," he says.
Citing his recent creation, he says, "Actually they are my concepts. The other painting was done by one of my friends named Jigyas who is a co-worker in this project."
Planning to exhibit his artworks in national and international exhibitions
In the upcoming days, he plans to exhibit them in national and international exhibitions with his co-worker.
The 21-year-old Chengize Hassan from Charaideo was previously was selected for the Asia Book of Records for painting flags of 138 countries in a single eggshell in record time.
He possesses unique and unusual talents in this art and craft domain which makes him distinct from other artists. At the same time, he is earning a lot of appreciation from the people.