Cases of Witchcraft in Assam; The Mayong village in Morigaon district has been the hub of witchcraft from time immemorial. The place is also known as the capital of black magic in India. Many mysterious stories from Mayong about black magic, ghosts, witches, etc. have always dominated Assam and have been part of popular folklore. Karbi Anglong district has not been as notorious but cases of witchcraft in Assam has recorded several instances of deaths in recent years.
Cases of Witchcraft in Assam
On the fateful night of August 1, a horrific incident took place in Chirang district in Assam. Two families were dragged out of their homes and brutally assaulted on the suspicion of being 'witches' and 'practicing sorcery.'
The locals of Bhurbasti village attacked Parmeswar Sutradhar, his wife Manjula Satrudhar and Gendi Basumatary, based on the rumour about the two families practicing sorcery, which they thought was the reason behind villagers suddenly falling sick. The timely intervention by the police resulted in the family being rescued, but the social stigma of being branded as 'witches' will remain with them forever.
Women have been the most common prey of witch hunting. Countless women have been ostracised from their villages, and in many cases, sexually assaulted and beaten up after being branded as 'witches.' The victims are often branded as witches by the 'witch doctors,' commonly called 'Ojaa' or 'Bej,' or self-proclaimed god/goddess, who the villagers consult on every issue, ranging from illnesses to crop loss, even for family feuds. These uneducated and unqualified 'witch doctors' don't use scientific methods to treat illnesses or seek police help to resolve a feud, but sorcery and black magic. They represent the solution to all the problems faced by gullible locals.
Some of the other cases of Witchcraft in Assam are –
Screams could be heard in Karbi Anglong's Rohimapur village on the night of September 30 as Ramawati Halua (50) and Bijoy Gour (28) were burnt to death by a mob. Their only crime was that they had been held guilty by a kangaroo court for indulging in witchcraft. Evidence didn't matter here as the court said the duo caused diseases and brought misfortune to the village by their cases of witchcraft in Assam.
At least eight people from six families were injured after a group of villagers attacked them and vandalized their houses over suspicion of them practicing witchcraft in the locality in Assam's West Karbi Anglong district on Wednesday.The incident took place at Satgaon Langfaki Garo village under Baithalangso police station in Assam's West Karbi Anglong district.
At least five persons have been arrested for allegedly killing a 50-year-old man after branding him as a witch in a village in Assam's Baksa district near the Indo-Bhutan borders.
The incident took place on Monday at Bogoribari village under Kumarikata police station.Police said over 100 villagers on Monday held a 'kangaroo court' and accused the victim Biren Boro of practicing witchcraft. Subsequently, they started beating him to death.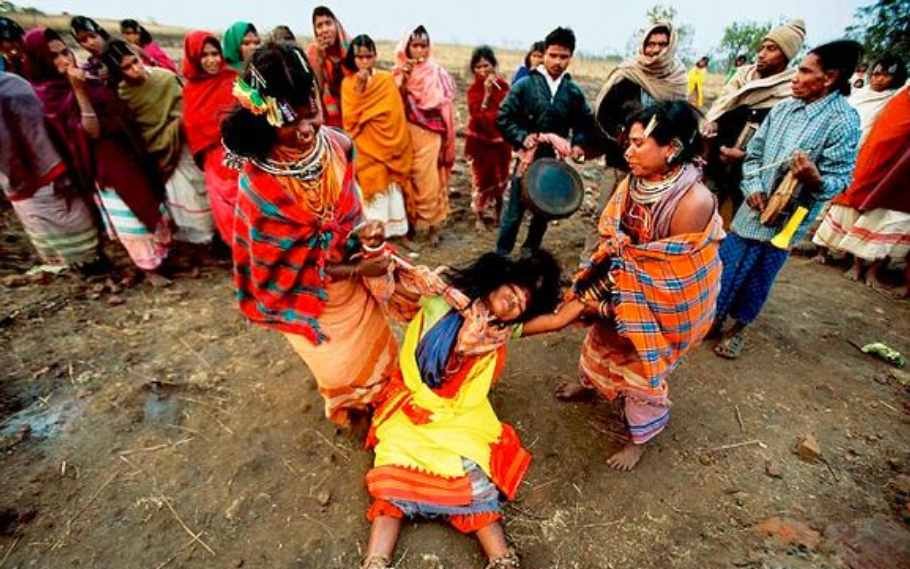 Also Read : Horrific Mob Lynching cases of Assam