AdtU awarded Education Eminence Award 2023 for Outstanding Campus Placement

Assam down town University (AdtU) has emerged victorious as it shines with the prestigious Education Eminence Award 2023, in the category of "Most Eminent Campus Placement Among Pvt Universities". The award, presented by News18, was received by Prof. Pranvir Singh, the Pro Vice-Chancellor of AdtU. The grand event took place at the NEDFI Auditorium in Dispur, Guwahati, where the significant role of educational institutions in shaping the future generation was celebrated. AdtU's exceptional commitment to talent development and remarkable dedication to student placements led them to earn this esteemed recognition.
The Education Eminence Award 2023 is a notable initiative aimed at acknowledging educational institutions that make significant contributions to society. AdtU's consistent track record of successful student placements in previous years played a pivotal role in securing this prestigious honor. The university has successfully bridged the gap between academia and the business world, providing a wide array of employment opportunities for its graduates. This accomplishment has been made possible through AdtU's comprehensive placement cell and strong industry connections. With state-of-the-art facilities, dedicated faculty members, and innovative teaching methodologies, AdtU continues to nurture talent and shape future leaders across various fields.
Bridging the Gap: Assam Down Town University's Commitment to Talent Development and Industry Integration
The AdtU team expresses sincere gratitude to News18 for recognizing the deserving nature of this award and providing a platform to celebrate the profound impact of education. This accolade reflects the university's unwavering commitment to academic excellence, holistic development, and empowering students for successful career prospects. Assam Down Town University takes pride in its achievements and remains dedicated to continually raising the bar of educational standards while ensuring the holistic growth and bright futures of its students.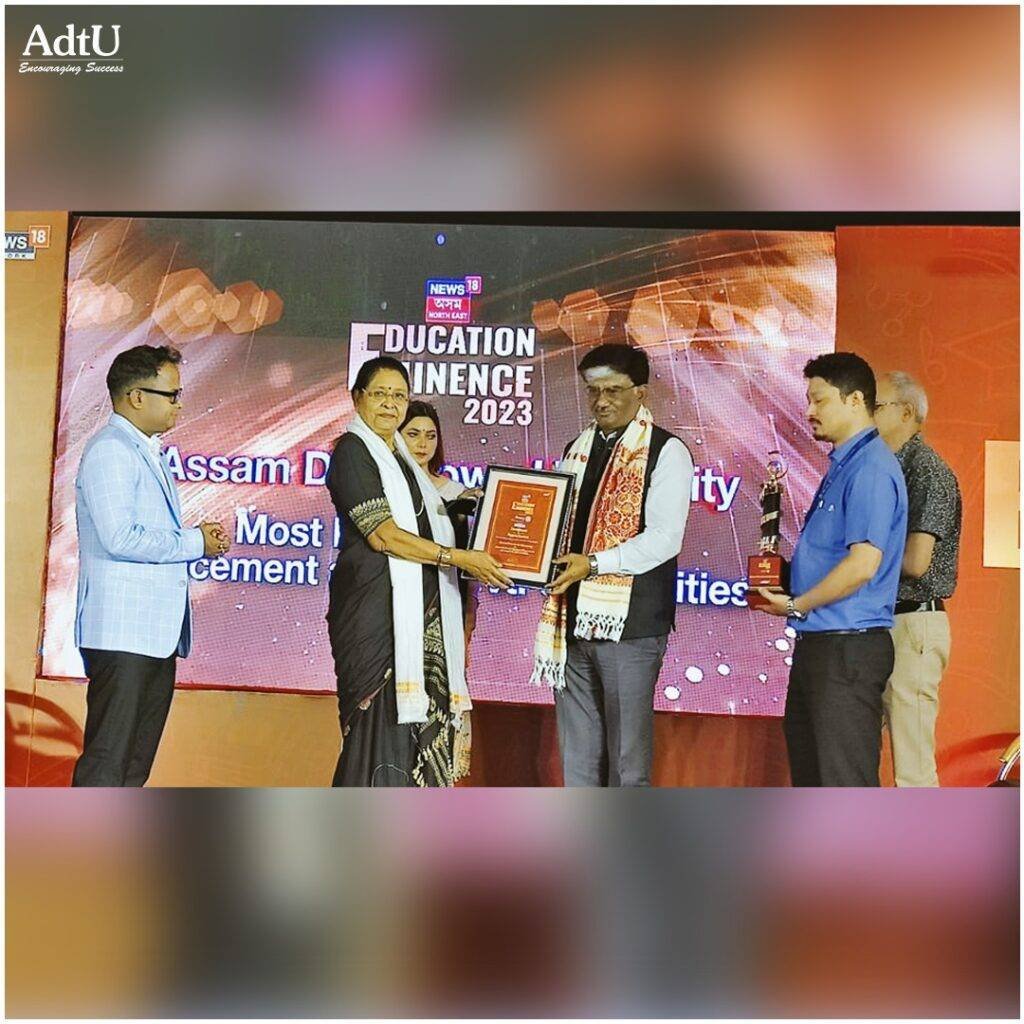 The Education Eminence Award 2023 serves as a testament to AdtU's exceptional accomplishments and reinforces its position as a leading educational institution in the region. The university remains steadfast in its mission to nurture talent, foster innovation, and contribute significantly to society through quality education. AdtU is determined to continue its pursuit of excellence, preparing students to meet the challenges of a dynamic world and shaping a brighter future for generations to come.
Choosing Assam Down Town University
Assam down town University (AdtU) has announced the commencement of admissions for the academic year 2023-24. AdtU has established itself as a premier educational institution in Assam, offering its students a unique blend of academic and professional excellence. The sprawling campus, located on 80 acres of land in Guwahati, is equipped with state-of-the-art facilities to cater to the academic and research needs of the students.
The admissions are open for various branches such as zoology, pharmacy, civil engineering, optometry, business administration, mobile application & information security, and so on. The application process for admission will begin in January, and the deadline for submission is 30 May 2023. Prospective students are advised to visit the official website of AdtU for more information.
Aspiring management professionals can apply for the MBA course at AdtU for the session 2023-24. The application process is entirely online, and the last date for submission will be announced soon.
This recognition highlights AdtU's dedication to nurturing talent and creating valuable employment opportunities for its students. With a strong history of successful student placements and a commitment to bridging the gap between academia and the business world, AdtU continues to shape future leaders in various fields. The university expresses gratitude to News18 for acknowledging the significance of this award and providing a platform to celebrate the transformative power of education.

ASSAM DOWN TOWN UNIVERSITY (ADTU) CELEBRATES WORLD IPR DAY BY INAUGURATING 'WALL OF INNOVATION' ON APRIL 26