Airport like Railway station in India; The railways play a very important role in Indian transportation. Journey's in train holds a whole different vibe. Railway stations in India are known for their empathy of their platforms which holds thousands of emotions in itself. This article will introduce you to the first of India's Airport like Railway Platform.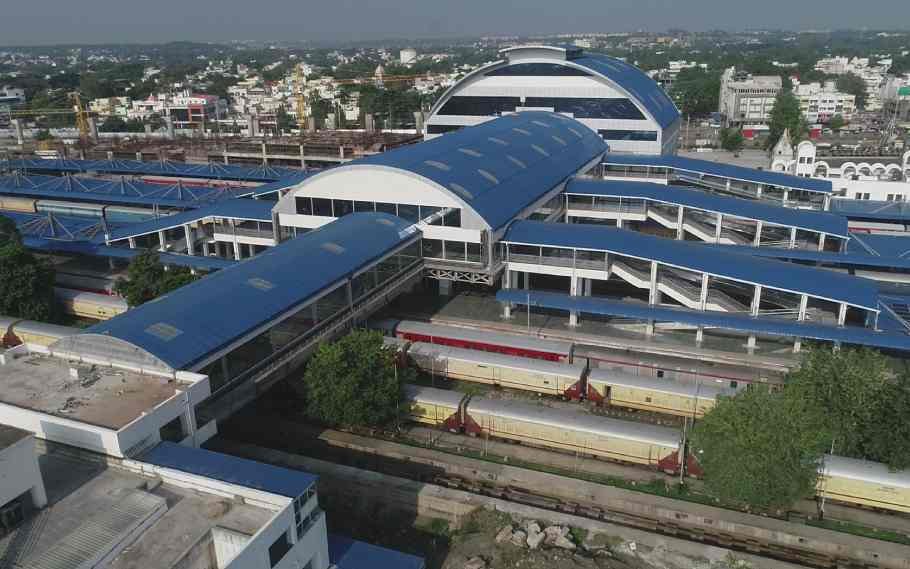 First Airport like Railway station in Habibganj, India
In 2021, IRCTC started a brand new executive lounge at the New Delhi Railway Station. Situated in the Bhopal City, the Habibganj Railway Station is a part of the West Central Railway and has the first airport-like platform in India.
Inauguration and renaming:
The Railway station was inaugurated by PM Modi on July 16, 2021 and was renamed after Rani Kamlapati, the first Gond queen of Bhopal with an intention of honoring the bravery and legacy of Rani Kamlapati.
Facilities:
The new lounge offers an airport-like ambience and experience to its passengers with facilities such as a luxury hotel, theme-based lighting, an interfaith prayer hall and a separate baby feeding room.
Moreover, the platform provides recliners, entertainment rooms, massage chairs, multi-cuisine buffet, wash-n-change facilities, business centre and even massage chairs to its passengers round the clock. And the best part is passengers in the platform can now enjoy the mentioned facilities at a nominal price of Rs. 150 plus taxes for the first hour with an additional Rs 99 for every added hour, where entry includes Wi-Fi access, seating, complimentary beverages (including tea/ coffee), books and magazines.
One who is not a passenger can visit and watch live TV channels in the air conditioned lounge. The new facility has been built resembling an airport lounge with fresh features and technologies. It is to be noted that this is the second such facility to be built after the first one that became operational in 2016 at platform number 16. The first one was built with similar features on the ground and mezzanine floors.
In addition to all the mentioned facilities, the new lounge is much more spacious than the previous one where it has a capsule elevator for aiding passenger entry, stated an IRCTC official. He added that the business centre would be equipped with computers, printers, photostat & fax facilities. Besides, bath facilities are available separately for men and women so the travelling passengers can clean up before or after the journey for a nominal charge of Rs 200 plus taxes. Thus, people on the platform travelling for multiple days or waiting for delayed trains will have to worry less about their sanitation and cleanliness.
According to a report by the Times of India, as stated by an official, "IRCTC will be also offering sumptuous vegetarian and non-vegetarian meals in the form of exclusive buffets at attractive prices ranging from Rs 250 to Rs 385 per person according to the time of the day. Visitors can also inquire about other packages, which will include a host of these services clubbed together."
Besides all these a different food court has been launched at the Ajmeri Gate side of the railway station by IRCTC. It would be operational 24×7 and houses several popular food chains.
The Habibganj Railway Station was privatised by the Ministry of Railways in June 2017, making it India's first private railway station. After its inauguration by PM Modi, the station code was changed from HBJ to RKMP.
History:
Historians from Bhopal hold that the station was named Habibganj after Habibullah, the grandson of Nawab Shahjahan Begum. They hold that in the old days, a measure of land was given to royals as their 'dugh kharch. A village was settled in Shahpura and an area was given to Habibullah. When a railway line was built through the area in 1874-76, a small station came up. In 1969, the family of Habibullah donated a part of their land and an amount of Rs. 15 lakh to develop the station. Hereafter, it came to be known as Habibganj after Habibullah himself.
Also Read : 5 quick tips for dining etiquette; Read to know