Best restaurants in Guwahati: The city of Guwahati is the gateway to the Northeast. A charming city where food is sacred and eating is a ritual. The food is cooked with utmost simplicity keeping in harmony with nature and the humble lifestyle of the inhabitants. The culinary landscape here is unparalleled—the city features cuisines from all the northeastern states, including Assamese, Naga and Meghalayan food. If you're planning to visit the city, curating a food itinerary is essential. We picked some must-visit restaurants in Guwahati.
Here are some of the best restaurants in Guwahati
Paradise is one of the oldest and best restaurants in Guwahati, an iconic restaurant that has served perhaps generations of the same family and made each one of them come back for more. Paradise is often credited for bringing traditional Assamese cuisine into the mainstream. One will always find it crowded despite its two-floored seating area. Decorated with traditional bamboo items and regional objects, it has an atmosphere of simplicity which represents the lifestyle followed by the Assamese people. The thali (full meal) is the most famous offering they have, order it to understand the rich flavours of Assamese food.
Ambrosia is a fine dining and best restaurants in Guwahati which is visited by people of Guwahati when they are on a romantic date or looking for classy interiors, great food and exceptional service. It serves a variety of cuisines from Assamese and Chinese to Asian and North Indian. They also host live performances from time to time and have a well-stocked bar.
Tucked inside the Dynasty Hotel, dining at Tandoor is a regal experience. Tandoor is well known; it's long established and hasn't dropped its level of service and the quality of its food. The food is mainly North Indian with some Assamese dishes available. There is beautiful artwork on the walls along with well-cushioned sofas and tables, and servers are dressed immaculately in Mughal uniforms. If this wasn't enough, the soft Indian music played in the background takes the whole experience up a notch making it a grand affair.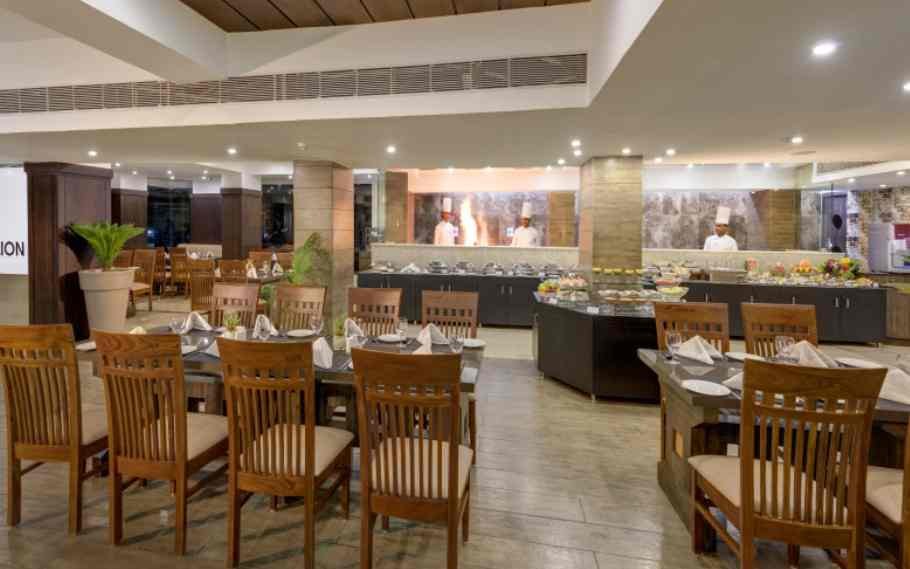 Seafood is an integral part of Assamese cuisine and Maach celebrates this. It is dedicated wholly to fish and prepares the most delicious fish dishes in Guwahati. From dumplings and momos to burgers and baked dishes, Maach uses fish in everything. The restaurant is pretty spacious and the staff extremely polite. You can inspect the kitchens and freezers on request (which are top notch and kept in the cleanest conditions). Maach also keeps the fish alive and cooks them to order, so you can be sure it's as fresh as it gets.
Grill Republica is a small but one of the best restaurants in Guwahati famous for its grilled dishes. The interior is pretty small and most of the time you'll have to wait outside, due to its popularity with customers. The walls are adorned with posters of rock legends, a sign of Guwahati's long standing love affair with music. The menu boasts delicious burgers and grilled chicken as well as heavenly chicken wings, but it's advisable to arrive early as they often run out of stock
Beatrix was once a local hangout for college students; today it's a classy restaurant. The interiors are quite funky with illustrations on the wall and the red table linens make a striking feature. The restaurant serves North Indian and Chinese fare along with fast food, the food is tasty and prepared by experienced chefs. A fun place to visit and have lunch.
Ushabhan is a premier fine dining restaurant in Guwahati, located in the Brahmaputra Ashok. This multi-cuisine restaurant provides the best setting for an intimate dinner or for an outing with the family. The interiors are top notch and the service is excellent. The restaurant serves dishes from North India, China and Europe, all beautifully presented.
One of Guwahati's favourite vegetarian restaurants, Makhan Bhog is the place to go for some no-fuss delicious vegetarian dishes at affordable prices. They serve North Indian, Chinese and Indian snacks. The restaurant is often filled with college students due to its affordability mixed with quality. It is quite classy with simple decor and cheerful service, and one of the best places to experience Indian snacks with friends and family.
Red Hot Chilli Pepper is Guwahati's premier place for fine dining and Chinese cuisine. It has a nice and calm ambience leaving one to his or her own thoughts. The restaurant is also one of those few ones which serve authentic Chinese dishes without adding any local twist, a big plus point
Terra Mayaa is a must-visit for those who enjoy live music. If you're coming here for the first time, make sure you place an order for their Stuffed Artichoke with Greens Vedura, the Tandoori New Zealand Lamb Chops, the Tandoor Roast Pork and the Buckwheat Gnocchi in Pesto Sauce with Asparagus & Truffle Oil. They also have an expansive bar menu, and their signature cocktails are an absolute delight.
Also Read : Know about India's 1st airport like Railway Station