Potential and Concept Educations: The National Testing Agency conducted NEET 2022 on 17th July 2022. Entrance Exams and Coaching Institutes are a synonym in our country today and case of the North east is no different. One name that comes to the fore front among Coaching Institutes here is the POTENTIAL AND CONCEPT EDUCATIONS.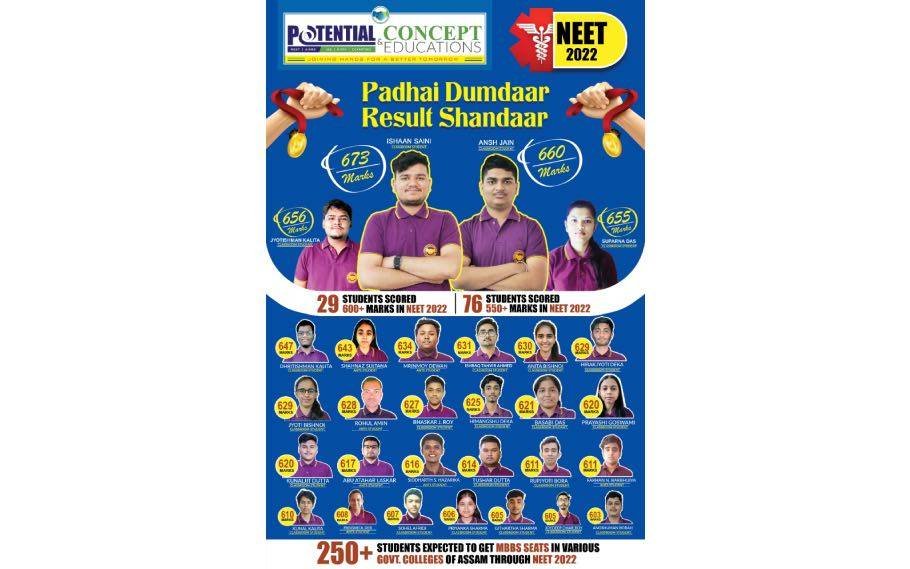 After tremendous success in almost all Engineering Entrances in 2022, POTENTIAL AND CONCEPT EDUCATIONS have now thrown a ray of positivity and hope amid this pandemic crisis by producing the best of results in NEET 2022, both qualitatively and quantitatively. As per information more than 250+ students of this institute are expected to qualify NEET 2022 with enough marks to get a MBBS seat in all State run Medical Colleges. Around 15+ students are expected to get a MBBS seat in AlIMS. This is by far the highest record for number of students admitted into MBBS from a single institute in the north east.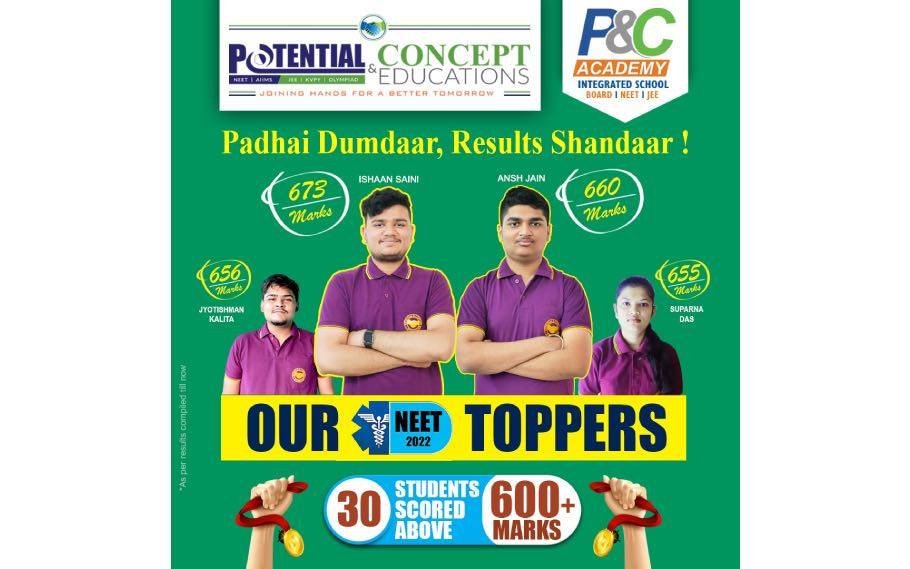 Potential and Concept Educations toppers of NEET 2022
Among the toppers are Ishaan Saini (673), Ansh Jain (660), Jyotishman Kalita (656), Suparna Das (655), Dhritishman Kalita (647), Shahnaz Sultana (643), Mrinmoy Dewan (634), Ishraq Tanvir Ahmed (631), Anita Bishnoi (630), Jyoti Bhadu (629), Hirakiyoti Deka (629), Rohul Amin (628), Bhaskarjyoti Roy (627), Himangshu Deka (625), Basabi Das (621), Prayashi Goswami (620), Kunaljit Dutta (620), Abu Atahar Laskar (617), Siddhartha S Hazarika (617), Tushar Dutta (614), Farhan Nihal Barbhuiya (611), Rupiyoti Bora (611), Kunal Kalita (610), Parismita Deb (608), Sohel Afridi (607), Priyanka Sarma (606), Gitartha Sarma (605), Joydeep Dhar Roy (605), Angshuman Borah (603).
A total of 29 students have scored above 600 marks which is a record performance in the history of Northeast. It is worth mentioning that POTENTIAL AND CONCEPT EDUCATIONS have been successful in creating top ranks in the region in NEET for the last 15 years and they have lived up to the expectation this year as well.
Speaking on the occasion, the management of the institute said, "we are extremely proud of our students and would like to thank them for their hard work and trust. Last year 187 students from our institute got MBBS seats in State run Medical Colleges & 7 students got MBBS seats in AlIMS. This year based on the marks, we are expecting more than 250+ students from our institute to get an MBBS seat in one of the Govt. Medical Colleges of the state. We are also thankful towards our dedicated Team of faculties and Staff because this is a Team effort. As the leading Institute it is our responsibility to raise awareness about professional education and such results are the best way to say to every student from every corner of the north east that, "it is possible, we are here for you".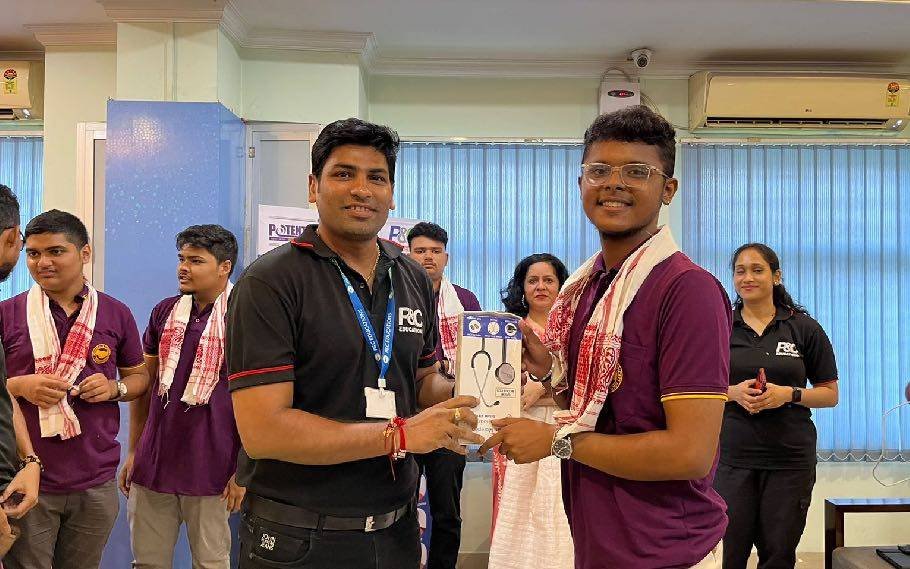 Many of our students are from rural places and government schools and it is heartwarming to witness their success. A medical seat can be a life changing achievement for an entire family. We shall strive even harder to produce even better results in the coming years. In an attempt to expand our reach and scope of work we have now a full fledged CBSE school by the name of SPRING DALE INTERNATIONAL SCHOOL and an integrated academy by the name of P&C Academy.
These ventures give us the opportunity to work with students from an early age and provide them with solid foundations. It can be concluded that hard work and determination is the only way out and if one is ready to give their 100%, no geography or lack of Exposure can stand in their way.
Also Read: Potential and Concept Educations produces the best results in JEE MAINS and CEE 2022