Demanding refund from photographer after failed marriage

In a world where unexpected things happen all the time, a woman has managed to top the list of bizarre requests. Four years after her wedding, she reached out to her photographer, demanding a full refund. And what was her reasoning, you ask? Oh, nothing too significant. Just a divorce. Yes, you heard that right, a divorce. It's like returning a book to the library because you've already read it.
The photographer, initially thinking it was a joke, later realized the woman was serious. She believed she was entitled to a refund because her marital status had changed, rendering the wedding pictures useless. The photographer, quite rightly, denied her request and shared their WhatsApp conversation on Twitter. As expected, the screenshots went viral, receiving numerous responses from netizens.
Threats followed by demands
The woman insisted she deserved a refund as she no longer needed the pictures, but the photographer stood his ground, saying he couldn't undo the pictures. The woman even threatened legal action, but the photographer refused to budge. After the screenshots went viral, the woman's ex-husband contacted the photographer, apologizing on her behalf.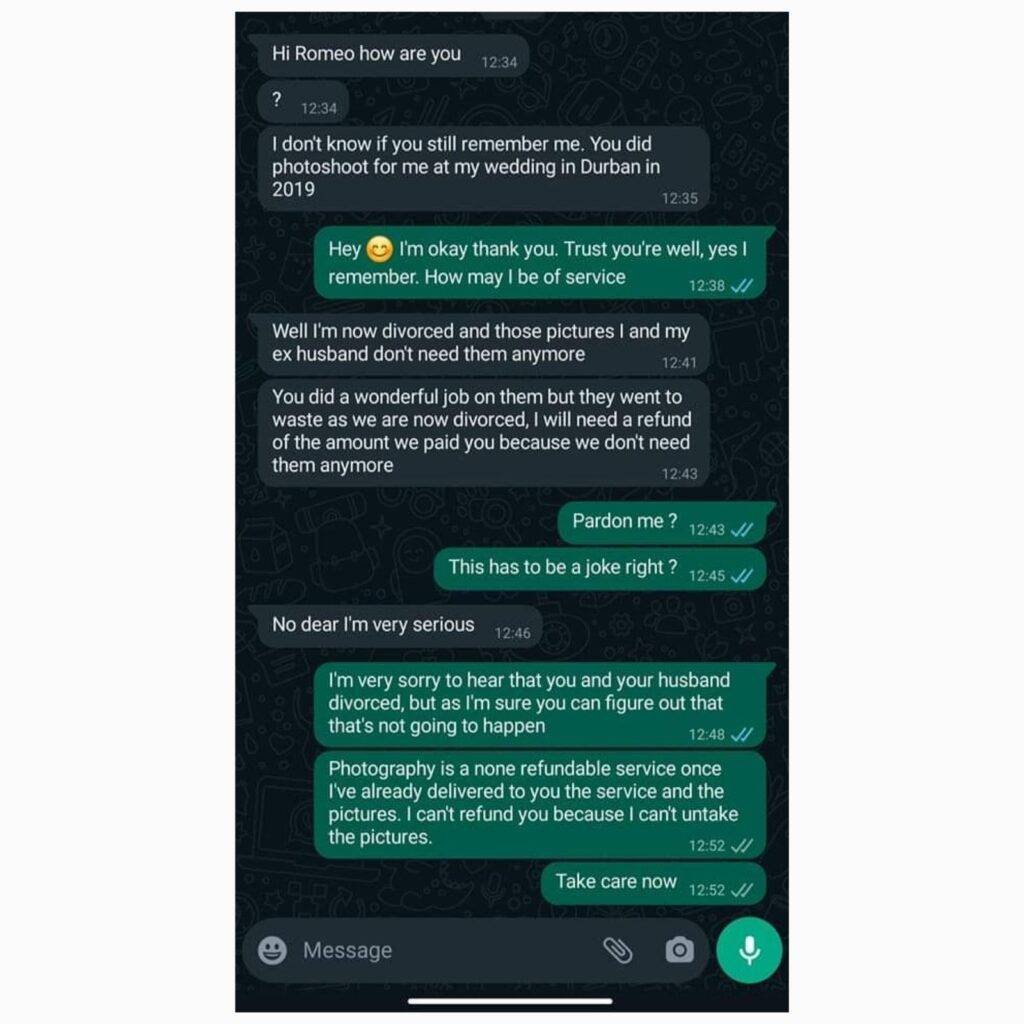 Netizens couldn't believe what they were reading, with many waiting for the woman to reveal that it was all a prank. Some even joked about doing a self-moot to see how they would deal with such a situation if the woman were their client. Others marveled at the photographer's professionalism in handling the situation. The woman's demand for a refund may have seemed outrageous, but it goes to show that people will try anything to get their money back. It also highlights the importance of reading the terms and conditions before making any payments. After all, you can't un-photograph a wedding.
PUNJAB GOVT. IMPLEMENTS NEW OFFICE TIMINGS FROM 7:30 A.M. TO REDUCE POWER CONSUMPTION; LUDHIANA ADAPTS WITH MIXED REACTIONS
In another similar case, the internet is buzzing over a recent photoshoot of a woman celebrating her divorce, and it's not hard to see why. Divorce is often viewed as a personal failure, particularly for women in India, where they are often blamed for leaving bad marriages. In a society that places a premium on marriage, a divorce is not just seen as a failure, but also as a form of indictment. However, artist and fashion designer Shalini has defied these stereotypes with her sassy photoshoot that has taken social media by storm.
In the photos, Shalini dons a striking red outfit and poses with a signboard that reads, "I got 99 problems but a husband ain't one." In one particularly poignant moment, she rips up a photo of herself and her ex-husband. Accompanying the photos, Shalini wrote a powerful message of encouragement to other women who may be going through similar experiences. "It's okay to leave a bad marriage cause you deserve to be happy and never settle for less, take control of your lives and make the changes necessary to create a better future for yourself and your children," she wrote.
Shalini also made sure to address the stigma associated with divorce head-on, reminding her followers that "divorce is not a failure, it's a turning point for you and to lead positive changes in your lives. It takes a lot of courage to leave a marriage and stand alone."
The photoshoot has gone viral on social media, with many praising Shalini for her bravery and inspiring message. "You are one hell of a strong woman," one user commented. However, not everyone agreed with the idea of celebrating a divorce. "Pls don't create a trend many people will get divorce and get a photoshoot it's not good for society delete all the divorce shoot photos," said a user who appeared to be miffed by the idea.