Navigating Cultural Crossroads: YEEP at Parul University Fosters Global Exchange
Parul University, nestled in the vibrant city of Vadodara, Gujarat, stands as a beacon of learning and innovation, inspiring the youth through its transformative initiatives. One such remarkable endeavor is the Young Entrepreneur Exchange Program (YEEP), a bridge between diverse cultures and business acumen. The latest chapter in this saga of experiential education unfolded when eight Swiss students embarked on a journey to unlock the intricacies of India's entrepreneurial landscape.
YEEP, an acronym that resonates with promise, serves as a testament to Parul University's commitment to fostering a global community of future business leaders. The program thrives on its unique approach, weaving together the entrepreneurial spirit of India with the inquisitive minds of international students. This immersive endeavor brings to life the vision of innovation and business acumen, two vital components of the ever-evolving startup ecosystem.
From Campus to Catalyst: Parul University's Ecosystem Powers YEEP's Practical Learning
As Switzerland's enterprising youth touched down in Vadodara, a city steeped in history and dynamism, they found themselves in a cultural melting pot that encapsulates India's rich heritage. Parul University, with its sprawling 125-acre campus, embraced these students with open arms, providing not only a comfortable environment for learning but also a fertile ground for nurturing their entrepreneurial aspirations.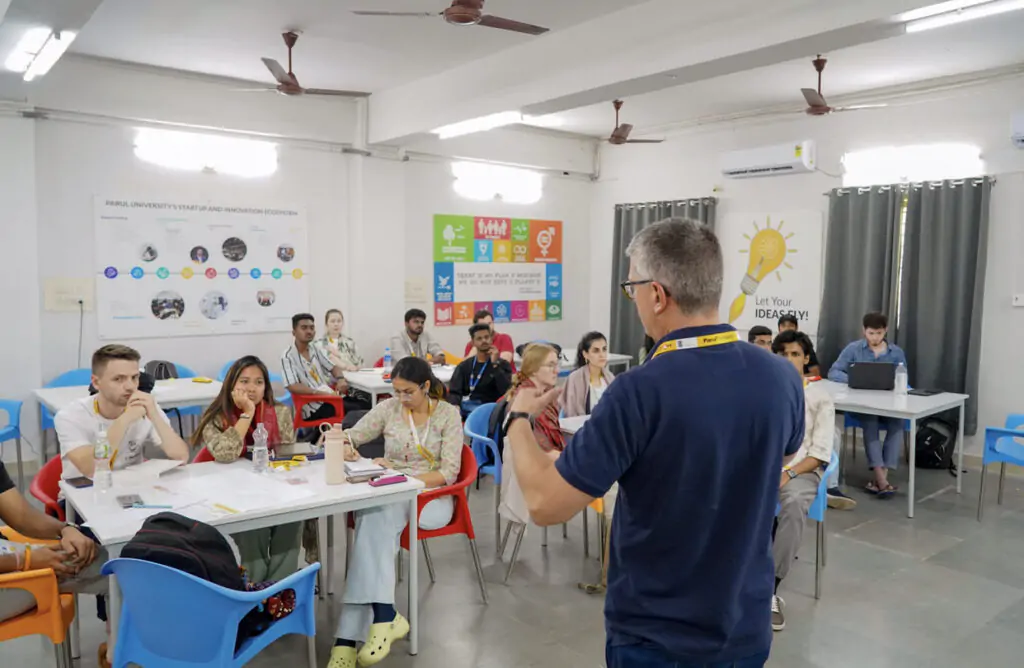 The maiden attraction of the Young Entrepreneur Exchange Program was the promise of unraveling the complexities of India's startup landscape. With a curriculum tailored to inspire, challenge, and invigorate, the program showcased the synergy between innovation and entrepreneurship. Through workshops, interactive sessions, and firsthand experiences, the Swiss students were exposed to the vibrant tapestry of India's business ecosystem. As they mingled with Indian counterparts, shared insights, and soaked in the ethos of entrepreneurship, a bridge of understanding was constructed, spanning cultures and ideas.
The Parul University campus, with its state-of-the-art facilities and eco-friendly aura, set the stage for this cross-cultural exchange. The university's commitment to quality education was underscored by its prestigious NAAC A++ accreditation, earned during its inaugural cycle. A truly global hub of learning, the university welcomed over 43,000 Indian students and 2,500 international peers from a staggering 68 countries. This diverse academic environment serves as a fertile breeding ground for innovative ideas to flourish, providing a nurturing backdrop for YEEP participants to expand their horizons.
YEEP's essence lies not only in theoretical concepts but in practical application. Parul University's illustrious reputation as a cradle for startups and innovation played a pivotal role in crafting the YEEP experience. The university's commitment to incubating startups and its impeccable placement records served as real-world exemplars of the journey from idea to execution. This tangible connection to the entrepreneurial ecosystem empowered the Swiss students to not only dream but to also craft blueprints for their own startup endeavors.
The collaborative ethos of YEEP extends beyond the program's duration, aiming to create a ripple effect that resonates in both Switzerland and India. By fostering enduring partnerships, YEEP sets the stage for a global network of entrepreneurs who understand the nuances of diverse markets and can leverage this knowledge to create sustainable business models. This initiative exemplifies Parul University's role as a catalyst for change, ensuring that the seeds of innovation sown during YEEP continue to bear fruit long after the program concludes.
In conclusion, the Young Entrepreneur Exchange Program at Parul University is a testament to the power of collaboration, experiential learning, and cross-cultural engagement. As eight Swiss students embarked on their transformative journey through YEEP, they not only delved into India's startup ecosystem but also imbibed the spirit of innovation that transcends borders. Parul University's commitment to nurturing global business leaders shines through programs like YEEP, embodying its vision of education as a beacon that guides students toward the shores of excellence and entrepreneurship.
PARUL UNIVERSITY'S 'SAMWIDHAN PE CHARCHA': NOTABLE LEGAL AND POLITICAL FIGURES INSPIRE YOUTH AT IMPACTFUL LAW FEST IN VADODARA