Renowned Spiritual Leader Shri Gauranga Das Ji Inspires Students at Parul University
Vadodara, Gujarat, India – On a serene afternoon at Parul University, students and faculty gathered in eager anticipation of an exclusive talk by the eminent spiritual leader, Shri Gauranga Das Ji. With a presence that exudes tranquility and wisdom, Shri Gauranga Das Ji shared insights that left an indelible mark on the audience.
Gauranga Das Ji's journey in the realm of spirituality has been nothing short of extraordinary. A prominent figure in the International Society for Krishna Consciousness (ISKCON), he played a pivotal role in the organization's growth. In 1973, he achieved a significant milestone by lifting a Geneva police ban against the public chanting of the Holy Names (harinam sankirtan). This act of resilience and devotion set the stage for the propagation of spiritual teachings.
The talk at Parul University centered on the theme of 'Discovering Passion and Purpose in these Chaotic Times.' In an era marked by rapid change and ever-increasing demands, Gauranga Das Ji's words resonated deeply with the students. He emphasized the importance of navigating life's complexities and understanding the distinction between happiness and success. "True success," he affirmed, "is one that is defined on our own terms."
The audience hung on to every word, absorbing the wisdom imparted by Gauranga Das Ji. His insights transcended the confines of conventional education, offering a broader perspective on life's purpose. "Life is a journey," he reminded them, "and discovering one's passion is akin to finding the compass that guides us through this journey."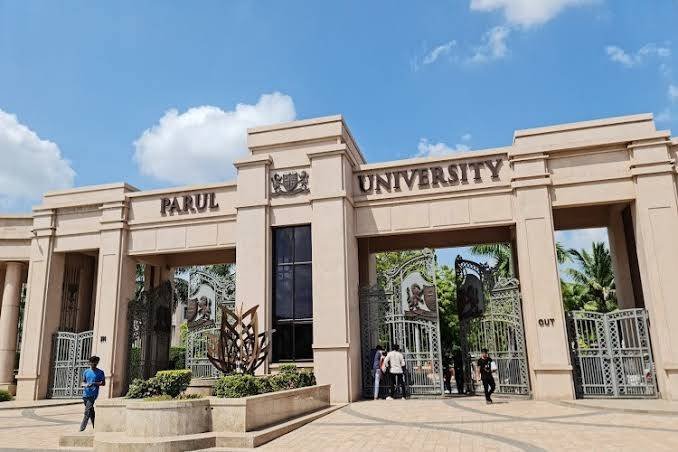 Gauranga Das Ji's influence extends far beyond his eloquent words. He has been instrumental in promoting the teachings of Srila Prabhupada, the founder-acharya of ISKCON, on a global scale. His efforts have facilitated the understanding of Krishna consciousness in diverse cultural contexts, creating a tapestry of spiritual seekers across the world.
Parul University, known for its commitment to holistic education, provided an ideal backdrop for this enlightening session. With state-of-the-art facilities and an environment conducive to learning, the university's ethos aligns with the holistic approach to life advocated by Gauranga Das Ji. The institution's NAAC A++ accreditation underscores its dedication to academic excellence.
Gauranga Das Ji's visit left an indelible mark on the students and faculty of Parul University. His message of self-discovery and spiritual awakening resonated with all, reminding them that true success lies in aligning one's endeavors with their inner calling. As the session concluded, the audience departed with a renewed sense of purpose and a deeper understanding of the journey that lies ahead. The wisdom shared by Gauranga Das Ji continues to inspire and guide, illuminating the path for those seeking meaning and fulfillment in an ever-changing world.
Parul University, situated in Vadodara, Gujarat, India, hosted this remarkable event on its campus. The university, originally established as the Parul Group of Institutes in 2009, achieved university status in 2015. It has earned prestigious NAAC A++ accreditation during its inaugural cycle, highlighting its commitment to providing quality education.
With a campus adorned with state-of-the-art facilities and an eco-friendly atmosphere, Parul University has become a global hub of learning. It boasts a diverse student body, welcoming over 43,000 Indian students and 2,500 international peers from 68 countries. The university offers a wide range of educational programs, from diploma to doctoral level, spanning various disciplines. Its focus on industry-linked programs equips students with practical skills, reflected in its start-up incubation initiatives and impressive placement records.
Beyond academics, Parul University excels in research and healthcare. Accredited by DISR (Department of Scientific and Industrial Research) and NABL (National Accreditation Board for Testing and Calibration Laboratories), the university is at the forefront of clinical medical research. Its NABH (National Accreditation Board for Hospitals & Healthcare Providers) accreditation underscores its dedication to delivering quality healthcare.
Parul University's achievements extend internationally, with recognition in the ARIIA (Atal Ranking of Institutions on Innovation Achievements) Top 50 ranking and affiliation with the Association of Commonwealth Universities. The university's commitment to inclusivity and diversity has earned accolades, including recognition as the Best Private University in Western India by Praxis Media and the Best University in Placements by ASSOCHAM.
PARUL UNIVERSITY WELCOMES 8 SWISS STUDENTS TO ENGAGE IN INDIA'S STARTUP SCENE VIA YOUNG ENTREPRENEUR EXCHANGE PROGRAM (YEEP)