Malai Kofta Recipe is one of the most-loved dishes to make your festival special. Here's the procedure of Malai Kofta Recipe and the gravy as well.
Malai Kofta Recipe
Ingredients of Malai Kofta Recipe:
4 large potatoes, boiled
250 gms paneer (cottage cheese)
50 gms maida
50 gms cashew nuts paste
1/2 tsp haldi (tumeric)
1/2 tsp red chilli powder
1/2 tsp kitchen king masala
1tbsp kasturi methi (dry Fenugreek)
1 tbsp sugar
1 tbsp coriander leaves, chopped
3 onions
1 tbsp ginger garlic paste
2 tomatoes
200 ml malai or cream
2 tbsp raisins and cashew nuts
Procedure of Malai Kofta Recipe:
Refrigerate the boiled potatoes for 4 to 6 hours as this makes it easy to cook koftas. Mash the boiled potatoes, paneer, maida. The mix should not be too hard or too soft. Add salt, chopped coriander leaves and mix well.
Cut the raisins and cashew nuts into very small pieces and add 1/2 tsp of sugar to the mix. Heat up the oil for deep frying.Heat up the oil for deep frying.
Roll out the balls from the dough you prepared and stuff the dry fruit mix in the centre. Fry the koftas and if they break in hot oil then dust them with dry maida before putting them in.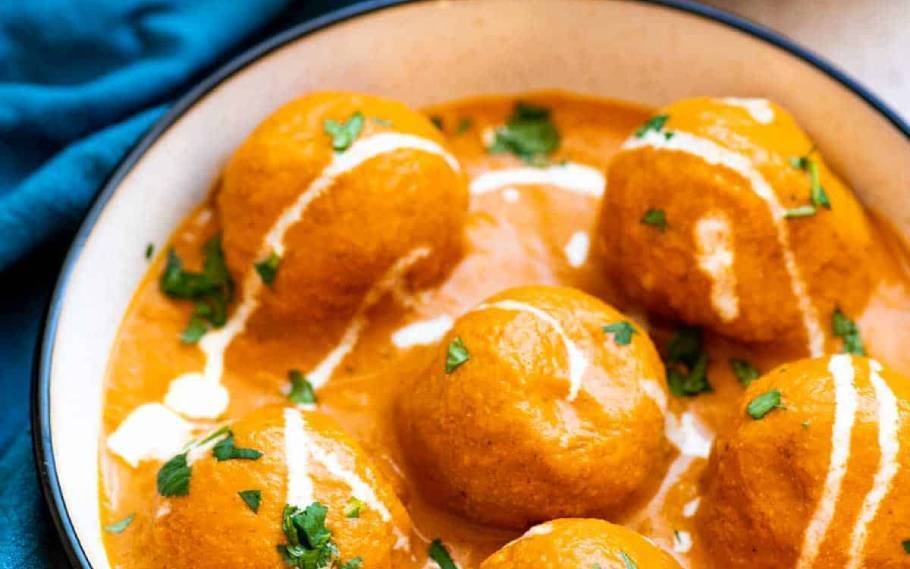 Procedure of the gravy:
Fry some onion, ginger garlic paste and tomato paste. Mix the cashew nut paste with 2 tbsp of warm milk and pour it into the paste.
Except kasturi methi, add all the dry masala into the paste and saute till the oil separates itself. Add and a half cup of water and simmer the gravy till it's done.
Add cream/malai, 1 tbsp of sugar and kasturi methi. Simmer the gravy till the oil starts separating and once it's done, put the fried koftas into the gravy and serve hot with chapatis.
Also Read:CABBAGE AND GREEN PEAS SABZI FOR HEALTHY DINNER; CHECK OUT THE RECIPE