A Childhood Dream Fulfilled: Emma and DJ's love Journey
A heartrending tale of love, courage, and tragedy has unfolded, as 10-year-old Emma Edwards and her childhood sweetheart, Daniel Marshall Christopher "DJ" Williams, embarked on a poignant journey that captured the hearts of many. Their story, one that traverses the spectrum of emotions from hope to heartache, speaks of a young girl's dream fulfilled and the unfaltering support that love can provide, even in the darkest of times.
Emma's battle against acute lymphoblastic leukaemia (ALL) began in April of the preceding year, a challenge that she and her parents, Alina and Aaron Edwards, faced with determination. Initially, there was optimism for her recovery, a glimmer of hope that the disease could be conquered. Yet, June brought with it a cruel twist of fate, as the family received the devastating news that Emma's cancer had taken an irreversible turn, and her time was limited.
In the face of this heartbreaking prognosis, the Edwards family rallied to fulfill Emma's cherished wish of marrying her beloved DJ. Within a mere 48 hours, plans were set in motion for a mock wedding ceremony, a testament to the power of swift action driven by love. With a garden as their canvas and around 100 attendees, a ceremony was orchestrated that encapsulated the essence of Emma and DJ's bond.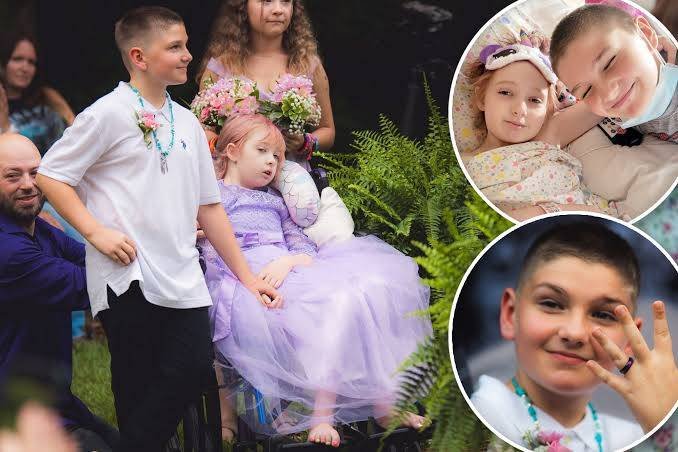 Alina Edwards, Emma's mother, recounted the significance of the ceremony, "It was so precious, and it came together so well. Her dad gets to say he gave her away. A friend of ours officiated, a friend read a verse from the Bible, and her best friend was maid of honour." Amid the backdrop of emotional moments and touching vows, DJ's unwavering support for Emma became evident, underscoring the depth of their connection.
The story of Emma's cancer diagnosis, initially thought to be a manageable condition, evolved into an unrelenting battle against acute lymphoblastic leukaemia. Emma's spirit remained resolute, and her determination to experience a moment of joy and unity became a rallying point for her family, friends, and supporters. The rapid planning and execution of the mock wedding revealed not only the community's dedication but also the profound impact that a young girl's wish can have.
On June 29, amidst the blooming flowers and shared vows, Emma and DJ exchanged their promises of love, creating memories that would forever be etched in their hearts. However, just twelve days after their poignant ceremony, Emma's battle came to a tragic end, leaving behind a legacy that extended beyond her years.
In a world often marred by challenges, Emma's story serves as a beacon of hope, demonstrating the strength of the human spirit and the boundless power of love. The journey she undertook, from a hopeful diagnosis to the fulfillment of her dream and ultimately to her passing, speaks volumes about the impact an individual can have, regardless of their age.
Emma's legacy is a reminder that life's most cherished moments are not determined by its duration but by the depth of the connections we forge. As her story continues to touch hearts around the world, it serves as a call to embrace each moment, to cherish relationships, and to recognize that even in the face of adversity, love can be a guiding light that illuminates the darkest paths.
Her courage in the face of adversity and her enduring spirit remain a source of inspiration for all who encounter her story, reminding us to live with gratitude and to find beauty even in life's most challenging moments.
FOR THE FIRST TIME, HIMALAYAN VULTURE IN ASSAM; BOMBAY NATURAL HISTORY SOCIETY CELEBRATES CAPTIVE BREEDING VULTURE