Working from home offers flexibility, but the reality is it often brings a load of unexpected challenges and impractical expectations we never anticipated.

Shagufta Afrin
You've heard of SAHMs, right? Stay-at-Home Moms. Well, I'm a WAHM— a Work-at-Home Mom. Women like me face the dual pressures of professional work and home responsibilities. I'm essentially a SAHM and a Working Mom all rolled into one! And I'm not alone. There are many of us in this boat. The pandemic might be over, but it pushed a lot of us into the WAHM realm, and we've chosen to stick with it.
I'm sure many of you can relate; being a working mom is tough. No matter how you look at it, being a mother is never easy, and juggling work with motherhood is an ongoing struggle. Now, being a WAHM? That takes it up a notch. Most people envision this 'work from home' setup as a blessing for moms like us, thinking we can spend more quality time with our families. But reality paints a different picture. I speak from firsthand experience.
Balancing Work and Family: Tips for Transitioning into the Work at Home Mom Role
My journey as a work-from-home professional kicked off after my marriage in 2013, prompting a move from the bustling metro to my hometown, Guwahati. As an English language editor in a global content solutions company, the transition to remote work seemed seamless. The keyword here is "seemed." Yes, having a supportive husband and a genuine passion for my work made it somewhat less of a struggle and helped me stay committed to my job. Along the way, I embraced motherhood. With eight years of being a WAHM now, I believe I've I have a thing or two to share with all the working moms stepping into the world of WAHMs or contemplating the switch.
Much has been discussed and written about this work-from-home setup, often highlighting how women often bear the brunt of it. It's true, this arrangement offers flexibility, but it brings along a truckload of hassle and impractical expectations we never saw coming. Undeniably, there are perks to being a work-at-home mom: relaxed work attire (yes, I'm guilty of donning my sleepwear often), no more commute (and I certainly don't miss that), and even the juggling act (a precarious balance, but I manage laundry duty in between work bursts). Lunch at home is a plus (though I have to cook it myself), and I appreciate the flexibility in my schedule (most of the time).
However, let's talk about the challenges: shared space (when work stress creeps into my home space), the art of multitasking (sometimes ending in multi-failures), switching off from work (it's hard when your workspace is also your living space), the absence of a professional community (oh, how I miss that), and the late hours (more often than not, I find myself rushing back to my computer to tackle unfinished work into the night).
Ah, the "expectations" part is a whole story on its own. When people first learn that I work from home, the assumption often is that I don't have a "real job." It's only when I elaborate on what I do that they begin to grasp it.

Yet, not everyone really understands. I've had to endure statements like: "You must have so much free time" (the reality is I have zero "free time"); "You must love spending all day with your daughter" (truth is I often feel torn in two directions – either distracted and unable to focus on work or like a mom not fully present); "It must be nice to keep the house clean in between your work" (no matter how hard I try, sometimes it's the complete opposite). And of course, because I'm "at home," guests feel free to drop by or engage in lengthy phone calls, essentially shattering my day's schedule.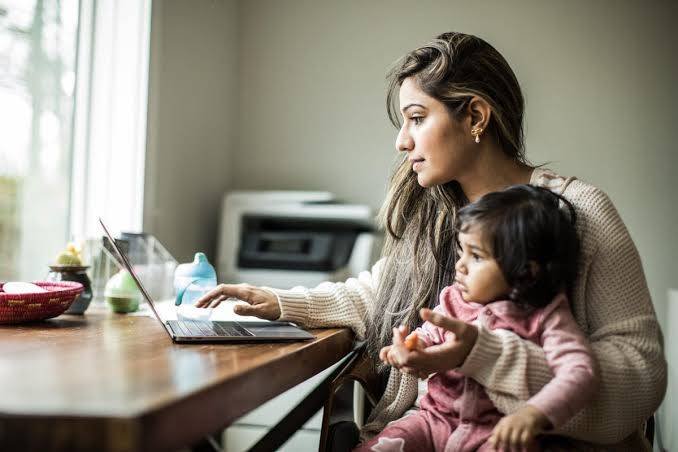 This issue seems to root from the persistent belief that caregiving and household chores are primarily a woman's responsibility, despite significant progress in education and women's involvement in the workforce. It's a message driven home by a blend of cultural expectations and economic systems. Unfortunately, the load of domestic responsibilities is often not evenly distributed in heterosexual couples. Even when both partners work, men often get to prioritize their jobs, leaving women more likely to shoulder the burden of household tasks and childcare. It's what my husband aptly calls "the second shift."
Being a WAHM, that "second shift" doesn't just happen after the first – it's a continuous, unending blend of office duties, parenting, and household chores. It's a 24×7 hustle, and the line between office, child care, and housework blurs into a chaotic whirlpool. At times, it's nothing short of a nightmare! Balancing these two roles feels like an uphill marathon, all while juggling a cascade of balls and zooming on roller skates. It's quite the wild ride!
And then, there's the guilt—the relentless companion of a work-at-home-mom. It's just as sneaky and persistent as the guilt felt by moms working outside the home. The core of this guilt lies in the fact that my child is right there. I can see her, and I want to be there for her. When she's in another room and I'm engulfed in work, the tug at my heart is undeniable.
I strive to resist that urge because I'm supposed to be working. I end up telling her to go away, that I'm "at work," or I put on my headphones, a passive-aggressive signal, while she's in the middle of telling me why sharks are absolutely awesome. And they are, truly, but not when I'm drowning in deadlines!
In the eyes of my six-year-old daughter, I'm forever the one working while Daddy seems to hold the fun title. Come Sunday mornings, when she knows I won't be working, she practically throws a little celebration. But during the week, even though she understands that her mom needs to work, there are those moments when she whines—children have a knack for hitting where it hurts—asking, "Whyyyyyy do you have to work?" It's a question that tugs at my heart and piles on the guilt. At times, I wish it were simpler, like leaving home to go to an office rather than just stepping into another room.
As if mommy guilt wasn't enough, my husband playfully teases me about another condition—the so-called Self-Inflicted Housekeeping Shame. I'm at home all day, so why isn't the house spick and span? I delude myself into thinking that I should effortlessly handle all the cleaning while also earning a full-time income. The reality is, once I get distracted by a load of laundry or a mountain of dirty dishes, it takes forever to refocus on the work tasks I was initially supposed to be fully immersed in. It's a cycle that's tricky to break.
In all my rambling about the trials of being a work-at-home mom, my goal is to support my fellow sisters who are considering stepping into the WAHM realm. Being a parent is a beautiful experience. Working from home can be invigorating. But let's not kid ourselves—both can be utterly exhausting. The deeper you venture into this work-at-home setup, the clearer it becomes that you must be proactive in safeguarding family time. Finding the right balance is a blend of art and science. Personally, I haven't quite mastered it yet. I'm still hoping you can crack that code!
The writer is an English language editor for a global content solutions company and has been a full-time work-at-home-mom since 2003. She can be contacted at shagufta.afrin7@outlook.com.
G20 2023: WORLD LEADERS UNVEIL 'INDIA-MIDDLE EAST EUROPE' PORT AND RAILWAY CORRIDOR; PROMISES 40% TRADE