Uorfi Javed wins 'Fashionista of the Year' title at OTTplay Changemakers Awards 2023

Uorfi Javed, a well-known actor and influencer, has been awarded the 'Fashionista of the Year' title at the prestigious OTTplay Changemakers Awards 2023. Known for her exceptional fashion sense and bold style statements, Uorfi has become a household name in the entertainment industry, and her win at the awards ceremony is well-deserved.
The OTTplay Changemakers Awards is a pan-Indian event that seeks to honor and celebrate the game-changers in the entertainment industry. The first edition of the event was held on March 26, 2023, at JW Marriott in Juhu, Mumbai, and was attended by a host of celebrities and industry insiders.
The Fashionista of the Year award recognizes Uorfi's contributions to the world of fashion, and her unique ability to set trends and push boundaries with her bold style choices. Uorfi Javed's journey in the entertainment industry has been nothing short of remarkable, and she has achieved significant success in a relatively short span of time.
Uorfi Javed started her career with a few famous daily soap operas, where she gained a reputation for her acting skills and impressive screen presence. She rose to fame with her appearance on Bigg Boss OTT Season 1, where she showcased her exceptional talent in fashion with her glamorous and quirky attire. She gained even more popularity as a guest contestant on MTV Splitsvilla Season 14 in 2022, where she wowed audiences with her unique style and fashion sense.
Uorfi Javed's win at the OTTplay Changemakers Awards 2023 is a testament to her hard work and dedication, as well as her unwavering commitment to pushing boundaries and exploring new fashion trends. Her bold fashion choices have inspired a new generation of fashion enthusiasts and helped to redefine the meaning of style in the entertainment industry.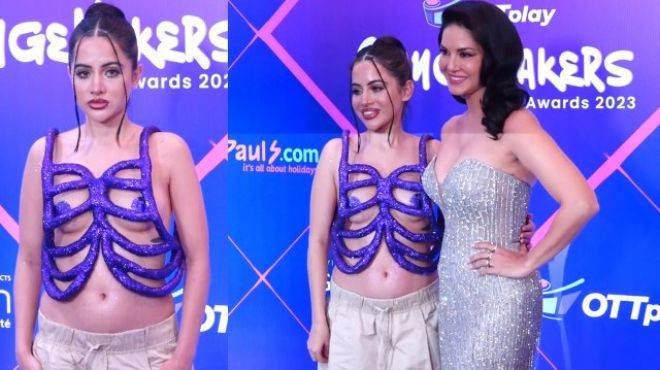 Uorfi Javed's reaction to winning the award and fans' response
The award was presented to Uorfi by Kunal Vijayakar, a well-known television personality and author, and Anil Dua, Chief Revenue Officer at HT Media. Uorfi was elated to receive the award and thanked her fans for their constant support. She said she was honored to be recognized for her fashion sense and promised to continue pushing boundaries and experimenting with her style.
After the award ceremony, fans of Uorfi took to social media to congratulate her on the win and express their excitement about her upcoming fashion choices. Many of her fans shared pictures of her outfits from various events and expressed their admiration for her unique fashion sense and ability to make bold statements with her style choices.
In addition to her win at the OTTplay Changemakers Awards 2023, Uorfi Javed also made headlines for her appearance at the event with fellow actress and influencer, Sunny Leone. The two divas of the entertainment industry posed together for the paparazzi and looked stunning in their respective outfits.
In a video shared by a paparazzi account on Instagram, Uorfi and Sunny are seen posing together in stylish outfits. Sunny looks gorgeous in a shimmery silver off-shoulder gown with silver heels, while Uorfi opted for a risque top that seemed like a human rib cage, which she paired with low-waist pants in beige.
In the video, Sunny and Uorfi are seen smiling and holding each other by the waist. Fans are heard screaming with excitement in the background, expressing their joy at seeing two of their favorite celebrities together. A paparazzo also asked Uorfi about her wedding plans, to which she smartly replied, "Iski shaadi kab hogi, iski shaadi karao (When will he get married? Get him married first)."
ARE ALIENS LIVING AMONG US? UFO EXPERT CLAIMS 'ALIENS' ARE CREATING AN ARMY OF HYBRID HUMANS