Royal Global University Dominates Alakesh Rai Medhi Memorial Debate Competition: Celebrating Academic Brilliance

In a remarkable showcase of intellect and oratory prowess, the students of Royal Global University (RGU) emerged as champions at the esteemed Late Alakesh Rai Medhi Memorial All Assam Inter-College Debate Competition, held at the prestigious Gauhati Commerce College. The Sigma Voice Literary Club from RGU brought home a plethora of accolades, firmly establishing the university's commitment to academic excellence.
Arunima Dhar Shines as Best Debater, Niskamana Akhomiya Secures 2nd Position: Royal Global University's Debate Team Triumphs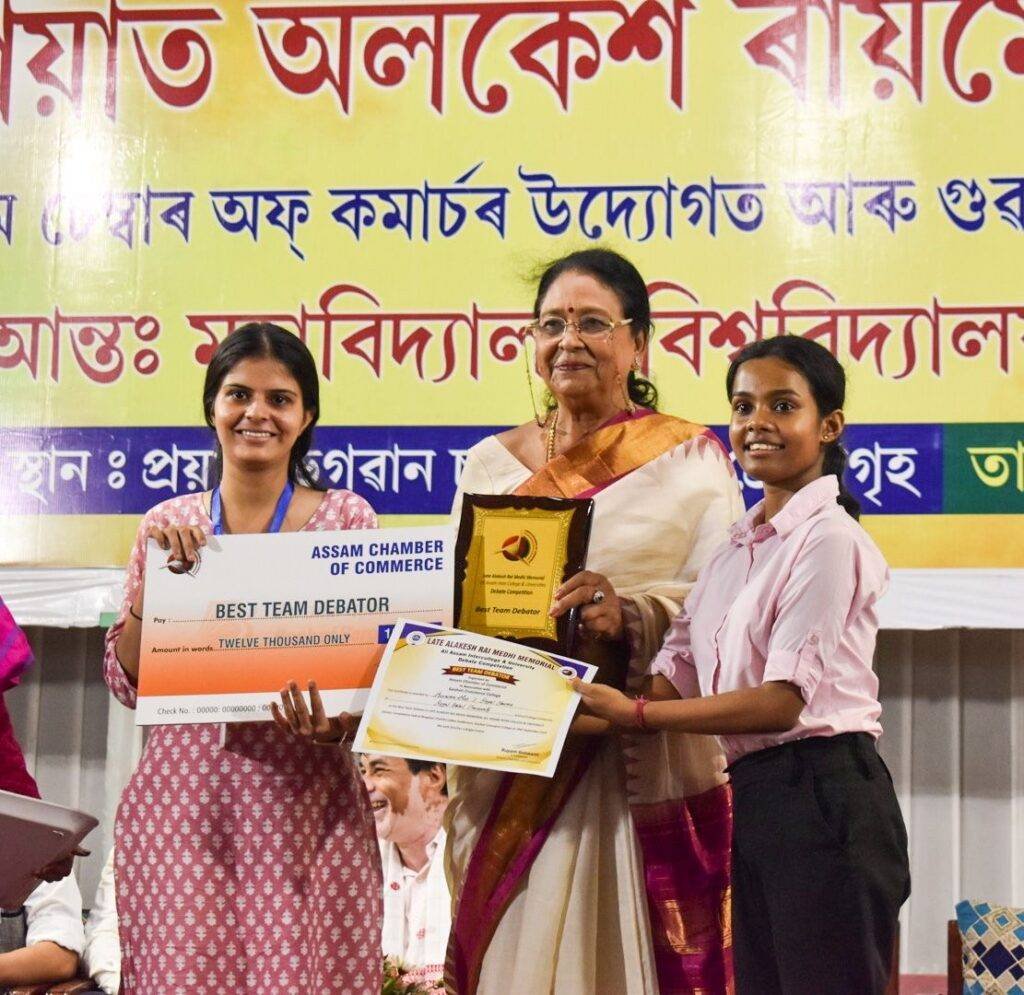 The standout star of the event was Arunima Dhar, a dedicated student pursuing a degree in B.Sc. Biotechnology. Her eloquence and persuasive skills earned her the distinguished title of Best Debater, a testament to her exceptional talent in the world of debate. Arunima's victory not only showcased her individual brilliance but also reflected the rigorous training and academic culture at Royal Global University that nurtures such talent.
Niskamana Akhomiya, another bright Royalite, hailing from the B.A. Psychology department, made RGU proud by securing the 2nd Best Debater position. Her insightful arguments and command over the subject matter were truly commendable, reinforcing the university's commitment to holistic education that goes beyond traditional academic boundaries.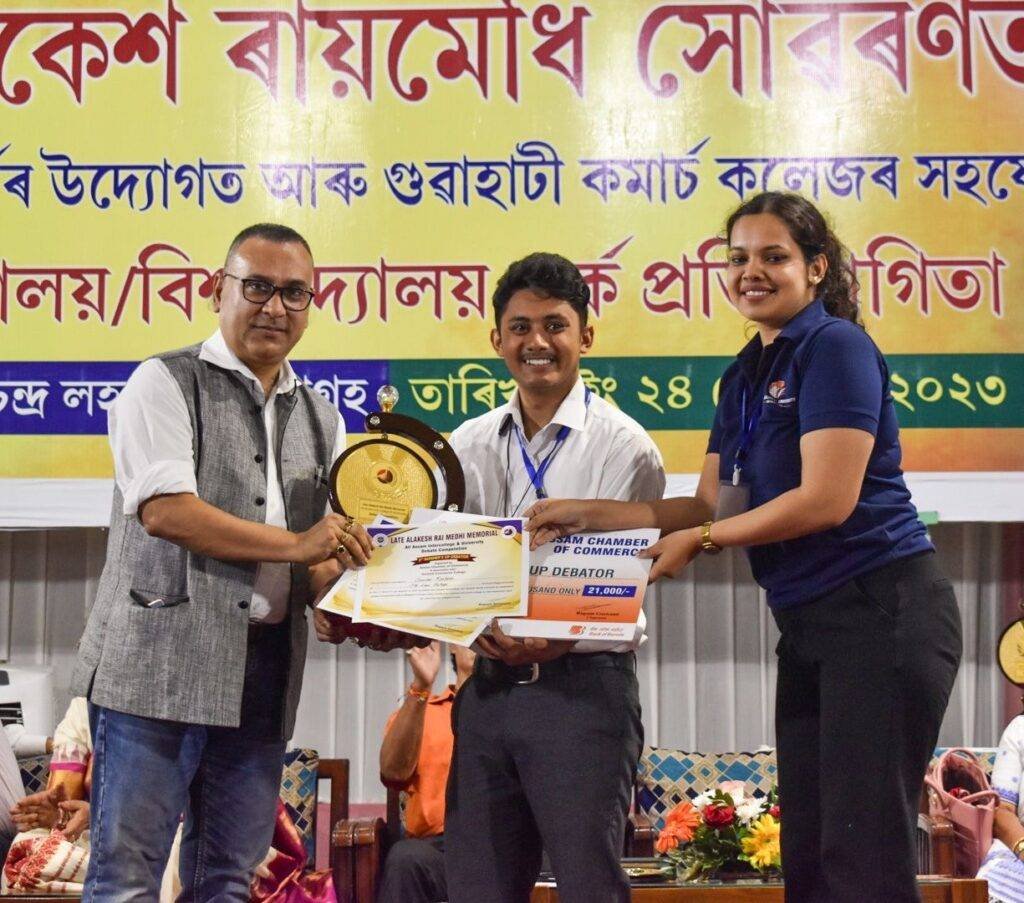 The collective strength of Royal Global University's debaters shone through as the dynamic duo of Payal Sharma and Arunima Dhar, both pursuing B.Sc. Biotechnology, teamed up to secure the Best Team Award. Their synchronized efforts, cogent arguments, and persuasive abilities earned them this prestigious accolade, further elevating the university's reputation as a hub for intellectual growth and achievement.
The triumph of Royal Global University's debating team extended beyond recognition; it also came with a tangible reward. The team earned a substantial cash prize of INR 44,000, underlining the value that RGU places on nurturing talent and promoting a culture of excellence. This financial incentive serves as a testament to the university's commitment to supporting its students in their academic pursuits and beyond.
Tenzin Jamba's Melodious Victory: RGU Student Clinches First Place at 'The Voice of West Kameng'
Turning our attention to another dimension of talent within RGU, Tenzin Jamba, a student in the Department of Public Administration, showcased his exceptional vocal abilities and artistic prowess on a different stage. At The Voice of West Kameng in Arunachal Pradesh, he captivated the audience with his enchanting voice and clinched the coveted first place. Tenzin Jamba's victory not only brought honor to RGU but also showcased the university's dedication to fostering talent in various fields.
The recognition did not stop at the trophy; Tenzin Jamba was also awarded the opportunity for an album release, a testament to RGU's support for students' creative endeavors. Additionally, he received a generous cash prize of INR 40,000, further highlighting the university's commitment to nurturing artistic excellence and providing opportunities for students to flourish beyond academics.
Shifting gears to a domain of critical importance, The Royal School of Pharmacy observed World Pharmacist's Day with a significant event. Mr. Sudhir Ch. Saha, Deputy Director Pharmacy, o/o Director of Health Services, Member of PCI, and General Secretary of AAPSA, graced the occasion as the Special Guest. His insightful address delved into the theme of 'Pharmacists Strengthening Health Systems-Angadaan Mahadan,' emphasizing the pivotal role that pharmacists play in enhancing healthcare systems.
This event underscored RGU's dedication to fostering knowledge and expertise across diverse fields, including healthcare and pharmaceuticals. By inviting esteemed professionals like Mr. Sudhir Ch. Saha to share their insights, the university reaffirmed its commitment to providing holistic education that goes beyond textbooks and classrooms. RGU's celebration of World Pharmacist's Day served as a poignant reminder of the vital role that pharmacists play in our healthcare landscape and highlighted the university's commitment to producing well-rounded graduates who can make meaningful contributions to society.
G20 2023: WORLD LEADERS UNVEIL 'INDIA-MIDDLE EAST EUROPE' PORT AND RAILWAY CORRIDOR; PROMISES 40% TRADE