Parul University's World No Tobacco Day Campaign: Spreading Awareness on Tobacco's Health Effects

On the occasion of World No Tobacco Day, Parul University's Social Responsive Cell embarked on a mission to raise awareness about the detrimental effects of tobacco on public health. Taking their campaign to the streets of Vadodara, the bustling city in Gujarat, India, the university's efforts aimed to educate the community about the risks associated with tobacco use and promote a smoke-free environment. Through a series of engaging initiatives and collaborations with the National Service Scheme, Parul University made significant strides in advocating for a healthier society.
Parul University, established in 2009 as the Parul Group of Institutes and later granted university status in 2015, is recognized by prestigious bodies such as the University Grants Commission, the National Assessment and Accreditation Council, and the National Board of Accreditation. With a focus on multidisciplinary education and innovation, the university has become a beacon of academic excellence, receiving NAAC A++ accreditation in its first cycle—an achievement that sets it apart as India's youngest private university to attain such recognition.
Situated in Vadodara, Gujarat, Parul University encapsulates the essence of India's cultural heritage while embracing modern innovations and academic practices. The institution offers a wide range of diploma, undergraduate, postgraduate, and doctoral programs across various disciplines. By providing industry-linked programs, fostering entrepreneurial spirit, and maintaining impeccable placement records, the university empowers students to embark on successful careers and contribute to the nation's development. The sprawling 125-acre eco-friendly campus accommodates over 43,000 students from every state in India and more than 2,500 international students from 68 countries, fostering a truly global and culturally diverse community.
Social Awareness Program: Role Plays, Pledges, and Tulsi Plant Donations
As part of their commitment to societal welfare, Parul University's Social Responsive Cell has spearheaded numerous initiatives to address pressing social concerns. On World No Tobacco Day, their focus was on combatting the harmful effects of tobacco and promoting a tobacco-free environment. The social awareness program organized by the university involved a range of activities designed to engage the public and convey the negative impacts of cigarette use.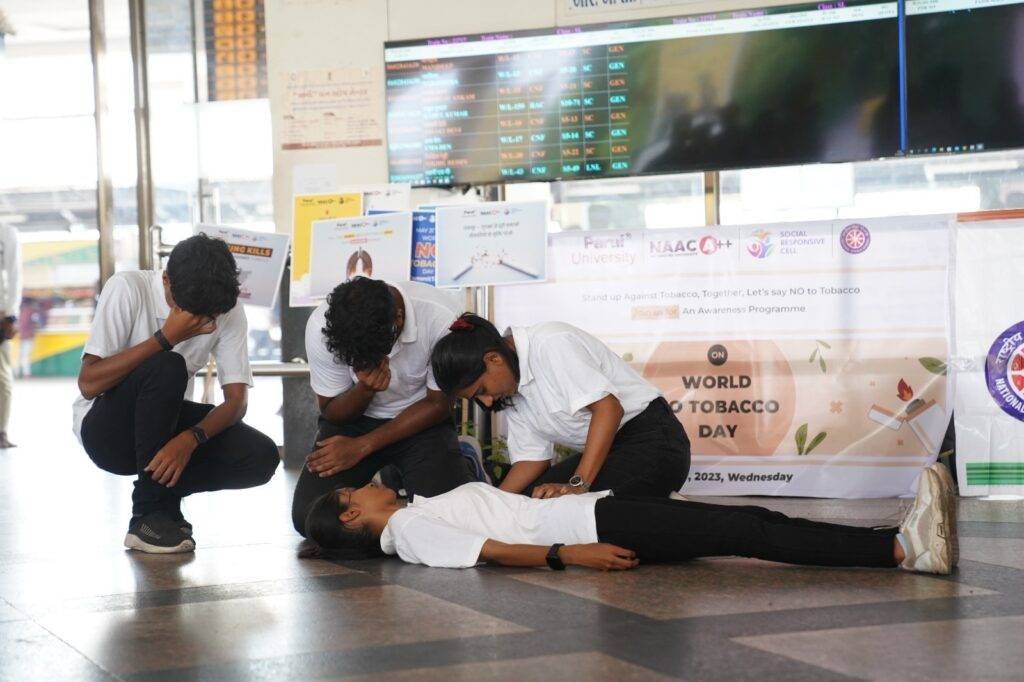 One of the most impactful aspects of the program was the implementation of role plays across various locations in Vadodara. These performances effectively portrayed the pessimistic consequences of smoking, bringing to light the heightened risks of developing life-threatening illnesses such as cancer, coronary artery disease, and respiratory issues. The choice of multiple sites, including prominent locations like Kamatibaug, the Central Bus Station, Eva Mall, and the Vadodara Railway Station, ensured that a significant number of people were reached and influenced by the campaign.
To instill a sense of commitment and long-term change, a pledge of allegiance ceremony was held for individuals willing to quit smoking. During this ceremony, participants were presented with sacred Tulsi plants—a symbolic gesture of admiration and support for their decision to abstain from tobacco. The event also included leaflet distribution and a signature campaign, aiming to hold individuals accountable for their promise to create smoke-free environments and support their loved ones in their battle against tobacco addiction. Practical guidance and resources on quitting smoking were made available, empowering participants with the tools needed to embark on a healthier lifestyle.
Promoting Smoke-Free Environments: Leaflet Distribution and Signature Campaign
In addition to these activities, the event showcased success stories of individuals who had successfully quit smoking, providing inspiration and motivation for others to take action. By sharing personal perspectives and highlighting the importance of a supportive atmosphere, the campaign aimed to foster a sense of community and solidarity in the fight against tobacco addiction.
Dr. Geetika M Patel, the University SRC Chairperson and Vice President, emphasized the pivotal role of awareness in shaping a healthy society. She reiterated the commitment of the Social Responsive Cell and Parul University to create a smoking-free and healthy Vadodara by spreading awareness and equipping the local community with the necessary tools and knowledge. By organizing events like the World No Tobacco Day campaign, Parul University continues to demonstrate its dedication to promoting public health and contributing to the well-being of society as a whole.

'BUY NOW, PAY IN THE AFTERLIFE': NEW ZEALAND HELL PIZZA CHAIN INTRODUCES AFTERLIFE PAY; READ DETAILS HERE