Parul University's Faculty of Liberal Arts successfully concluded the Vadodara Literature Festival, a vibrant celebration of culture and literature in Vadodara. The festival, which took place over multiple days, featured a lineup of esteemed speakers who shared their insights and perspectives on various topics.
The event, organized by the Parul University's Faculty of Liberal Arts, aimed to promote the enriching essence of culture and literature. The festival brought together literature enthusiasts, students, and residents of Vadodara for a series of engaging discussions and sessions.
Prominent figures share insights on food, literature, and more
Key speakers at the festival included renowned figures such as Durjoy Datta, Tahira Kashyap, Chef Suvir Saran, Chef Charmaine O'bhrien, Anuj Tiwari, and many others. The speakers covered a wide range of topics, including food and fitness, promoting environmental stewardship, the art of storytelling, Indian history and mythology, and more.
Durjoy Datta, a young and successful personality in the literary industry, has authored numerous best-selling novels and co-authored works with acclaimed authors. Tahira Kashyap, an author, producer, and director, shared her experiences in the film industry, her struggles, and her journey as an author. She emphasized the importance of empathy and compassion in breaking gender stereotypes.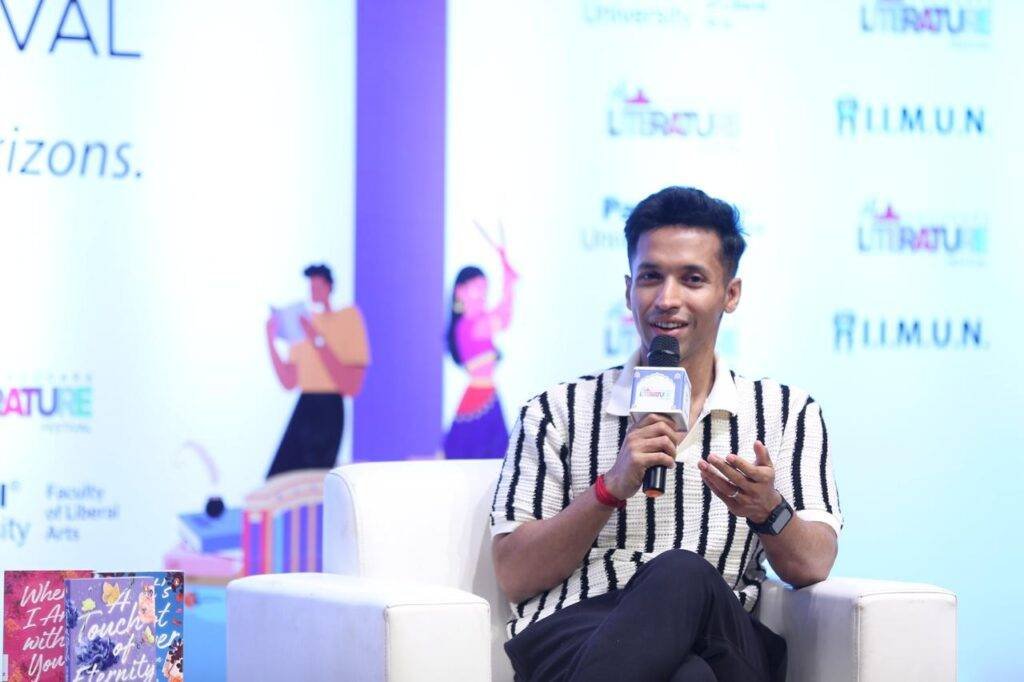 Inspiring Perspectives on Breaking Stereotypes and Love in Literature
During the festival, Durjoy Dutta engaged the audience in a conversation about love and romance in literature. He expressed his views on the contemporary romance scene and highlighted the influence of modern-day relationships on literature. The audience had the opportunity to ask him questions, which he candidly answered.
The presence of Chef Suvir Saran, a Michelin Star chef, added to the festival's prestige. Chef Suvir is known for his efforts in bringing Indian cuisine to American kitchens and has authored several bestselling cookbooks. He shared his passion for cooking and how food can unite people from different backgrounds.
In addition to these prominent speakers, the festival also featured panel discussions with personalities from diversified backgrounds, including the armed forces, police services, journalism and media. The panelists included Lt. Gen Satish Dua, Archana Doshi, Charmaine O'bhrien, Rachna Bisht Rawat, Tuhin Sinha, Probal Dasgupta, Khalid Jawed, Ansuman Bhagat, Anuj Tiwari, Anamika Mishra, Ajay Pandey, Ashok Kumar, Capt. (hon) Yogendra Singh Yadav PVC, Neeraj Kumar, Lucky Bisht, Aakash Ranison, Ranjit Rae, and Rasheed Kidwai.
The Vadodara Literature Festival provided a platform for intellectual exchange and cultural exploration. It not only showcased the achievements and perspectives of influential individuals but also fostered a love for literature and encouraged meaningful discussions. The festival's success is a testament to Parul University's commitment to nurturing young minds and promoting the arts and culture in Vadodara.
Parul University recognized among top Institutions in India
Parul University, located in Vadodara, has achieved remarkable recognition in the field of education. It has recently been ranked among the Top 50 BBA Colleges in India by Times Business School Ranking. This prestigious ranking reflects the university's commitment to providing quality business education and producing competent professionals in the field.
Additionally, Parul University has also been ranked among the Top 65 Private State Universities for Management Studies in India in the renowned Outlook-ICARE India MBA Ranking 2020. This recognition showcases the university's strong management programs and its focus on nurturing future business leaders.
With a vast array of educational offerings, Parul University stands as one of the largest universities in the state. It houses 32 institutes, offering over 250 courses in various disciplines such as Arts, Management, Engineering, Law, Computer Applications, Medicine, Architecture, Social Work, Fine Arts, and Commerce. The university's diverse range of programs includes diploma, undergraduate, postgraduate, postgraduate diploma, and research courses.
GET READY FOR LOVE IN SPACE: SPACE PERSPECTIVE LAUNCHES FIRST-EVER SPACE WEDDING FOR RS. 1 CRORE PER PERSON; TICKETS GOING FAST