Rajesh Parikappali, a young and ambitious student from Telangana, has chosen Parul University for gis further studies. Who is Rajesh Parikappali? Rajesh made history by achieving a flawless score of 600/600 in his 12th board examinations. His extraordinary accomplishment has garnered the attention of 39 esteemed universities across the country, all ready to offer him admission.
Hailing from a small town, Rajesh's remarkable achievement is a showcase of his unwavering dedication and determination towards his education. His impressive results have opened up countless opportunities for him as he contemplates his future career path.
However, he has already set his sights on pursuing a degree in CSE-Artificial Intelligence at Vadodara-based Parul University, fueling his passion for the field of Artificial Intelligence.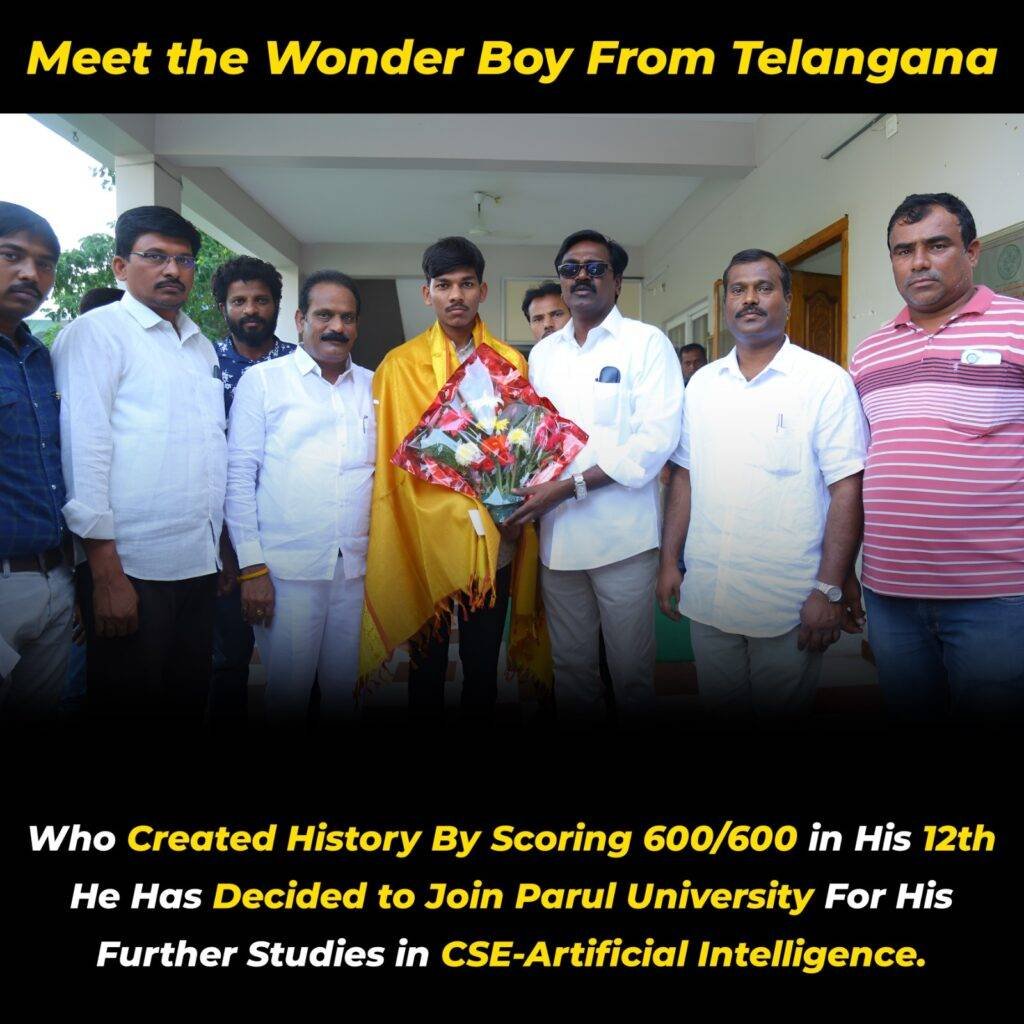 Why to choose Parul University?
Parul University, located in Vadodara, Gujarat, has achieved remarkable success in the field of education, as evidenced by its recent performance in the National Institutions Ranking Frameworks (NIRF) released by the Ministry of Education. The university has received prestigious rankings in multiple sectors, solidifying its position among the top educational institutes in India.
Parul University's Remarkable Performance in NIRF Rankings: Securing Top Positions in Multiple Sectors
One notable achievement for Parul University is its inclusion among the Top 50 Universities in Innovation in the NIRF rankings. This recognition highlights the university's commitment to fostering a culture of creativity and entrepreneurship, encouraging students to think outside the box and drive innovation in various fields. By providing a conducive environment for exploration and experimentation, the university empowers students to break conventional boundaries and contribute to cutting-edge research and development.
Moreover, Parul University has secured a place among the Top 200 Universities All India, further reinforcing its reputation as a premier institution of higher education. This recognition is a testament to the university's unwavering dedication to academic excellence, research, and the holistic development of its students. Through its diverse range of programs and emphasis on practical learning, Parul University equips students with the knowledge, skills, and competencies required to excel in their chosen fields and make a positive impact in society.
In the field of Pharmacy, Parul University has achieved an impressive All India Rank of 53. This accomplishment showcases the university's focus on providing exceptional education and training in pharmaceutical sciences. The curriculum is designed to meet industry standards and prepares students to tackle the evolving challenges of the pharmaceutical sector. By incorporating practical training, research opportunities, and industry collaborations, Parul University ensures that its pharmacy graduates are well-prepared to contribute to the advancement of healthcare and pharmaceutical innovation.
These rankings are a testament to the unwavering commitment of Parul University towards academic excellence, research, and innovation. The university's dedication to providing a multidisciplinary learning environment, fostering innovation, and equipping students with the necessary skills to thrive in their respective fields has been recognized at both the national and international levels. As Parul University continues its journey of educational excellence, it remains committed to shaping the future leaders of tomorrow and contributing to the nation's development through education, research, and innovation. Parul University includes industry-aligned programs, global diversity, and remarkable placement records. It fosters innovation, academic excellence, and a sustainable campus environment.
The exceptional score achieved by Rajesh has not only brought him personal recognition but has also shone a spotlight on the potential of students from smaller towns and rural areas. It serves as an inspiration to countless others who may be pursuing their dreams with limited resources and support. Rajesh's success story underscores the importance of perseverance and hard work in overcoming obstacles and achieving excellence.
PARUL UNIVERSITY EXCELS: RANKS AMONG TOP 50 UNIVERSITIES IN INNOVATION, TOP 200 UNIVERSITIES ALL INDIA, AND ACHIEVES 53RD RANK IN PHARMACY