In the realm of entrepreneurial dreams, there's no better time to sow the seeds of innovation than now. For those seeking to transform their startup visions into a flourishing reality, look no further than NEATEHUB's AIC Incubation Program. This exciting initiative, supported by the Government of India, offers a unique opportunity to budding entrepreneurs looking to make their mark in the fields of agriculture and allied sectors.
A Growing Legacy
NEATEHUB, which stands for North East Agriculture Technology Entrepreneurs Hub, is a beacon of innovation nestled under the umbrella of Assam Agricultural University. What sets NEATEHUB apart is its recognition by NITI Aayog, the Government of India. This accolade establishes NEATEHUB as an Atal Incubation Centre with a mission to nurture and foster successful startups in agriculture and its allied sectors.
Government-Backed Growth
NEATEHUB is not your typical incubator. It not only provides a fertile ground for innovative ideas but is also strongly backed by the Indian government. With unwavering support from NITI Aayog and the Department of Agri Cooperation & Farmers Welfare, NEATEHUB ensures that your startup journey is not just supported but accelerated. This government backing not only instills confidence but also provides the necessary resources and guidance to help your startup thrive.
Government Connect
The unique advantage of NEATEHUB's government affiliation is the extensive network it brings to the table. The incubator collaborates with various academic institutions, corporate partners, and financial institutions to strengthen the entrepreneurial ecosystem in the region. This is more than just an incubation program; it's a government-backed initiative aimed at fostering innovation, economic growth, and collaboration.
Fields of Opportunity
NEATEHUB is on the lookout for game-changers in critical sectors, including agriculture, sustainability, biosciences, and agri-tourism. Whether you're passionate about revolutionizing farming techniques, introducing sustainable solutions, or exploring the untapped potential of agri-tourism, NEATEHUB welcomes pioneers like you with open arms. The program encourages diversity in ideas and projects, making it an ideal platform for entrepreneurs with a wide range of interests.
Rocket Fuel for Startups
Joining NEATEHUB's AIC Incubation Program is like unlocking a treasure trove of government-supported resources. The program offers a holistic approach to startup support. From technology assistance to intellectual property rights guidance, NEATEHUB ensures that you have access to the necessary tools and expertise to navigate the complexities of the startup world. Additionally, NEATEHUB provides a plug-and-play co-working space and pilot production facility, reducing the barriers for early-stage startups.
Time to Bloom
The application window for NEATEHUB's AIC Incubation Program is open for a limited period, starting from October 10th, 2023, and closing on November 1st. This is a golden opportunity to be part of a thriving community where innovation knows no bounds and is firmly supported by the Government of India. Don't miss the chance to turn your entrepreneurial dreams into reality with the backing of NEATEHUB and the government.
How to Join
Joining NEATEHUB's AIC Incubation Program is a straightforward process. To get started, visit their official website at www.neatehub.com or directly fill up the registration FORM. There, you can find all the necessary information and resources to apply and embark on a journey where your startup not only survives but thrives, thanks to the collaborative support of the Government of India.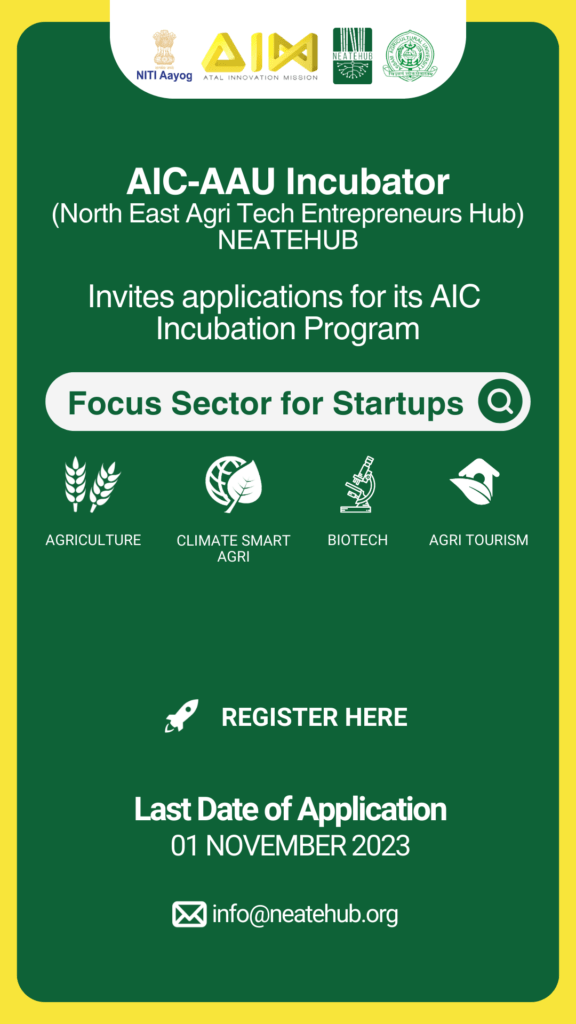 Stay Connected
To stay updated on the latest news and insights from NEATEHUB, follow them on various social media platforms:
In conclusion, NEATEHUB's AIC Incubation Program offers a unique and government-backed opportunity for entrepreneurs in the agriculture and allied sectors. With a growing legacy, government support, and a diverse range of fields to explore, NEATEHUB is the perfect platform for those looking to turn their startup dreams into reality. Don't miss the application window, and take that crucial step toward transforming your innovative ideas into successful ventures.