Hold onto your hats, space enthusiasts! NASA has issued an alert that a school bus-sized asteroid will pass by Earth. In just a few days, a school bus-sized asteroid named 2023 HV5 will come into view as it passes by Earth, and space enthusiasts are eagerly waiting to catch a glimpse. NASA has confirmed that the asteroid will come within a distance of 270,000 miles from Earth, which is closer than the average distance to the moon.
The asteroid, which measures approximately 41 feet in size, is hurtling through space at an impressive speed of 5.53 miles per second. The close encounter with HV5 is set to occur on Wednesday, and it's not the only asteroid that will pass by Earth this week. On Thursday, a second asteroid roughly the size of a house is expected to come within 397,000 miles of our planet.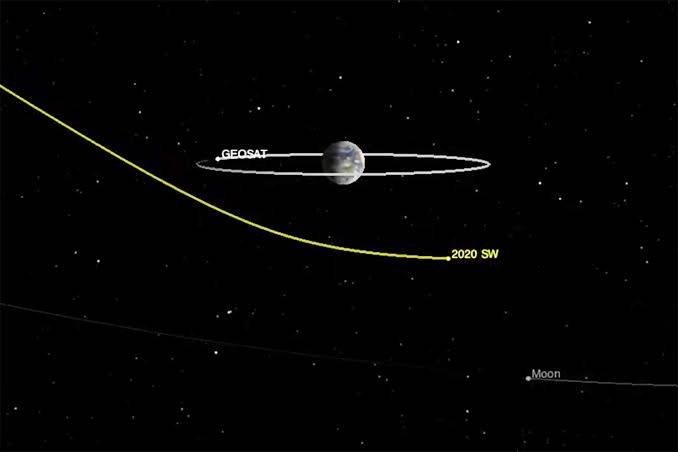 The risk of an asteroid impacting Earth
While these asteroids may seem like a cause for concern, NASA has reassured the public that they pose no threat to Earth. In fact, asteroids passing by Earth are quite common, and they offer a unique opportunity to observe and study these celestial objects. NASA has discovered over 31,831 near-Earth asteroids, with many of them coming within a safe distance of our planet. However, tracking and monitoring these asteroids is vital to identify any potential risks that could arise.
As of May 2, NASA had discovered 851 asteroids larger than 1 kilometer, with an estimated 50 still yet to be found. Over the past year, 103 asteroids have flown by Earth closer than the moon, and in the last 30 days alone, 10 asteroids have come even closer. Despite these frequent occurrences, NASA remains vigilant in monitoring any asteroid that could pose a potential threat to Earth.
According to NASA, the risk of an asteroid impacting Earth is relatively low. However, it's not impossible, and the consequences of such an impact could be catastrophic. That's why it's crucial to continue tracking and monitoring near-Earth asteroids to identify any potential threats.
Tracking and monitoring asteroids
Asteroid impacts have occurred in the past, and they have left a significant impact on Earth's history. The most well-known impact is the one that wiped out the dinosaurs 65 million years ago. While the likelihood of a catastrophic asteroid impact happening in our lifetime is low, the possibility remains, and that's why NASA and other space agencies are working tirelessly to identify and track these asteroids.
Despite the potential risks, asteroids passing by Earth offer a unique opportunity to study these celestial objects up close. NASA and other space agencies have launched several missions to study asteroids, including NASA's OSIRIS-REx mission to the asteroid Bennu, which recently collected a sample of the asteroid's surface and is expected to return it to Earth in 2023.
As we look to the skies and witness the passing of asteroids like HV5 and others, it's essential to remember the importance of continued monitoring and study of these celestial objects. While they may seem insignificant, asteroids hold valuable information about the formation of our solar system and the origins of life on Earth. And who knows, maybe one day we'll even find a way to harness the resources of these cosmic visitors to benefit our own planet.
The passing of the school bus-sized asteroid, 2023 HV5, and other asteroids near Earth serve as an opportunity for scientists and enthusiasts to study and learn more about these celestial objects. While the possibility of a catastrophic impact on Earth remains low, it is crucial to continue monitoring and studying asteroids to identify any potential risks.
PUNJAB GOVT. IMPLEMENTS NEW OFFICE TIMINGS FROM 7:30 A.M. TO REDUCE POWER CONSUMPTION; LUDHIANA ADAPTS WITH MIXED REACTIONS