Details of the Oklahoma Murder Case

In a shocking murder case that sent shockwaves across the US, a man who killed a woman, cut out her heart, and then went on to stab two more people to death, including a 4-year-old child, has been sentenced to life in prison in Oklahoma state. Lawrence Paul Anderson, 44, committed the gruesome murders in 2021, less than a month after he received an early release from prison.

According to reports, Anderson murdered and carved Andrea Blankenship's heart, carried it to his aunt and uncle's house, and cooked the organ with potatoes. He then attempted to serve the macabre meal to the couple before he stabbed and killed 67-year-old Leon Pye and his 4-year-old granddaughter Kaeos Yates. Anderson had served just three years of a 20-year sentence on a drug case when he was given a commutation by Oklahoma's governor Kevin Stitt. His release was part of a mass commutation effort by the state, but an investigation later found that he was placed in the commutation list by mistake.

Anderson received five consecutive life sentences after he pled guilty to murder, assault, and maiming. Victims' Families File Cases Against Oklahoma Governor and Prison Parole Board Anderson's aunt, who was also injured in the attack, and the other victims' families have filed cases against the Oklahoma governor and the prison parole board. They claim that the state's mass commutation effort was reckless and irresponsible and that the mistake that led to Anderson's release was unforgivable.
The governor's office has not yet responded to the lawsuits, but the parole board has defended its decision, saying that Anderson's early release was based on good behavior and compliance with the prison's rehabilitation programs.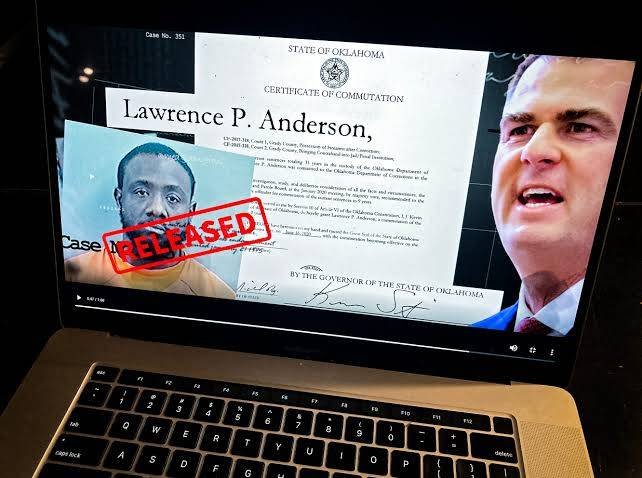 Rising Cases of Cutting and Hiding the Body Incidents
Rising Cases of Cutting and Hiding Body Parts Sadly, the Anderson case is not the only one of its kind. A shocking incident has come to light in Mumbai where a 24-year-old woman has been arrested for allegedly killing her mother and cutting her into pieces.

The accused, identified as Rimple Jain, allegedly stayed with her mother's remains for over two months until the incident came to light. According to the police, Veena Prakash Jain (55), who used to stay with her husband and Rimple at Virar, had shifted to Ibrahim Kasar Chawl in Lalbaug after her husband passed away 16 years ago. Veena had two brothers and five sisters.
The incident came to light when one of Veena's nieces went to the Lalbaug house to give her money for monthly expenses. When Rimple did not open the door, the niece inquired about them from the neighbors. She was told that Veena had not been seen for over two months. The niece informed her mother and an aunt who went to the Lalbaug house. As they kept knocking on the door, Rimple opened the door after some time but closed it soon after.
Following this, some of Veena's relatives forced themselves inside the house and found Rimple in possession of Veena's remains. Rimple Jain has been booked on charges of murder and destruction of evidence and will be produced before the court today.
While murder has always been a part of human history, the frequency and brutality of these crimes seem to have increased in recent times. Advances in forensic science and crime-solving techniques have brought many such cases to light, but it also seems that there is a growing trend towards the gruesome and macabre.
The case highlights the rising trend of cutting and hiding body parts, which has become a cause for concern for law enforcement agencies worldwide. Such heinous crimes require immediate action and stricter laws to prevent them from happening in the future.
ARMY CHEETAH HELICOPTER CRASHES IN ARUNACHAL PRADESH KILLING 2 ARMY PILOTS; 3RD CRASH IN 5 MONTHS IN ARUNACHAL