After turning to hypnotherapy, a supermarket worker in the United Kingdom who spent roughly $8,500 a year on guzzling 30 cans of Pepsi a day for 20 years was able to stop his habit.
Andy Currie aged 41, drank a liter of the fizzy drink every morning and another nine liters per day, according to Newsweek. Since his addiction began in his twenties, he has consumed an estimated 219,000 cans of Pepsi, amounting to about 8,000 kilograms of sugar.
Man Consumes Pepsi Amounting to $8,500 per year
The 41-year-old said he spent $25 per day on the carbonated beverage, which amounted to about $8,500 per year.
He stated that the "money" he had spent on his favorite soft drink could have bought him a car every year. "I just needed it," he explained. "As soon as I woke up, I'd go to the fridge and pour myself a giant glass of Pepsi and go about my business."
After his weight reached 266 pounds and doctors informed him he was at risk of developing diabetes, Mr. Currie decided to take severe measures. He managed to shed 28 pounds through exercise and diet, but he couldn't quit drinking Pepsi.
According to the UK man, he then called London-based hypnotist and therapist David Kilmurry, who diagnosed Currie with Avoidant Restrictive Food Intake Disorder (ARFID).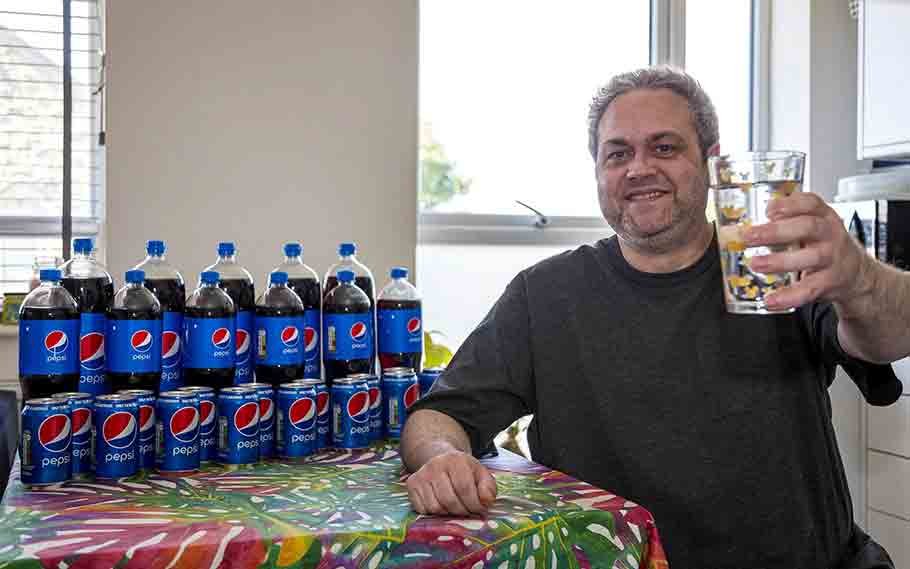 Mr. Currie was miraculously cured and was able to drink water for the first time in two decades following just one online session. According to Newsweek, he lost another 14 pounds in four weeks and is much healthier.
Mr. Currie claimed, "I haven't touched them (Pepsi cans) in a month and don't plan to. I prefer water now. My wife Sarah says my skin looks better and I've got so much more energy."
Also Read: Microplastics found in Human Blood for 1st time by Researchers