Jackfruit tikka masala is a dish one must can add to their diet sometimes for a variety of benefits. Notably, Jackfruit, a storehouse of potassium, vitamin C, prebiotics, antioxidants and proteins, it can be turned into various delicious dishes.
Jackfruit Tikka Masala Healthy Recipe
Jackfruit, a heart-healthy food, aids in removing bad cholesterol from your body. This can be an alternative to rice or roti for people with diabetes as its consumption can prevent sugar spikes and will help you stay full for longer.
The procedure of Jackfruit Tikka Masala:
Wash the jackfruit cubes and marinate it by adding curd and ready-made vegan chicken tikka masala for few ½ an hour.
Prepare the curry by heating the oil in a non-stick pan.
Add the bay leaf first and then add the purees of onion, ginger and garlic. Mix it well and allow it to fry for 1 minute.
Grind the desiccated coconut with the dry masala into a fine powder and add it to the pan along with the tomato puree.
Allow it to cook properly and gradually add water if the masala starts sticking to the pan.
Once the oil starts to float over the masala, it shows that it is cooked well.
Now it is time to add the marinated jackfruit to the masala. Mix it well and cover it with lid allowing it to cook till soft for 15 minutes.
Check it again by adding a bit of water and salt mixing it well.
Add the kasuri methi for an aromatic flavour and garnish it with green coriander.
Jackfruit Tikka Masala is ready to serve with jeera rice or chapati.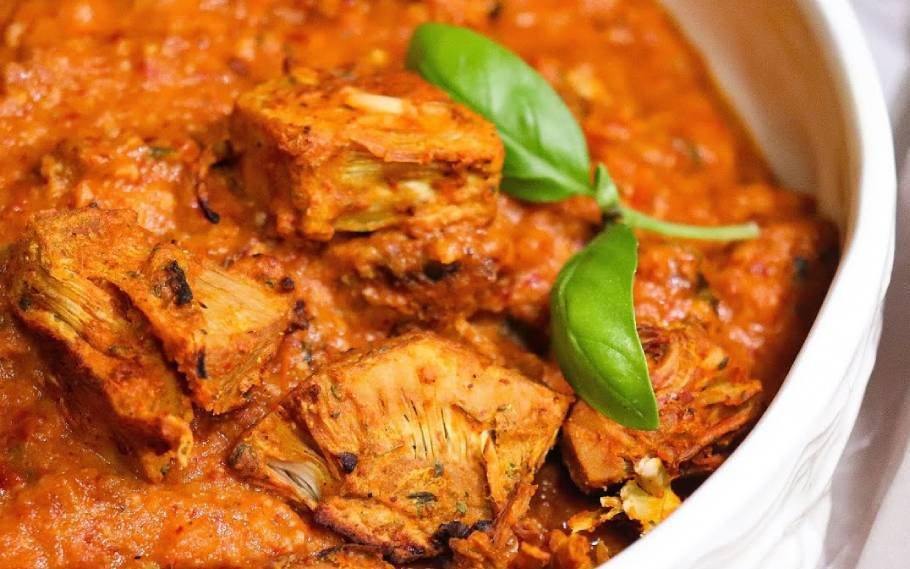 Also Read:Ashtami Special Kala Chana Prasad; Check Out The Recipe