India Fellow, an 18-month leadership program, is designed to empower young professionals with the skills, knowledge, and experience they need to make a significant and positive impact on marginalized and remote communities. In this comprehensive guide, we will delve into the core aspects of the India Fellow program, its unique features, eligibility criteria, and why it's a vital opportunity for aspiring leaders.
Key Aspects of India Fellow:
Working with Communities : India Fellow focuses on immersing participants in grassroots work. Over the course of 16.5 months, fellows collaborate with leading social organizations, often in rural or peri-urban settings. This hands-on experience allows them to understand the complex challenges at the grassroots level. Fellows receive a monthly stipend, which can range from INR 18,000 to 22,000.
Training: The program offers 45 days of intensive residential training, spread across four parts. These training sessions take place in diverse locations, including Udaipur, Delhi, Bhuj, the Himalayan belt, and Sundarbans. India Fellow's unique pedagogy involves a blend of leaders, academicians, social scientists, and practitioners, providing a holistic learning experience.
These training sessions are carefully designed to equip fellows with the skills and knowledge required to make a tangible difference in the lives of marginalized communities. The focus is not just on theory but on practical, real-world experience. Fellows have the opportunity to engage with experts in various fields, gaining valuable insights and perspectives that can be applied directly to their work in the community.
Constant Engagement: Throughout the program, fellows document their experiences, observations, and insights. They engage in blended learning modules, online group courses for certification, and fundraising activities. This approach equips them with a comprehensive understanding of development and essential skill sets.
The constant engagement provided by India Fellow ensures that participants are not only well-prepared for the challenges they will face but also have the ability to adapt and innovate as they work with diverse communities. The experiences they document and the insights they gain contribute to a deeper understanding of the issues they are tackling.
Mentorship: India Fellow boasts a network of expert mentors with profound experience in their respective fields. Fellows also have access to facilitators, alumni, and seasoned professionals, enriching their overall experience.
Mentorship is a crucial element of the India Fellow program. The guidance and support provided by experienced mentors ensure that fellows have the necessary resources and expertise to overcome challenges and achieve their goals. The mentorship network also facilitates networking and connections that can be invaluable as participants pursue their careers in the social impact sector.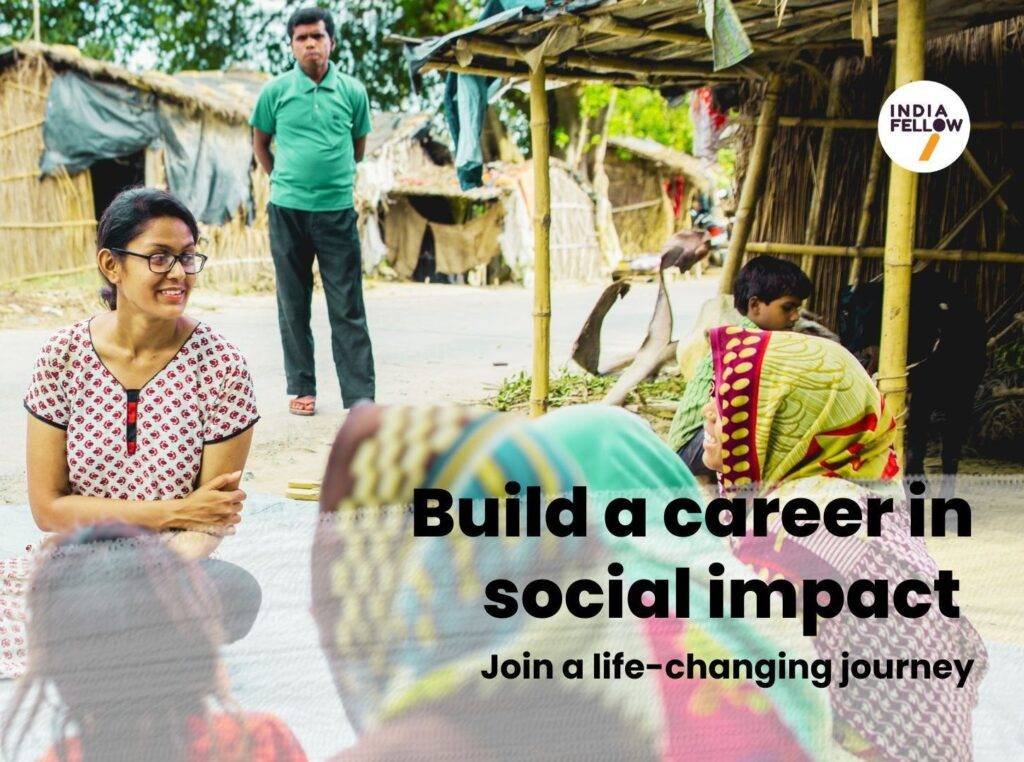 Selection Process:
The selection process for India Fellow is designed to identify committed and passionate individuals who are ready to embark on this journey:
Online Application: Start by filling out the online application form. The application form is your first opportunity to showcase your commitment and enthusiasm for making a difference in marginalized communities.
Telephonic Conversation: After applying, you will participate in a short telephonic conversation with an alumni member. This conversation is a chance to learn more about the program and for the program coordinators to get to know you better.
Situation Judgment Test: Respond to a situation judgment test online. This test assesses your ability to make sound decisions in real-world scenarios, a critical skill for anyone working in the social impact sector.
Assessment Day: The assessment day involves group activities and a personal interview. This day is designed to evaluate your teamwork, problem-solving, and communication skills, as well as your overall fit for the program.
Cohort Announcement: The final cohort for the program is announced by December 2023, with the fellowship commencing in February 2024.
The selection process is competitive, and it's important to approach each step with dedication and a clear understanding of your commitment to the program's goals.
Eligibility:
To be eligible for India Fellow, you should meet the following criteria:
Age: You must be between 20 to 30 years of age. This age range ensures that participants are at a stage in their lives where they can fully commit to the program and use the experience to shape their careers.
Commitment: Be prepared for an 18-month full-time commitment to the fellowship, with a 24/7 engagement requirement. The commitment to the program is a reflection of the serious and dedicated approach required to bring about real change.
Education: You should already be a graduate in any discipline or will complete your graduation by the fellowship start date. A solid educational foundation is essential for participants to be able to engage effectively with the complex challenges they will face.
Flexibility: Understand that you can be placed anywhere in the country and in any thematic area. This requirement reflects the diversity of challenges and opportunities present in different regions of India.
Why India Fellow?
India's development is a shared responsibility. India Fellow believes that every sector needs young leaders with deep exposure to India's diverse realities, the ability to understand the challenges and opportunities in various environments, and have the empathy, skills, and determination to create social good. Whether you aspire to be a future banker, scientist, bureaucrat, teacher, or entrepreneur, India Fellow provides the learning experience you need to become a committed and passionate leader. By doing so, you'll contribute to India's ongoing development journey.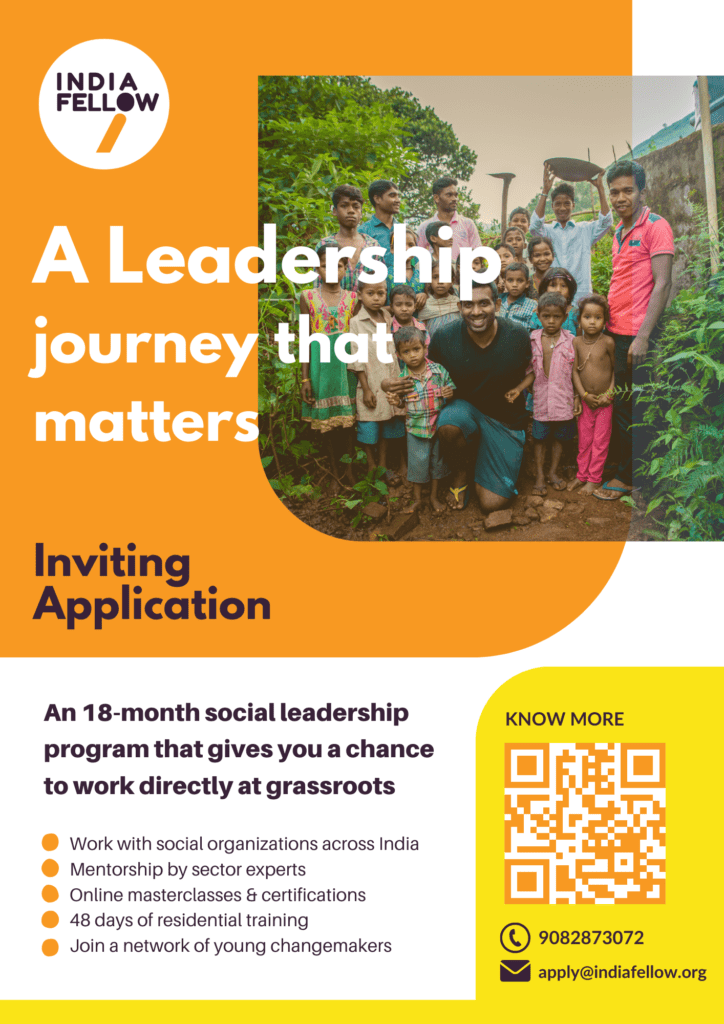 The India Fellow program is not just a commitment but a transformative experience. It's a chance to gain a deeper understanding of the complex social issues facing India and be part of the solution. The leadership skills you acquire, the relationships you build, and the experiences you gain will shape your career and your impact on society.
Ready to make a positive impact? To apply and learn more, visit India Fellow. Join us and be a part of India's transformative change.
Keywords: India Fellow, leadership program, grassroots, training, mentorship, selection process, eligibility, positive impact, development, young leaders, social organizations, real-world experience, marginalized communities, challenges, mentor network, commitment, transformative experience.
READ MORE: FUTURISTIC EDUCATION SYSTEM BEING CREATED IN COUNTRY THROUGH NATIONAL EDUCATION POLICY: NARENDRA MODI