Hema Malini controversy over Bihu Wishes

Bollywood veteran and politician Hema Malini has landed herself in a controversy after her recent tweet mentioning Bihu as a festival celebrated in Bihar.
The tweet of Hema Malini, which was posted on the occasion of the harvest season, read, "It is the Harvest season now. Tamizh Puthandu (New year), Baisakhi (Punjab), Bihu (Bihar) and Pohela Baisakh or Naba Barsha (Bengal) are some of the festivals celebrated. Wish you all a wonderful festival month."
This tweet sparked outrage on social media, with many pointing out that Bihu is, in fact, a festival celebrated in Assam and not Bihar. Several netizens criticized Hema Malini for her lack of knowledge about the country's diverse culture and traditions. The tweet was widely shared and commented on, with many asking the actress to apologize for her mistake.
However, Hema Malini is not the only one to have made this mistake. The Embassy of India in Tokyo also recently tweeted a similar message, extending greetings to all on the occasion of "Bihar Bihu". The tweet drew flak from netizens, who called out the embassy for its ignorance about the festival's actual origins.
The Bihu festival is one of the most important festivals celebrated in Assam, marking the arrival of spring and the beginning of the agricultural season. It is a time of joy and merriment, with people dancing, singing, and feasting to celebrate the season's bounty. As the backlash continues to grow, it is essential to remember that India is a land of diverse cultures and traditions, each with its unique festivals and customs. While it is crucial to celebrate this diversity, it is equally important to do so with sensitivity and knowledge about the various customs and practices.
Hema Malini apologizes for her wrong tweet
The Dream Girl of India, Hema Malini, recently found herself in a spot of bother on Twitter, after unintentionally stirring up a controversy where she mistakenly referred to Bihu as a season of Bihar, which sparked a heated debate about her supposed lack of knowledge. However, the veteran actress quickly apologized and set the record straight.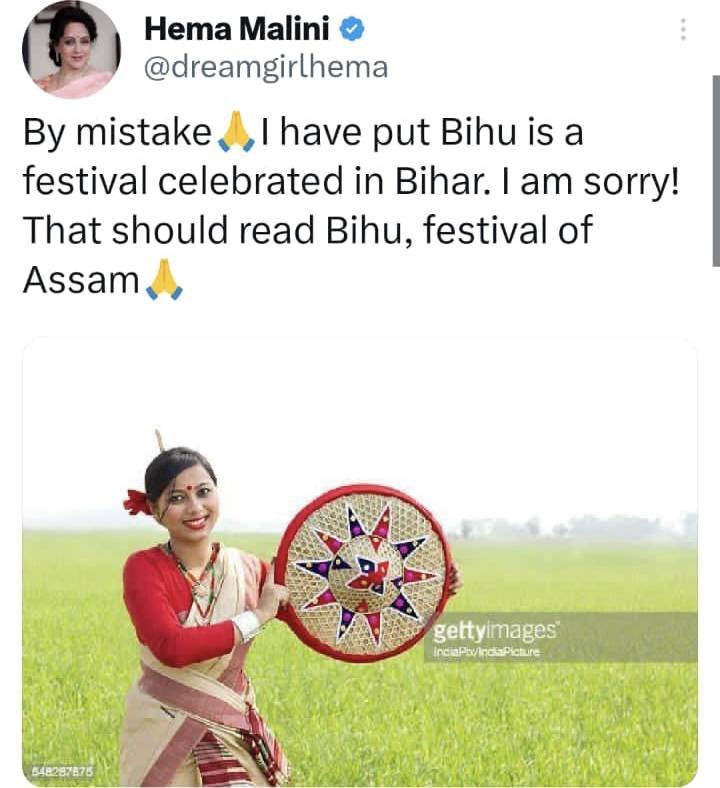 However, on the 14th of April, she took to Twitter stating, "By mistake, I have put Bihu is a festival celebrated in Bihar. I am sorry! That should read Bihu, festival of Assam."
Since being shared the apology post garnered many views and comments. One said, "It was not expected from you." While another said, "Half knowledge is very dangerous and you should research properly the next time you post something as it could spark controversies."
Hema Malini is a prominent Bollywood actress, film producer, and Indian politician. She has worked in over 150 films during her illustrious career spanning five decades. She is best known for her work in Hindi cinema. Hema Malini has won several awards for her contribution to Indian cinema, including the Padma Shri in 2000. She has also been involved in charitable and social ventures. Recently, she was in all over media by Ditching the luxury cars, veteran actress and politician Hema Malini decided to take a ride in the public transport in Mumbai.
In recent news, Hema Malini has expressed her disappointment over the lack of substantial roles written for female actors in the Indian film industry. In an interview, she said that while she has had some memorable roles in her career, the Indian film industry is still dominated by male actors. She also expressed her views on the lack of roles written for female actors in the Indian film industry. She is currently serving as the member of Lok Sabha representing Mathura constituency since 2014. 

PM MODI INAUGURATES NE'S FIRST AIIMS AND THREE NEW MEDICAL COLLEGES DURING HIS VISIT TO ASSAM