Honda Motorcycle & Scooter India Launches Innovative Honda Shine 100 in Guwahati, Offering Unmatched Performance and Style
Adabari, Guwahati – On May 26th, the highly anticipated Honda Shine 100 motorcycle was officially launched by Honda Motorcycle & Scooter India (HMSI) at the Bimal Honda showroom, marking a new era of two-wheeler innovation. The event witnessed the presence of Mr. Rajkamal Roy, the esteemed Area Manager of HMSI, who unveiled the cutting-edge motorcycle, set to revolutionize the Indian market.
The Honda Shine 100 introduces a host of exciting features, making it a game-changer in its segment. The motorcycle is equipped with an all-new 100cc OBD2 compliant engine powered by eSP (Enhanced Smart Power) technology. This advanced engine design ensures optimum power delivery, improved fuel efficiency, and reduced emissions, aligning with Honda's commitment to sustainability.
One of the standout aspects of the Honda Shine 100 is the incorporation of 12 new patent applications. These patents enhance the overall performance, reliability, and durability of the motorcycle, setting it apart from its competitors. The combination of Honda's expertise in engineering and cutting-edge technology makes the Honda Shine 100 a formidable contender in the Indian market.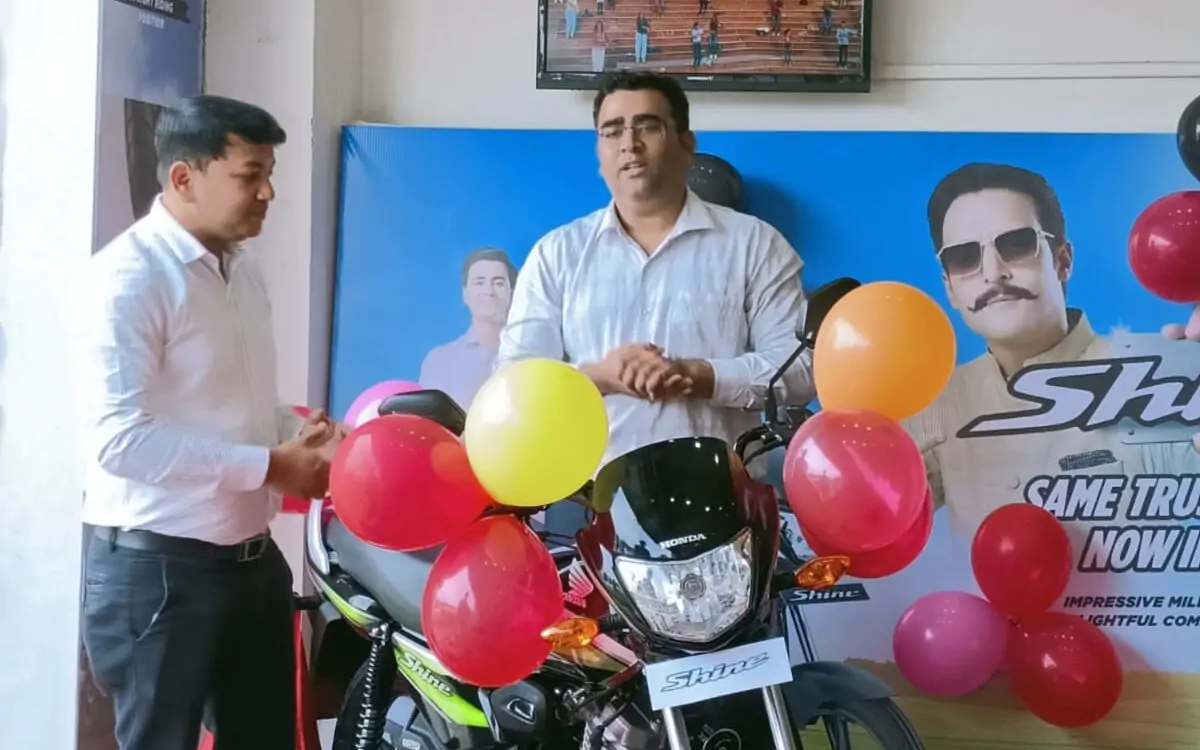 The Honda Shine 100 boasts an impressive array of features designed to enhance rider comfort and convenience. Its ergonomic design ensures a comfortable riding position, reducing fatigue during long journeys. The motorcycle is equipped with a five-speed gearbox, enabling smooth gear shifts and precise control, offering riders a dynamic riding experience.
In addition to its impressive performance, the Honda Shine 100 stands out with its elegant and contemporary styling. The motorcycle's sleek bodywork, sharp lines, and vibrant color options create an eye-catching aesthetic that appeals to the discerning Indian consumer. The available color choices include Black with Red Stripes, Black with Blue Stripes, Black with Green Stripes, Black with Gold Stripes, and Black with Grey Stripes, allowing riders to express their individuality.
The Honda Shine 100 has been competitively priced at Rs. 68,020 (ex-showroom), positioning it as an affordable and value-for-money option for riders across India. Honda's commitment to providing quality and performance at an accessible price point ensures that the Honda Shine 100 appeals to a wide range of customers.
To experience the Honda Shine 100 firsthand and learn more about its features, interested individuals are encouraged to visit the Bimal Honda showroom located in Adabari, Guwahati. The showroom serves as an authorized dealership of Honda Motorcycle and Scooter India Pvt. Ltd. (HMSI), exemplifying Honda's commitment to customer satisfaction.
The Bimal Honda showroom in Guwahati prides itself on delivering an exceptional buying experience to customers. The showroom features a team of dedicated sales professionals who possess in-depth knowledge of Honda's product lineup. They are committed to understanding each customer's unique requirements and providing tailored recommendations. With their expertise, customers can make informed decisions when selecting their dream two-wheeler.
Furthermore, the Bimal Honda showroom offers comprehensive after-sales services, ensuring that customers receive the necessary support throughout their ownership journey. Skilled professionals are available to provide maintenance and repair services, ensuring that the Honda Shine 100 remains in optimal condition for years to come.
Additionally, Bimal Honda facilitates other aspects of the purchasing process, such as Used Two-Wheeler sales through their Best Deal Outlet. This initiative allows customers to explore a range of pre-owned Honda motorcycles, providing them with more affordable options without compromising on quality. The dealership also offers assistance with insurance and finance options, simplifying the buying process for customers.
As Honda continues to push the boundaries of engineering and design, the All-New Honda Shine 100 represents the brand's commitment to delivering excellence and meeting the evolving needs of Indian riders. With its advanced technology, superior performance, and attractive pricing, the Honda Shine 100 is poised to become a popular choice among motorcycle enthusiasts across the country.
PARUL UNIVERSITY'S INTERNATIONAL GRADUATES SHINE WITH GLOBAL ICONS AT PRE-CONVOCATION CEREMONY; INSPIRING A WORLD OF POSSIBILITIES